Celebrating ten years on Paekākāriki's main drag, the Beach Road Deli is – thanks to Covid-19 – overdue a party. We talk to the Deli's dynamic owners Kelly Rees and Rebecca Robati-Busby.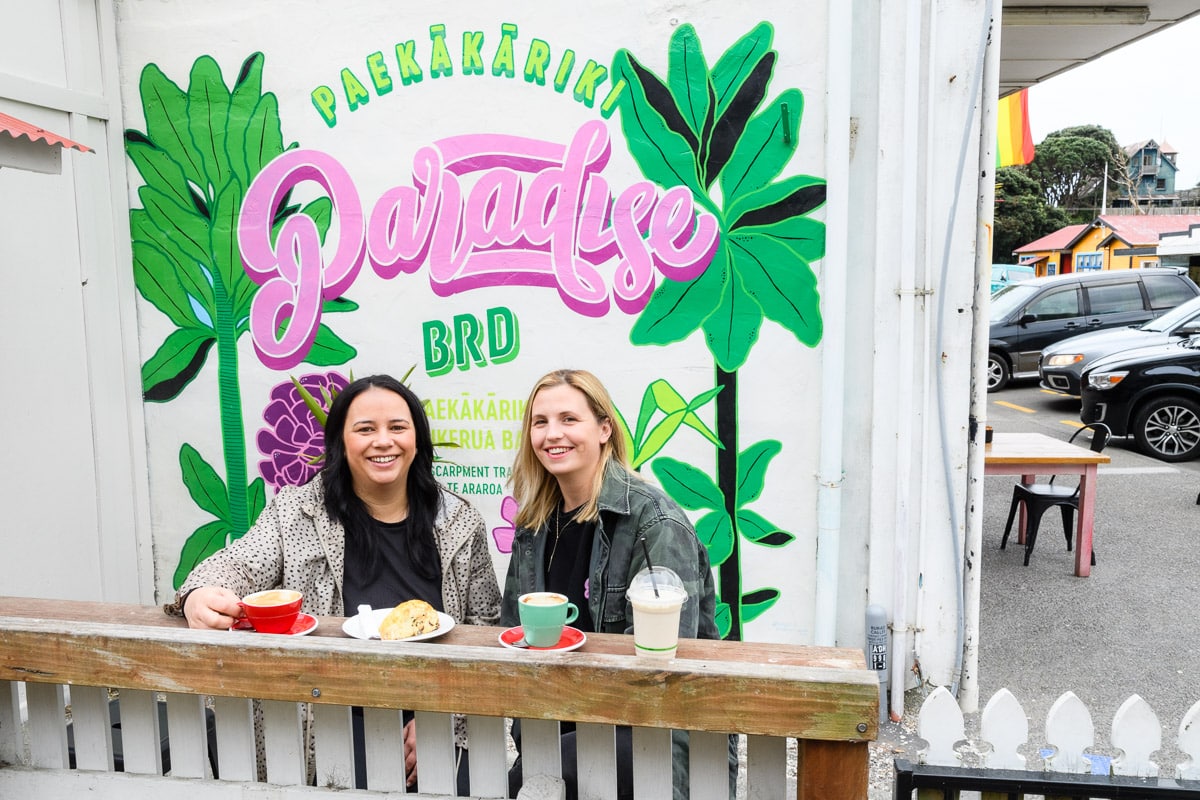 Here's a business that thrived – as much as one can – in level three lockdown, Paekākāriki's Beach Road Deli. Back on April 29 it reopened ahead of many other businesses up and down the coast with a new app, and use of an old side room for contactless service.
The Deli is a much loved local cafe on the Kāpiti Coast, celebrating its 10th year this year. Run by Kelly Rees and Rebecca (Boo) Robati-Busby, they both remarkably have three young children each. Yet for them the Deli was "their first baby".
In fact, the first week of the Covid-19 lockdown in March had originally been set down for their 10-year celebrations. "We had goodies ready to go, all these plans," says Kelly. "I mean leading up to it we already knew we wouldn't be able to have a party, then lockdown got announced and me and Boo sat there, and thought well, this is crazy! Ten years, and we've never been closed more than our Monday, Tuesday. So that was a really massive thing, but obviously there were more important things than having a party."
In a funny way they got a party, because they finally got a holiday!
"Yes, maybe that was our gift!" says Kelly. "Some time with our kids! Luckily we had government support and an awesome crew and we were in a good position so that it wasn't a stressful time. I know for a lot of businesses it might have been. It was a nice time to spend with our family hanging out in Paekak."
"I think we will do something to celebrate still," adds Rebecca, "because we really do think it's worth celebrating, and to celebrate our people: our staff and customers."
Ten years is a long time in hospitality. Before the Deli was in that Holtom's Building site there was a deli called Picnic for a while and before that, the legendary old-style bakery, The Rumbling Tum.
"Thanks community! It's a really cool place to have a business… where you do get supported by people. You know, the love is just so real here. There's so much talent, so many cool things going on in Paekākāriki, we're just so blessed."
The pair say they've definitely noticed the changes in recent years.
"It's pretty cool," says Rebecca, "We've become a little destination for people exercising, and people coming from Raumati and doing the Escarpment. You know, you go into business and you don't know what is going to happen. Especially with the unknown of Transmission Gully… if people are still going to come to Paekākāriki as a destination that might be cool if the cars are not going to stop in, you know. There are so many ebbs and flows in business. I think Kelly and I take each day each week as it comes because you never know what's around the corner – as we've all experienced. Business is a rollercoaster."
Kelly says their cake sales noticeably rose after the opening of the Escarpment Track.
"People treat themselves. They earn that cake. Totally. I've only done it once but I felt like I earnt that cake!"
Recently Rebecca has been baking up chia seed bars for walkers, but they've also this year extended their breakfast menu, beyond their much-loved bagels.
"With both me and Rebecca at the shop we've had more time to really think about what we can offer people. As she says, it ebbs and flows in business. Some years night trade is going strong, other years… at the moment it's definitely brunch. People eating out for breakfast and brunch. That's probably another thing we've noticed lately."
Kelly and Rebecca recently spoke to Mark Amery and Sam McLaughlan on Paekakariki 88.2FM's 'Te Pae' community radio show, which the Beach Road Deli has been the sponsor of for some six years. Our thanks to them for their support of the community.
---
Paekākāriki.nz is a community-built, funded, and run website. All funds go to weekly running costs, with huge amounts of professional work donated behind the scenes. If you can help financially, at a time when many supporting local businesses are hurting, we have launched a donation gateway.