Bikes are increasingly seen on Paekākāriki's streets, and eco-initiatives are also on the rise. But a different kind of cycling has just been introduced – Pae Cycle, an inventive scheme where food scraps are delivered to the community garden by a sleek black e-bike.
---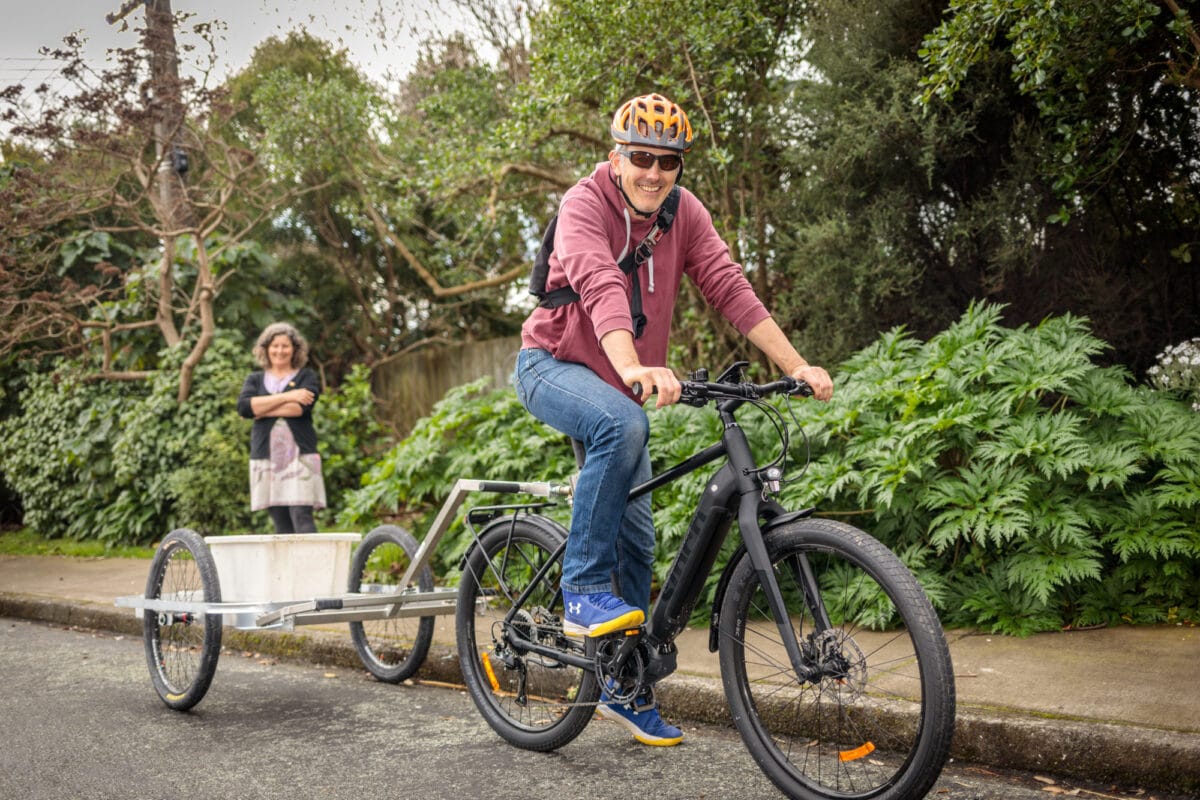 ---
Orange peel and onion skins. Apple cores, eggshells, cauliflower leaves and shriveled tea bags. Inevitably, we all generate a steady flow of kitchen scraps every week.
"We think it's a waste if you think of it as waste," says Doris Zuur, the scheme's organiser, from the Paekākāriki Orchard And Gardens Group. Residents can now sign up to have scraps picked up and transformed into compost to help grow fresh food for the community. A strip of land on the northern boundary of the village is slowly transforming into a community orchard and garden by the group, with a licence from Council.
Producing community-grown vegetables for Pae Kai's meals is also an aim; these are currently delivered to households going through a time of need.
---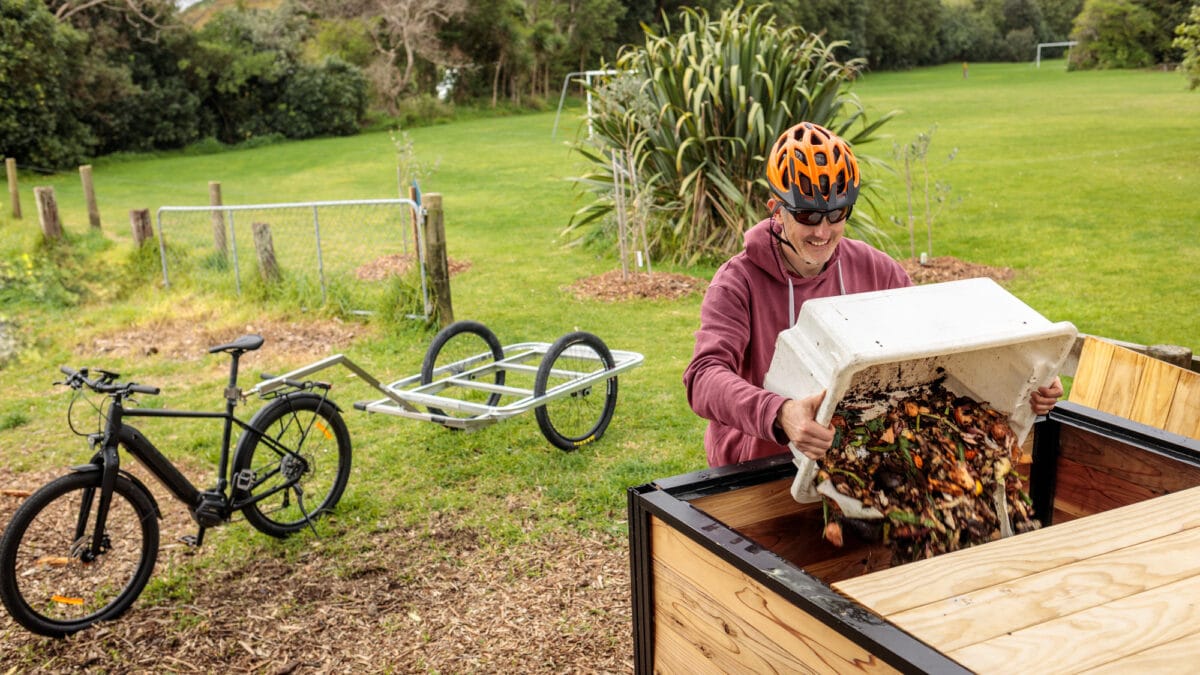 ---
In the Kāpiti district, food scraps make up 28 per cent of kerbside rubbish. Almost a quarter more is green waste. When all this ends up in the landfill, problematic contaminants are released, worsening environmental harm and climate change.
Doris Zuur says composting is a "beautiful example" of something we as individuals can do for the environment. Though climate change can feel overwhelming, composting is "a practical contribution" that we each can make.
She concedes that not everyone sees compost as beautiful. It can be difficult to do, take time and has "a bad rep", sometimes involving bad smells, slime and rats. Signing up with the scheme prevents this.
Problems are down to how compost is managed, says Doris. It needs to be well-layered with the use of predator-free bins and traps to keep out rats and other pests.
Doris says the community compost scheme "has a double bonus. It's not only your food scraps contributing to making compost and nutritious food – but almost a more important reason is that the scraps don't go into the landfill."
When food and green waste wind up in the landfill, they break down anaerobically, producing leachates and harmful emissions like methane.
Alternatively, "when food waste is part of a well-organised compost heap, it breaks down in a good way."
---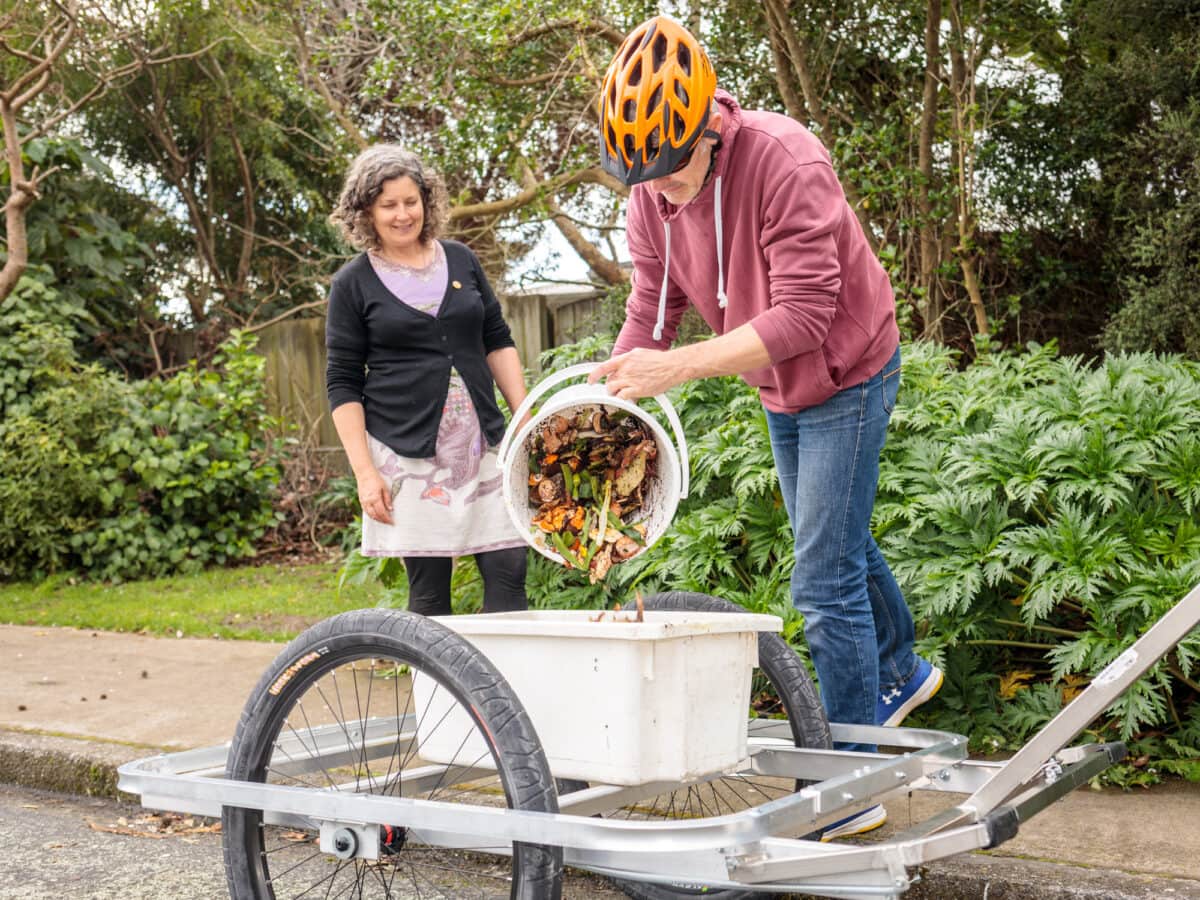 ---
The benefits are multi-pronged: for the community, health and environment. Recycling food scraps may also enable people to shift to a smaller rubbish bin service – saving them money.
Driving in a car to haul composting material around the village wasn't seen as ideal – so in came the e-bike with its smart trailer. Local resident Spencer Crocker will now pedal around the village collecting kitchen waste once a week.
When residents register they receive a bucket for food scraps. Then every Tuesday morning Spencer arrives to empty buckets onto the bike trailer. There's a one-off $25 fee to register; then households commit to a monthly koha – choosing how much they can afford.
Pae Cycle have done their homework, visiting a similar scheme in Newtown and securing a grant from Kāpiti Coast District Council. "We were inspired by our colleagues in town, called Kai Cycle" says Doris.
"They showed us all the tricks. It's all open source – share the ideas and role model it. The idea should be replicated. That's how we got the grant from the council – we are meant to be a prototype."
The group have run a trial to test the process. Local businesses – the Beach Road Deli and the Perching Parrot Café – signed up to the scheme early. At first, participation is limited to 20 households while the scheme is fine-tuned, then it will open up for anyone in Paekākāriki.
To enquire or join the Pae Cycle scheme, either email [email protected] phone 027 281 1570 or fill in this form.
---
Paekākāriki.nz is a community-built, funded, and run website. All funds go to weekly running costs, with huge amounts of professional work donated behind the scenes. If you can help financially, at a time when many supporting local businesses are hurting, we have launched a donation gateway.