Gary Freemantle reflects on the time when Paekākāriki hosted a nationally acclaimed contemporary art gallery with a foreword by Mark Amery.
---
New Zealand's regions are full of galleries representing the work of local artists. Rarer outside the cities are contemporary art gallery managers representing the often more challenging work of artists nationally. From 1997 to 2004 in Paekākāriki, there was a quite brilliant exception: One Eye Gallery. Just north of the Wellington art scene, highly regarded painter Gary Freemantle operated a satellite. He mixed an ever startling array of art outsiders and many based in Kapiti – work of quality from elsewhere but little seen in Wellington – and artists already of repute trialling new ways of working, like Don Driver, Joanna Margaret Paul, Kathy Barry, Rob Cherry and Hariata Ropata-Tangahoe. This in a large space upstairs in the historic Holtoms Building.
I remember big bold One Eye group shows with particular fondness, and have the art at home to prove it: Boganville and the media stirred-up controversy of Group Sex. For a young art writer, artist and curator like myself, relishing the edges that both contemporary art and Paekākāriki already presented, it was just as much a community centre. The site of experimentation, book launches and parties, but all held together with generosity and rigour. Thank you to Gary Freemantle for this article and the example he set, and all those who continue this special work on behalf of artists. –Mark Amery
---
It was mid-1997. I was at a low point professionally, having had an art career of varying success and occasional painting-tutor gigs in community education that were being scuppered. Nothing was working out: frustrated and full of creative energy with no outlet; unemployed and on the dole; homeless and desperate. I came to Paekākāriki in a rusted out Ford Cortina — my sole possession apart from a pile of artwork that no one wanted.
I was staying on a couch at a friend's house, scouting around town when I noticed the derelict Holtoms Building. The upstairs space looked empty so I knocked on a door and to my surprise it was opened by Bridget Musgrove who was using part of the front space as a studio/hangout. After enquiring about possible studio space, she showed me a rat infested, graffitied area on the side by the railway line. For some reason I was excited by it and contacted the landlord who agreed to letting it in lieu of renovations.
I set to work scraping off layers of soot until made habitable for me to live and work. For the next 11 years I endured incessant noise: the rumbling of State Highway One; the clanging from the main trunk line right next to my bedroom; the dripping noises whenever it rained. Not particularly healthy on a freezing night with puddles on the floor, but I was happy there.
After I'd set up my studio and was producing new work, I became increasingly interested in the large space beside mine. It hadn't been used for years and was intractably full of junk: rotten carpet, ceramic floor tiles, broken furniture, old doors, wooden floor boards — in fact lots of stuff that could fill a building recycling warehouse.
The ceiling was very high and the skylights gave it good light. The space was asking to be turned into a gallery. The landlord had always been interested in the idea but never went further than talk. Finally he relented to dispersing and storing the junk.
For me, talk is never enough, so I set to work and proceeded to get rid of all that stuff. I fixed the broken windows, scraped and patched the walls, painting and renovating. After months of intense work the room started to glow with light, something beautiful was happening.
---
You can't do everything alone and when things happen, they happen all at once. It's a combination of the right people at the right time and place. I knew a lot of artists who didn't have gallery representation. There hadn't been any new galleries in Wellington for a while and the scene was a bit stale, but how could a serious gallery exist on the fringes and prosper without getting mired down with hippy craft or derivative, mediocre art?
At the time a good gallery had to be based in a main centre — there weren't really galleries outside on the fringes, they wouldn't last long, if ever. When beginning a new venture there are always lots of uncertainties. Will people come out from Wellington? Would locals appreciate it? Will anyone buy anything?
Fearing I was about to become an art dealer, the gallery opened on 21 December 1997 with a group show called Eye Opening. The opening was packed — mostly with locals and was a happy event. With summer heating up so did the gallery. When other galleries were closing for Christmas, One Eye was open.
---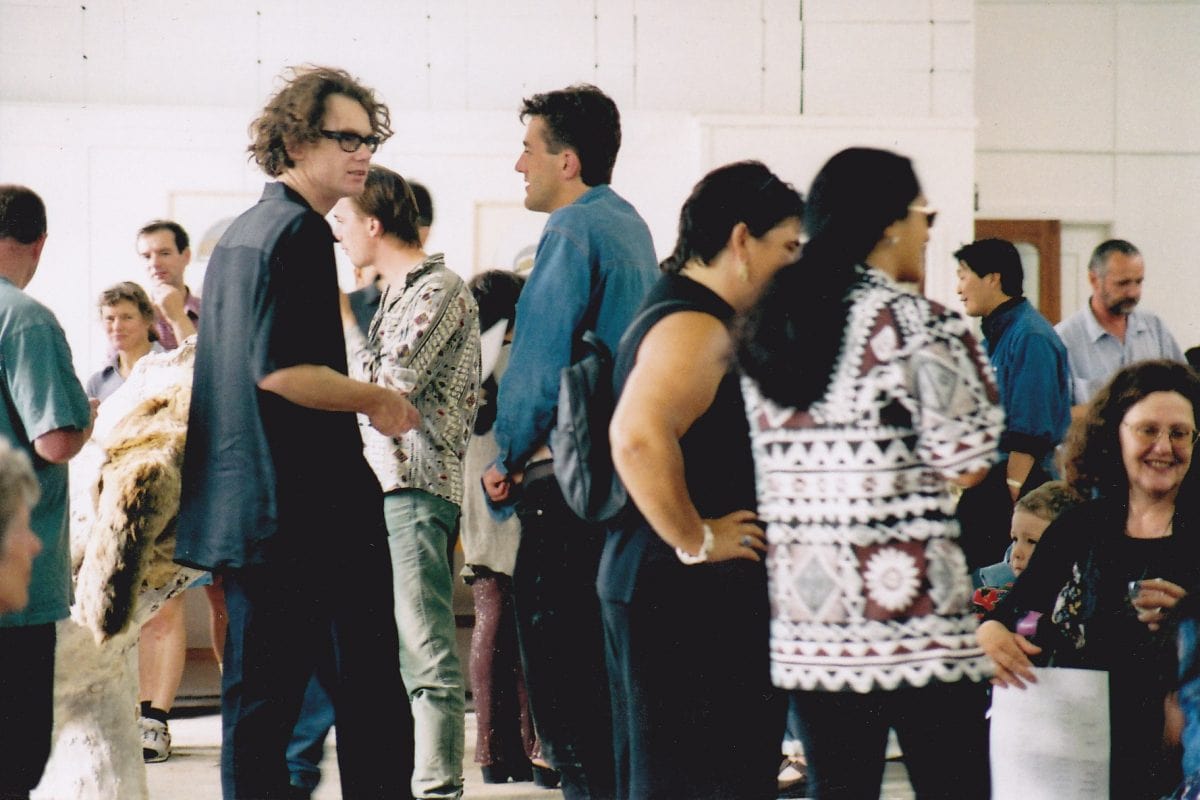 With the door open, things gained momentum. People really liked the space, the raw nature of the floor and the light. The gallery quickly gained a reputation for showing exciting new work while also being a destination gallery for those living afar.
While the first show was running, I put together the next group show and then planned month by month until the programme developed. Group shows brought more people to the gallery and more artists who wanted to be involved. Then collectors, writers and people from all around the country came.
The exhibitions attracted lots of media attention too. Mark Amery's reviews in the Sunday Star Times and Dominion Post as well as Lindsay Rabbit's articles in the Kapiti Observer helped to promote and build the gallery's reputation.
Within a couple of years, One Eye Gallery featured shows by major NZ artists — Don Driver, Joanna Paul, Hariata Ropata-Tangahoe, John Baxter — many of who had a connection with the area.
---
But the success wasn't just hinged on established artists. One Eye Gallery launched the careers of emerging artists as well, showing a wide cross-section of people different types of art. It was important for me to show a wide cultural balance and variety so it was diverse from the outset: Maori art, Pacific art, women, men and everything in-between.
The gallery proved inspirational and led to many other new galleries, especially in regional places, like Matt Pine's Te Wa in Whanganui, Thermostat gallery in Palmerston North and Neut gallery in Wellington. In fact, I'm sure galleries were suddenly popping up everywhere.
The first solo show that gained national attention was by Paekākāriki artist, John Baxter. The show looked very elegant and sold well. These were productive times for John, who had previously been very reluctant to put himself out there. He proved to be his own person, working within the area of painting with a strong underlying sense of design and colour.
---
The family were also enthusiastic and supportive towards the gallery. Jacquie Baxter (JC Sturm) had a couple of book launches and poetry readings in the gallery. She also liked to look after the gallery for a change of space, which helped give me an occasional rest.
There were many book launches, poetry readings, openings, dance parties, performances…. It became the main gathering point for the community. It seemed everyone went to One Eye.
The original fear that I would become an art dealer was soon put to rest and within a couple of weeks of opening, I continued to paint in my studio out the back. Painting filled the long quiet times and people didn't seem to mind that I was juggling pretending to be a dealer, as well as being artist. Something about the universe giving back when you are doing something right, allows for new opportunities to open up.
---
I found more regular teaching work in Wellington a couple of days a week and finally I was able to go off the dole. I found a new dealer in Auckland and my paintings started selling well. At last, I was in one of those blessed positions where I was working all the time and none of it felt like work.
I really enjoyed working with other artists, found it stimulating and insightful. It allowed me to see both sides of the gallery/artist relationship. Artists sometimes have a reputation for being prima donnas and dealers for being unscrupulous. I made sure artists were paid promptly and honestly because I know how painful it can be when you have to wait months to receive payment.
I tried to reconcile many different types of art work and one of the challenges was to involve the local art community. The term 'local art' is one I dissociate myself from, it is indicative of a provincial mind-set. There were accusations that One Eye didn't show local artists but that is incorrect. The gallery showed many Paekākāriki artists such as Frances Krsinich, Julie Midgley, Anna-Maria O'Brien and many more.
---
To try and appease some of the burgeoning resentment, I put out an open call for all self-proclaiming artists living in Paekak to include a work or two for a big group show called Local Yokels in 2001. This was an attempt to bring together everyone working in the village and inclusive of all. It unearthed quite a lot of people.
It's necessary for a gallery manager to put aside their own ego and allow other people to shine, then there is more light for everyone. You have to allow the space to be bigger than you and allow artists to create and improvise to do something spontaneous without analysing or justifying. This allows people to do surprisingly creative things.
---
I usually organised the shows but sometimes other artists came up with proposals, which often worked well, the best being the epic 2002 Boganville exhibition, curated with Jo and Catherine Russ. This timely show investigated bogan culture and found major TV and print coverage. This was also the time when I first started making velvet paintings.
---
The show which garnered the most attention and became the biggest media feeding frenzy was Group Sex (2001). This show was one that I'd rather forget and bury — it became something I never intended it to be. Innocently, I thought as a group show and an erotic art exhibition, naming it so would be a good idea. This was a mistake. Before the show even opened, a furore blew up over the title as though there were to be suddenly unleashed an orgiastic, porn-fest in the towns and streets of this country. All I'd planned for was a discrete erotic art show. There was extreme media coverage in newspapers, TV and radio. I don't wish to delve into what people were expecting, but hundreds of people poured in the door to see it.
One thing it taught me was the extent of human hypocrisy when Graham Capill from the Christian Heritage Party pilloried and attacked the show for not conforming to decent community moral standards. Some people might remember what happened to him a couple of years later.
The gallery died when I closed it for Christmas in 2004 and never reopened. It had run its course of seven years and I was tired of stressing out about the leaking roof, that continually threatened to ruin the valuable art that I was liable for.
There were other things pulling me in different directions; new galleries were opening who wanted to show my work and some other artists from One Eye. It took away my centre of gravity but it was all just a natural evolution. I continued to work upstairs for a while, producing new work for exhibitions in Auckland, Wellington and Christchurch.
---
I clung on in Paekākāriki for a few more years but with the gallery closed, it seemed like everyone coveted my space. Pressure grew until I finally had to leave, fleeing to the country further up the coast.
I'd lived in Paekākāriki for 11 years; a time of intense productivity and growth.
One Eye Gallery was all about initiative and it bravely engaged with the real world in a real town. The door was open and welcome to every member of the public. It aimed to combine enough content to engage extremely wide audiences.
Self-funded and run, I didn't need to make decisions by committee or collective compromises but the gallery wasn't above trying to sell artworks and doing whatever it takes to survive. Being independent was the motivation. The gallery existed because at that time, it simply had to. A force of nature which forged its own space from the derelict in which to shine.
---
Memorable solo shows
1998
-Kathy Barry Drawings and Wall Sculpture. Large pencil drawings and bronze wall sculpture with botanical themes.
-John Baxter Coming Through. 11 paintings.
-Anna-Maria O'Brien Thoughts of Home on a Spring Day. 11 paintings on found driftwood.
-Warwick McLeod The Distance of Two Trees. Sculptural installation of enormous works.
1999
-Joanna Paul Daily Life. Mixture of drawings, paintings and photos. Many of the work with Paekākāriki themes.
-Jason Secto My Own Devices. 99 drawings pegged up on a line. His first solo show.
-Don Driver Faces of Don Driver. Framed paper collages.
-Levi Salamasina New Paintings. Colourful Pacific abstract paintings.
2000
-Hariata Ropata-Tangahoe, Stonecarvings, Drawings and Ceramic Plates.
-Maiangi Waitai Mysterious Realm. Paintings.
2003
-Sue Soo The Dance of Life. 62 paintings mostly on cardboard, her first solo show.
-Tim Middleton Sworn to the Black. Paintings, drawings and T-shirts.
-Robert Cherry Louie Louie.
-Gary Freemantle Dirty Pictures. My first mud paintings made with the Paekākāriki flood mud.
---
Memorable Group shows
1998 U Kai Po, Kapiti Coast Wahine. Curated by Mary Jane Duffy and Katarina Kawana. Including artists such as Robyn Kahukiwa, Debra Bustin, Sonia Snowden, Kohai Grace.
2001 Group Sex
2002 Boganville
2003 Laid. An inventive show of various artists responses to using a plaster ceiling tile each.
2004 John Constable and Artists- Paint By Numbers. Another fun show of various artists responses to a paint by numbers kit.
Red Light Vorortromantik Architecture Death. Matt Couper, Jo Russ, Sandra Schmidt and Stephen Clover. The last show.
---
Paekākāriki.nz is a community-built, funded and run website. All funds go to weekly running costs, with huge amounts of professional work donated behind the scenes. If you can help financially, at a time when many supporting local businesses are hurting, we have launched a donation gateway.