The Pickle Pot Be-In 2023
February 11 @ 4:00 pm

-

11:00 pm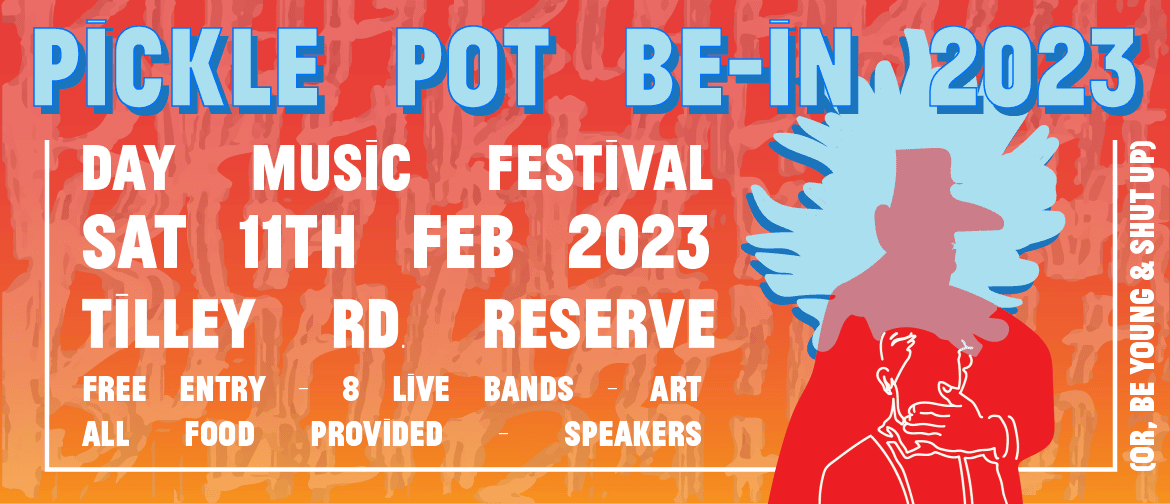 From 4pm until late on Saturday 11 February at the Tilley Rd Reserve
FREE
The Pickle Pot Be-In, at Tilley Road, is a Day Festival run by young people, for young people!
This is not a Sit-In, this is NOT Stand-In. However, this is 'The Pickle Pot Be-In'.
An opportunity to come together, throw our phones away and prance around green fields without seeing a skyscraper or a traffic light.
Listen, share and dance with our local bands, let your hair down, breathe unspoiled air and 'Be'. Something we don't do enough!
You see – this fun is found and created by ourselves, no big-name artist or expensive price tag should determine your joy!
We would love YOU to be a part of that! We invite you, your friends, whanāu and everyone you know, to the Tilley Road Reserve.
LINEUP FROM 4PM:
Huia Harmony (Choir Group)
Occult (Rock Band)
Caravel (Rock Band)
Sonja Cossy (Spoken Word)
Circe Raven (Folk Band)
Ari Leason (Folk Singer Songwriter)
Jade Merematira (Soul Singer Songwriter)
They Might Be Monks (Funk Band)
12000 Suns (Noisy Psych Band)
ACTIVITIES:
Outdoors:
Live music
Magician
Bouncy Castle
Candyfloss
Wishing Tree
Bubbles
Community Mural
Big Games
FREE General Store:
Op Shop
Food Market
Arts Tent:
Record Art
Facepainting
Games Tent:
Carnival Games
Peace Tent:
Jeweller
Post Office
Henna
Petitions