Paekākāriki, amongst many stand-out qualities, is likely the smallest town outside Myanmar to have its own Burma support group. KT Julian tells us about this group's important mahi and her personal experience of living there.
Paekākāriki Burma Support (PBS) was founded in the wake of the February 2021 military coup, which followed a decade of comparative freedom for Burma's people. The group builds awareness of the on-going tragedy in Burma, and raises funds for the civil disobedience movement there.
Military rule and struggles for democracy frame most of Burma's living memory. My first home there was a jungle camp on the Thai border, where I taught English to members of the All Burma Students' Democratic Front who had fled their schools and universities to take up arms following the repression of the 8/8/88 protests. They were allied with the Karen National Union, an organisation representing one of the county's largest ethnic minority groups, which has been fighting for autonomy since Burma gained independence from Britain in 1947. In the 1990s, the KNU still had active soldiers who had fought alongside the British in World War II.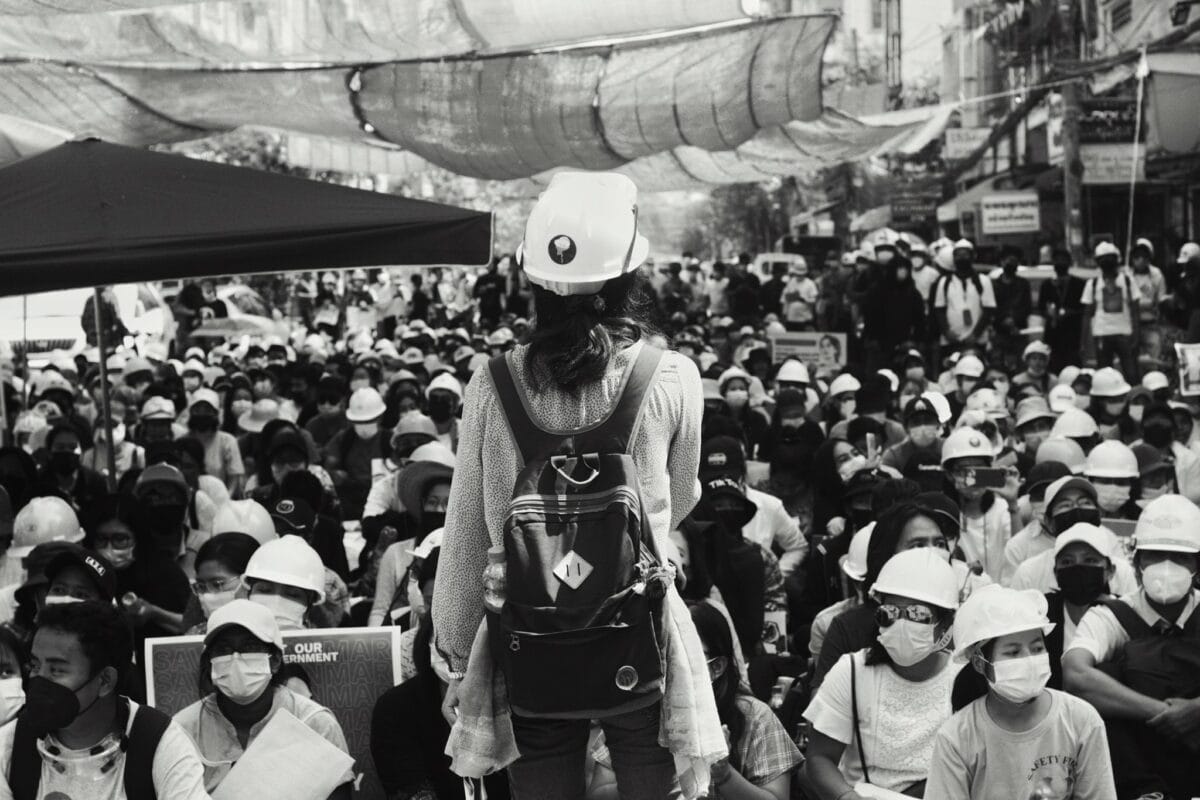 I've lived in and around Myanmar since 1995, initially in the guerrilla camp, then in a series of refugee camps, then in Mae Sot, a border town in Thailand home to many exiled activists, migrant workers and refugees, and the last ten years in Rangoon/Yangon, Burma's biggest commercial centre. I work as a textbook writer and editor for the non-formal education sector. I was home visiting in 2020 when Covid struck, and, unable to return, have been in Paekākāriki working remotely since then.
Another member of the group, Paekākāriki's Helen Keivom, was first married in Burma when her father was posted to the Indian high commission in Rangoon just prior to the 1988 uprising. Of Mizo ethnicity, she shares tribal links with Burma's Chin people, some of the staunchest opponents of the military.
Together with other local folks who have spent time there, or hold an interest in human rights generally, and with the support of Burmese activists living in New Zealand, we formed the PBS. So far we've sold Burmese crafts and fundraising merchandise at local markets, produced and distributed a booklet detailing the situation in Burma, spoken on the radio and have held fundraising gigs – Yangon Calling I and II – which have raised over $7000.
Our next event, Yangon Calling III, featuring Barry Saunders, will be at St Peter's Hall on Sunday 8th August, the anniversary of the 1988 uprising.
Do get involved – join our facebook group @Burma Support Paekākāriki, or email us. We are always looking for more ideas to raise awareness and funds.
Will Burma's 2010-2020 decade be remembered as a brief hiatus in unremitting military oppression, or the beginning of an era of peace, freedom and prosperity? Paekākāriki stands alongside the striking teachers and medics, the resistance fighters in the cities and the borderlands, the jailed journalists and the grieving families working to create a better place to live.
Kia Kaha Burma, with love from Paekākāriki.
With thanks to Sam Buchanan for his editing skills.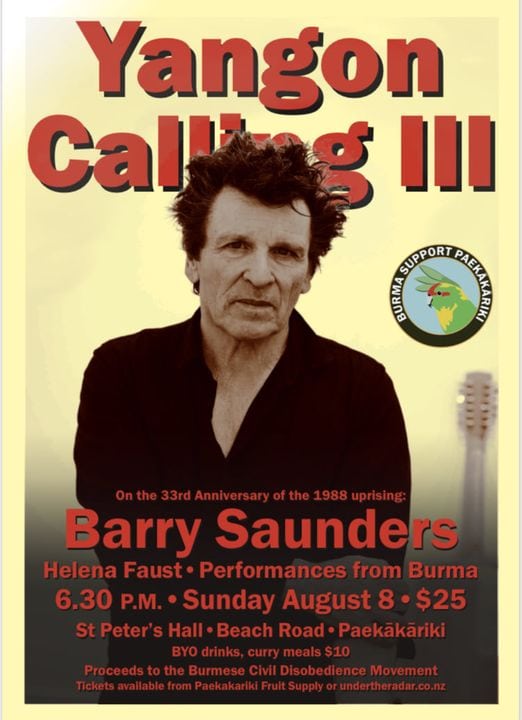 Paekākāriki.nz is a community-built, funded and run website. All funds go to weekly running costs, with huge amounts of professional work donated behind the scenes. If you can help financially, at a time when many supporting local businesses are hurting, we have launched a donation gateway.