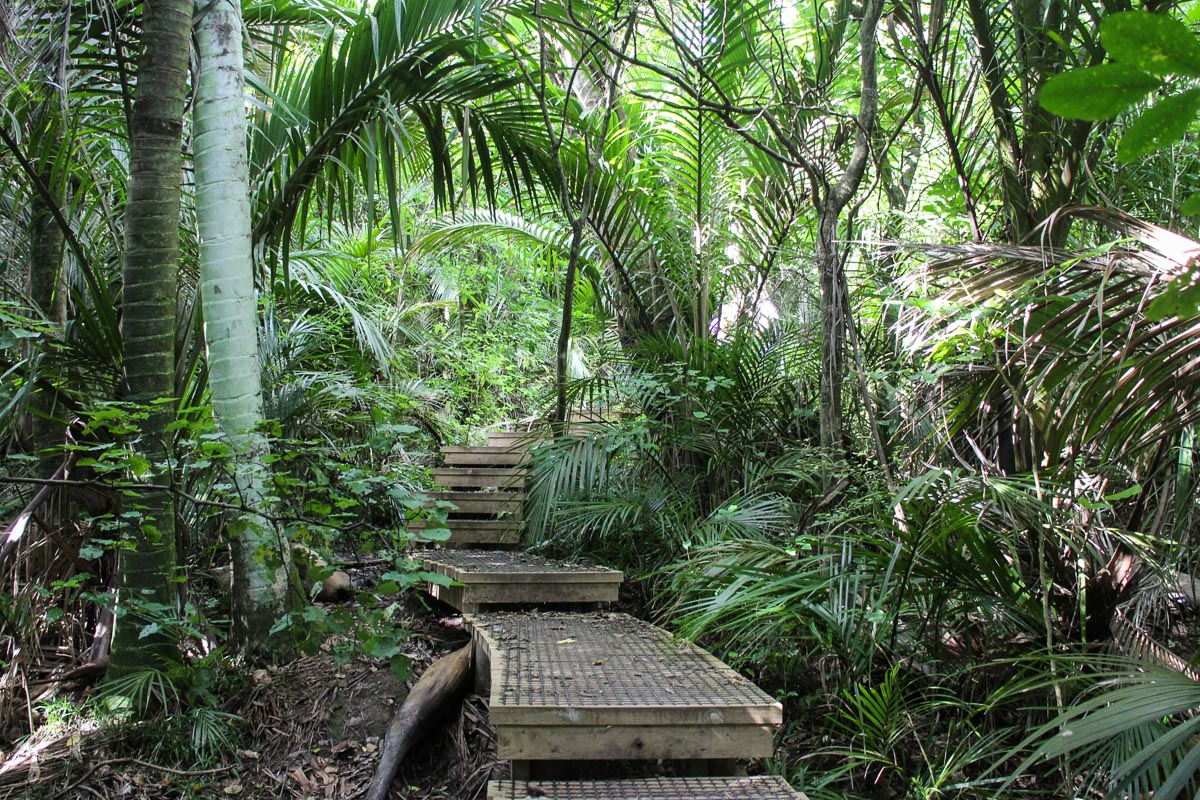 The Barry Hadfield Nīkau Reserve is a shady bush walk through a stunning, large stand of nīkau palms. They line the gravelled track like majestic columns, and there is an easy loop track from the carpark through them which takes only 5- 10 minutes. If you want amazing views, head up the stepped track to panoramic views of the Kāpiti Coast and Kāpiti Island.
The reserve was donated to Kāpiti Coast District Council by Barry Hadfield (1925-2012), a well-known political, economic and social figure in Kāpiti.
Who it suits
The lower loop track through the nīkau is very short, shady and suitable for wheelchairs and buggies. The single track and stairs up to the top are steep, it is suitable for children as it is quite short – but not buggies.
How long it takes
The well-formed flat loop takes only 5 minutes. The track up to the panoramic view climbs 100m and takes 30 minutes return (1.2km).
Highlights
The track takes you through 11 acres of remnant nīkau, kohekohe and a good population of ewekuri, the large leaved milk tree (Streblus banksii), a regionally endangered species. You will come across pīwakawaka (fantail), riroriro (grey warbler), and possibly spy tūi, korimako (bellbird) or even kererū. The reserve is across the road from a breeding colony of kawau (little shag) and is an important link in a chain of forest remnants linking the Tararua Ranges to Kāpiti Island. There is a picnic table at the top, and seating to admire the views.
Transport
Access is by car or train, though it is a good 30-minute walk to Paraparaumu train station. If driving south, turn off State Highway 1 at the Lindale turnoff before you reach Paraparaumu, and the reserve carpark is on your left. If you're heading north, take the left off ramp from State Highway 1 at Lindale just north of Paraparaumu, follow the sign at the roundabout to Nīkau Valley, then take the first left which turns into the Nīkau Reserve carpark.
Facilities
There are no toilets or water available on the track, though you can find both across the highway at the Lindale farm complex.