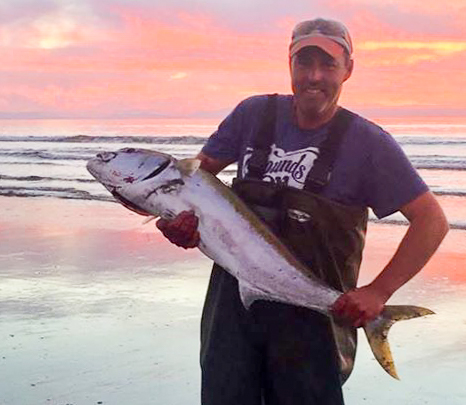 Like most parts of New Zealand, Paekākāriki has some great fishing. Kayak fishing from the beach is very popular, as are longlining and surfcasting. We endeavour to enable locals and visitors to keep enjoying our beach and ocean.
Tips
Follow the rules. The rules can change so check the MPI website regularly to keep up to date: Central area fishing rules

Be a responsible fisher. Learn how to avoid catching under size fish and seabirds with MPI's Responsible Fishing Guide

Don't dump your fish carcasses in the surf or at the eel feeding site. Take them home and bury them in the garden or give them to someone who wants them with https://www.freefishheads.co.nz/

Take your rubbish home! Old hooks, plastic bags and discarded nylon and braid cause real problems for our local wildlife.
Surfcasting
Make sure you don't start fishing close to where people are swimming. Currents will drag lines along the beach so you need to keep your distance.

Set your rods close to the water's edge so that your line doesn't block the beach for other users.
Longlining
Set your reel close to the water's edge so your line doesn't block the beach for other users.

Dog walking is popular along Paekākāriki Beach so keep hooks covered at all times.

Make sure you set your lines well away from other beach users, including other long lines.