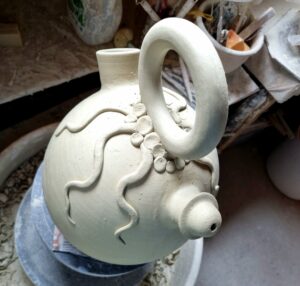 Neil Gardiner: Potter and Ceramic Artist
Neil produces a range of unique stoneware objects including large bowls and vases – along with bottles, boxes, tumblers and cups.
The showroom is open the first Saturday of every month, 10am – 2pm at 65 Wellington Road, Paekākāriki.
In 1972 Neil started at Wellington Teachers' Training College, specialising in art/pottery (and music) using diesel oil-fired kilns.
He later moved to Gisborne where he built and fired a 100 cubic foot, twin firebox, woodfired kiln, specialising in raw and fire-ash glazing. It was here that he started a twenty-year career as a full-time production potter making direct sales to the public, North Island stores, and occasionally internationally, over a six year period.  He traded as Woodstone Pottery.
Neil established and delivered pottery night classes at Tairawhiti Polytechnic.
After moving to Auckland's North Shore and establishing his pottery in the suburbs, he had to leave wood firing behind, and move into gas firing.
He was a member of: Kura Craft Co-operative; Auckland Studio Potters Association and the NZ Society of Potters.
Neil sold and exhibited widely throughout Auckland and the North Island and taught pottery night classes at Glenfield College for 6 years.
A family move in 1990 found them in Paekākāriki where Neil established Paekākariki Pottery (there were no other commercial potters in the village at the time). He sold his work through exhibitions, commissions, galleries, and direct sales through until 2009.
Neil was a member of: The Potters Shop and Gallery, Wellington; Woolshed Potters, Porirua; NZ Society of Potters.
2021: Re-established a studio and returned to working with clay; in a part-time and relaxed manner……to re-explore shapes, surfaces and firing glazes in an oxidising environment using a smaller volume electric kiln.
He is a member of both Ceramics NZ and the Kāpiti Arts Potter's group and trades as Neil Gardiner Ceramics; largely from his showroom at 65 Wellington Road.
Neil is happy to open by appointment, just text or email to arrange.
Call on 021 0245 1499 or message via: