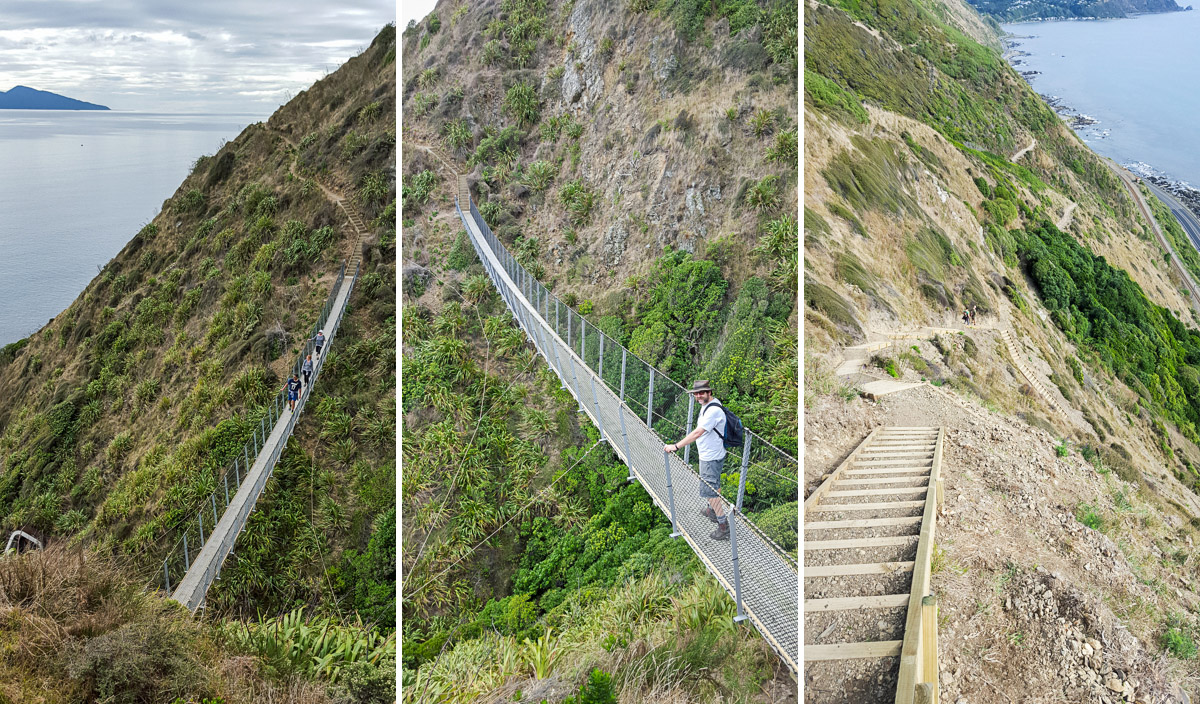 This popular, unique trail will appeal if you are of average-to-high fitness, have at least half a day to spare – and enjoy a sense of exhilaration! Part of New Zealand's nationwide Te Araroa Trail, the walk has already become legendary.
The well-signposted path may make this track appear easy, but it's important to be prepared as it has its challenges (it's not called the 'Stairway to Heaven' for nothing). There are more than 400 steps to negotiate, plus a skinny trail with a large drop-off below you.
If you take your time and have plenty of stops, you'll find it a rewarding outdoor experience. With the height gain, the expansive views of ocean, sky and Kāpiti Island the views are utterly stunning.
Towards the top, some people may experience vertigo from peering down the steep cliff-face. The railway line, road and rocks lie far below; you may feel like you could easily be blown off the side, especially on a windy day (not unusual in these parts). But don't worry, the steps and track are sturdy and safe.
Carry a light day-pack with lots of water, snacks, sunblock, a mobile phone and warm, windproof clothes.
Who it suits
This track requires some endurance and stamina. Children must be supervised. Young children (aged under 8) may find this walk too difficult, but it depends on the children and their caregiver/s. Children used to walking – and up for an adventure – should manage okay. Just take your time and plan lots of rests.
The walk makes you puff, so people with any breathing-related problems or other health conditions should seek advice before attempting it. If someone becomes injured on this track the access is tricky – so it's important to be prepared, take a phone, and tell a friend or family member your plans in advance, just in case.
No horses, dogs or bikes are permitted on this track. It's not suited to wheelchairs or prams – it's too narrow, rough and steep.
Highlights
Highlights of the track include the swing bridges near the Pukerua Bay end, and native forest stretches. at both ends, with spectacular Kohekohe remnants. These are a nice treat, providing some shade and serenity, on the otherwise mostly bare, wind-exposed track.
The walk is noteworthy for its excellent signage providing a lot of interesting history. One of these highlights is passing through what was once a small but important kainga or village Paripari at the Paekakariki end. Also at this end a former quarry site is now home to a colourful lizard garden developed by Nga Uruora with tamariki from Paekakariki School (read a blog on this quarry project and restoration here). Evidence of the remarkable work of Nga Uruora who have been replanting the escarpment since 1997 are evident everywhere.
Running the track is fun for those who get a kick out of a large hill climb and a 10km run. It's actually quite pleasant and less of an endurance mission than you might expect. For safety reasons you may prefer to walk the steps, making for a welcome break in your run. The vertigo somehow seems less of an issue when running, perhaps due to being out of breath!
How long it takes
Allow at least 3.5 to 4 hours (half a day) for the 10km walk, plus extra for the train travel and rest stops. All up, it will take up much of your day to do the walk, catch the train back, and have a well-deserved coffee and rest at the end of it. If you run the track, it'll take about an hour or more.

Transport
Integrate a return-train journey into your walk, as it really is a one-way track (unless you want to walk both ways). If you're coming from Wellington, you could leave your car at home and take the Kāpiti Line train to Pukerua Bay or Paekākāriki. The starting points for the walk are the railway stations at either Pukerua Bay or Paekākāriki. Both have parking if you are coming by car.
Which way to walk?
The one-way walk requires some planning  – either walk from Paekākāriki to Pukerua Bay, then catch the train back – or vice versa.
Check out the Met Service website (or look outside) to assess the wind direction, if there's a strong wind. You ideally want a tail wind, so start at Pukerua Bay if it's a southerly, and at Paekākāriki if it's a northerly wind. Walking from Pukerua Bay to Paekākāriki seems to involve a steeper climb (although you end up at sea level after starting higher up). The reward of a cold drink, ice cream, coffee or beer in the Paekākāriki village is a satisfying way to end the walk.
Directions
From the Paekākāriki end, walk from the railway station along the platform to the south, then head south along the footpath by State Highway One. There's an off-road track to follow as part of this walk – between the highway and railway line. When you get to the bridge, walk down the steps (signposted) which take you under the road and onto the start of the track.
Follow the trail all the way to Pukerua Bay, where signs will lead you along several roads to the train station, the trail's end-point. Alternatively, take the train to Pukerua Bay and walk back to Paekākāriki. The track is marked from the railway station through several suburban streets and Muri station. Factor in another hour for catching the train (including a wait time).
If you drive, please park at Paekākāriki Railway Station, not on Ames St as there isn't enough space up there.
Webcam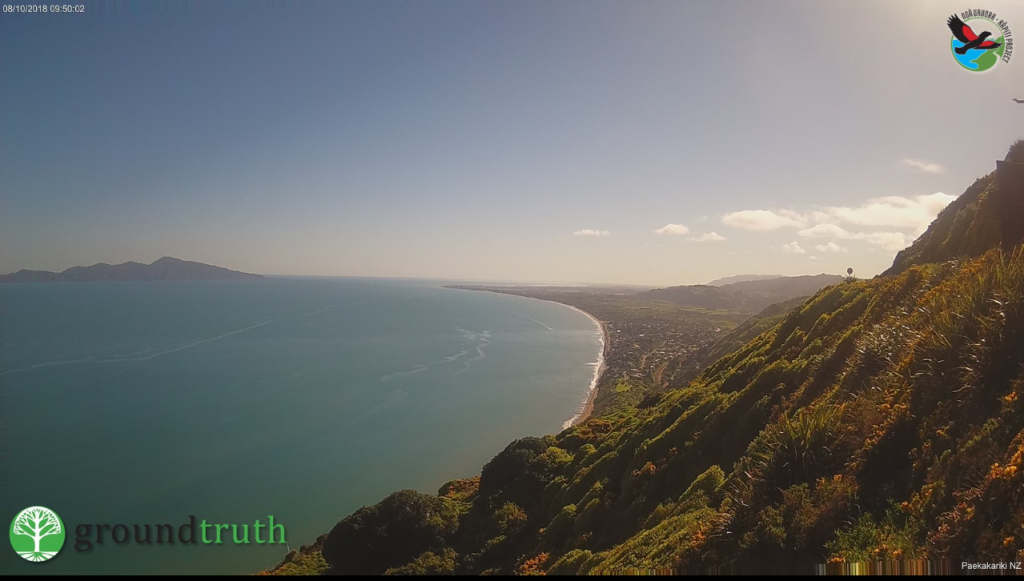 A webcam on the escarpment featuring this spectacular view can be used here.
Facilities
There are no toilets or water along the track. Public toilets are available in both Paekākāriki and Pukerua Bay. There's good seating provided at various points on the track. Rest your tired feet and enjoy the views.
Tips
Take water, snacks and lunch with you.

Please keep to the marked track and don't enter the railway line area.

On windy days it can be exposed at the top of the hill and on the staircases, which may contribute to feeling dizzy – take your time. Be cautious, and watch young children. The steps have no handrails and are steep at times.

Find out more
See Te Araroa Trail for more information.
Listen to a radio broadcast from RNZ's Lynn Freeman, who walked the track just before it opened in 2016.
To complement your walk, read How it started by Ken Fraser and Looking at Kapiti by Alistair Te Ariki Campbell
Images: Mark Coote and Mick Finn