POG is Paekākāriki's Community Gardening group. We are working together to make Paekākāriki a place of abundant organic food production – in home gardens, on berms, at the school – and, in the longer term, to establish a substantial community orchard and garden. We run a community orchard and garden – and your are welcome to join us for gardening bees.
You can adopt a fruit tree to look after by contacting us here as part of our Paekākariki Orchard tree guardianship scheme,.
Or find out more and join our Pae Cycle community recycling scheme here. Sue Pegler updated us on the success of the initiative one year later – read that here.
For a history of our group and orchard and gardens and how it has developed with lots of photos read The Paekākāriki Green Dream.
You'll find our developing site at the northern end of QE Park by the Tilley Road entrance (to the left of the weaving whare).
There is a much wider vision for the use of this land, and we urge anyone with enthusiasm and ideas to get in touch with us. We hold regular workshops (a chance to learn skills such as seed saving, pruning etc) and irregular meetings. We also harvest and cook a shared kai for the whole community. If any of this sounds like you, get in touch! Read more about us here.

Invitation to care for a fruit tree
Please help us care for our community orchard trees. We need your help! We are launching the Paekākāriki Orchard tree guardianship scheme, which means that you and your whanau choose a tree to sponsor, and once a year you nurture this tree by weeding, feeding and mulching your tree. We can provide all the materials for this, and help you paint a sign that dedicates this tree to your care. You will also receive a Tree Guardian Certificate.
There are 28 trees to choose from; walnuts, figs, apples, pears, citrus (lemon, mandarin), feijoas, and a bay tree. In five years there will be 50 trees so you can see why we need your support!
These are fruit trees that with our care will feed our community for generations to come.
You can sign up
here,
OR pop along to our monthly working bees which are held on the third Sunday of every month 11am-12:30 and choose a tree to support.
This is your chance to be involved in a simple but very important way, in this community-enhancing initiative.
As part of KCDC's 2018  No8Wire  week the site was transformed into a nature playground  for two days, welcoming hundreds of visitors in creative exploration.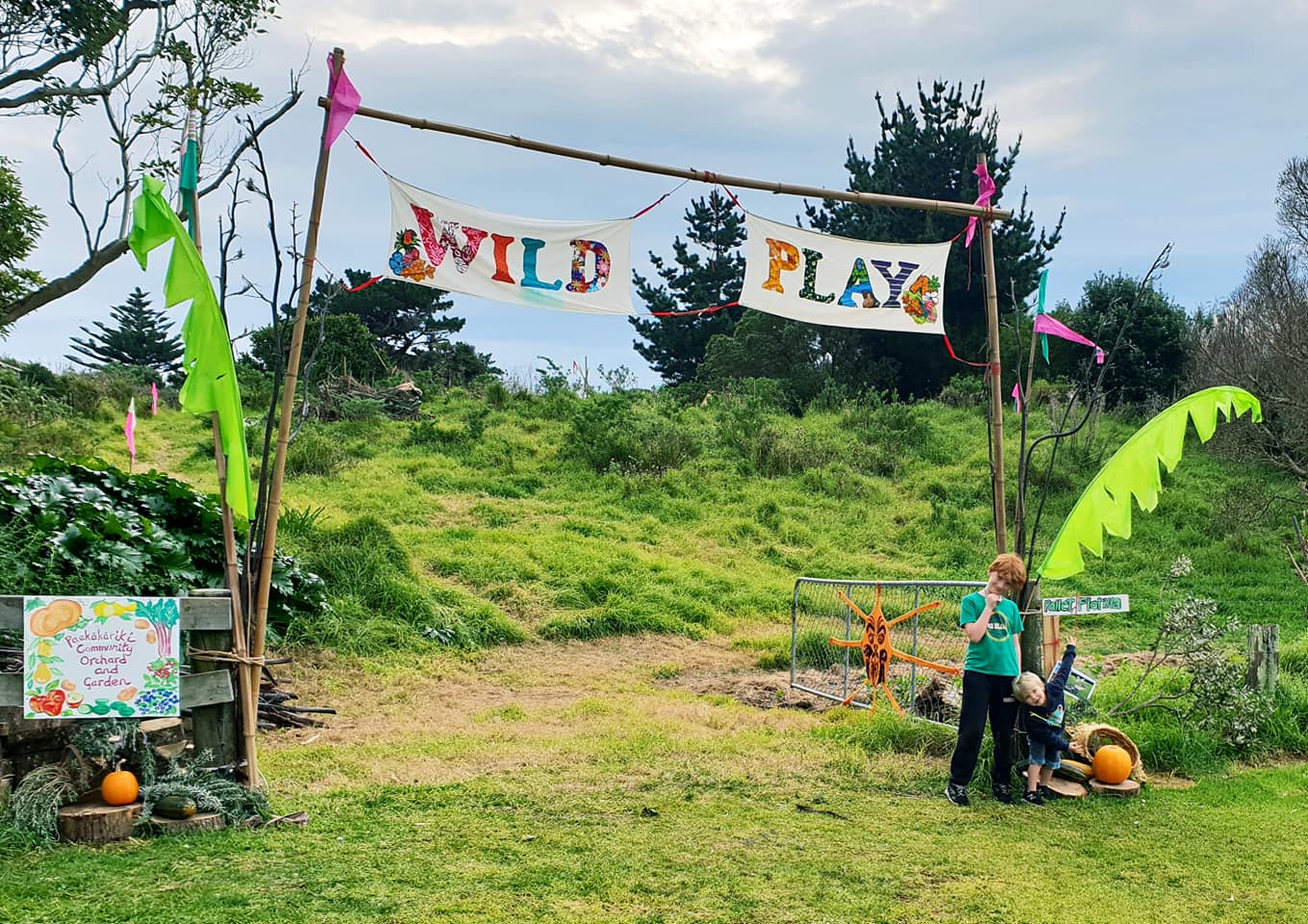 The site is also now home to an urban hut by Kemi Niko & Co as part of the 2020 NZ Festival of the Arts. The public are encouraged to add to the cladding.