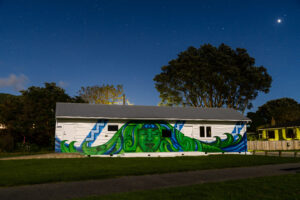 Photo: Mark Coote
Wai Ata Studio is a community creative space bordering Queen Elizabeth Park in the Tilley Road Reserve, Paekākāriki. It is run by film-maker, photographer and musician Himiona Grace (Ngāti Toa, Te Ati Awa, Ngāti Porou) and teacher, actor and musician Julia Truscott. We are committed to the land the whare sits on being returned to the rightful owners, descendants of Miriona Mutu Mira, Ngāti Haumia ki Paekākāriki.
The studio is equipped with:
a recording booth
musical instruments
editing software (Logic Pro, Final Cut, Final Draft)
a kitchen
a toilet
tables, chairs, couches
The space is available for hire 7 days a week for groups or individuals.
We produce video, music, podcasts, record audio for ads/film/video, demos for musicians/bands.
All costs are on a case-by-case basis but generally hireage is $10 per hour and sound recording/producing is $50 per hour.
We run free after school sessions for 5 – 13 year olds every Wednesday and Thursday 3.15 – 5.00, with the afternoon tea kindly sponsored by Paekākāriki Village Grocery. Holiday programmes and mentoring are also run regularly. Get in touch for more details.
Our kaupapa is to make the space and access to technology, music and film available to everyone so all our services are available at very reasonable prices.
Thanks to all our supporters.
Follow us on social media: