Mark Amery notices Maria McMillan's arty campaign hoardings and Maria tells us her priorities on Paekākāriki.FM's 'Te Pae' community show.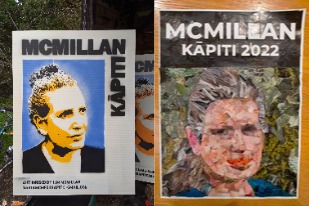 Not only have mysterious hoardings gone up in Paekākāriki with a spray-painted black question mark, but Maria McMillan – standing for a district-wide councillor seat – has not one but two artworks thus far replacing the usual tired photographic headshots.
These two are by Paekākāriki artists Joe Buchanan (Diatom Press) to the left, and KT Julian to the right.
Paekākāriki is aiming to go district-wide this local body elections. Deputy Mayor Janet Holborow is our first local resident vying for the mayoral chains since Jenny Rowan was elected to the position in 2007. McMillan meanwhile is a new face, standing district-wide (and therefore not standing against fellow Paekākāriki resident Sophie Handford for a local councillor position).
A poet and information architect, Maria McMillan has a long history of being politically active. She catches up Paekākāriki 88.2FM Te Pae hosts Sylvia Bagnall and Prue Hyman with her priorities in this interview.
Paekākāriki.nz is a community-built, funded and run website. All funds go to weekly running costs, with huge amounts of professional work donated behind the scenes. If you can help financially, at a time when many supporting local businesses are hurting, we have launched a donation gateway.