The Paekākāriki Volunteer Fire Brigade has been first responders from and within our village for 75 years. Sylvia Bagnall chatted to a number of the fire fighters and gives us an insight into this generous bunch of people and what they do.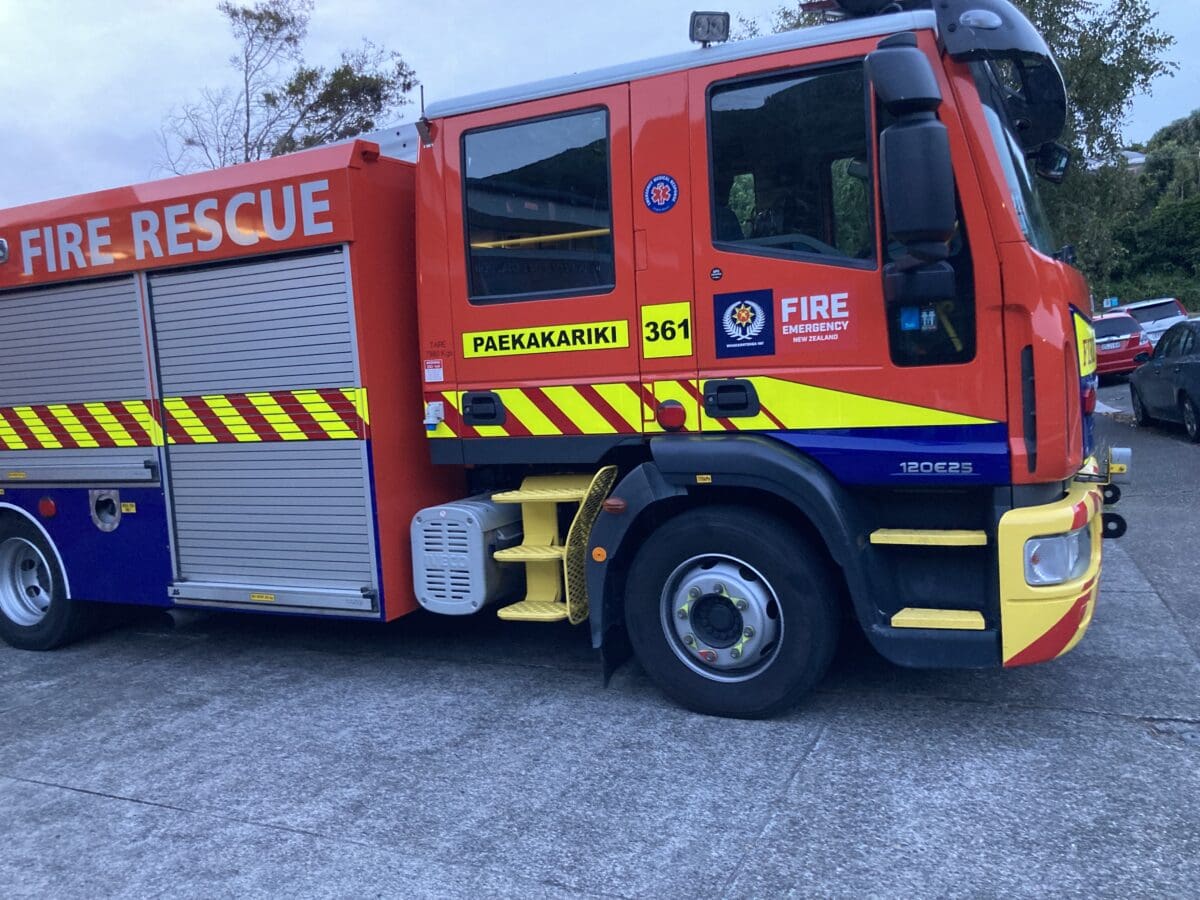 The fire siren can be heard all over the village, and it's tested at midday every Saturday. There are 20 fire fighters in the village – all volunteers – and when the siren goes all those available head for the station on Tilley Road. They tag on and don safety gear according to the type of emergency: yellow for fire, waterproof gear for structural fires, fireproof overalls for bushfires or PPE for vehicle accidents or chemical spills. As well as the siren the firefighters carry a pager and may have an app on their phone. There needs to be a Driver and a Fire Officer in the front of the trucks and at least one, and up to four firefighters at the back, usually in two teams of two. The Driver also operates the pump. They train every Monday night, followed by a social time.
I met with Paul Furfie, the current Fire Chief, and his daughter Hannah, in the station office, where the retired chief Ash Richardson (who was recently recognised for 40 years' service) was silently working at a desk.  (But don't think Ash has retired from firefighting; he's very knowledgeable and valuable on the truck).
Paul acknowledges that Jim Parsons, who was the chief when he and Ash began in the brigade, was proactive in diversifying the team. It's now about 25% women, including Hannah who has recently graduated from the training in Rotorua. About half the fire fighters have employment around the village, with more now working from home because of the pandemic, so they can get there for daytime calls. A number are also in the Surf Lifesaving Club. Most remain for several years and some, like Paul and Ash, have had younger family members follow in their footsteps.
Hannah Furfie is a pleasant, open and strong looking woman who is a landscape gardener in her daily life. She says she grew up with the brigade, was in and out of the station with her father and uncle who are fire fighters, and it was something she always wanted to do. There was no family pressure. She had some work experience for NZCEA but Hannah never heard the possibility of fire-fighting suggested as a career at school.
Hannah is 24 but there was somebody aged 60 on her course in Rotorua. It's a demanding course with experience of getting into uniform rapidly, managing hoses, rescue techniques, struggling through an obstacle course in the dark and heat, and a day in the 'live fire' house (simulated in a structure of containers) and entering it alongside an instructor to find people. There's a pass/fail outcome and Hannah passed. She's also learning through attending incidents, like motor vehicle accidents, with her colleagues.
Paekākāriki has had a volunteer fire brigade for 75 years and has a great reputation. The team is part of Fire and Emergency New Zealand (FENZ). Aotearoa's model of a service with volunteer and career firefighters throughout the country was formed in 2017 from the combination of the Fire Service and the Rural Fire Service. It is unique in the world, making it bigger even than the London Fire Service or the New York Fire Department.
There are sixteen thousand personnel, eight thousand who are volunteer fire fighters, around two thousand paid career fire fighters, more than two thousand management administration and training staff – it is a massive organisation from Kaitaia to the Bluff. Like other uniformed forces it has ranks – fire chief, three station officers, senior fire fighters and the rest. All recruits need to become qualified and there is ongoing training every Monday night. This village has produced good firefighters who have gone on to be paid elsewhere.
Paul notices volunteerism is declining everywhere and he holds in high regard anyone who turns up at the station to give their time. They have "the nous to turn up at the station to help another human", be on call and accept the structure unremunerated. Paul has seen that participation can change lives for the better.
When called to a building fire or a motor vehicle accident both trucks will be sent. If access is tricky, as it could be in Queen Elizabeth Park, on farmland or on Centennial Highway the smaller ATV (All Terrain Vehicle) is used. One vehicle is always set up with all equipment, ready to go, and rolls out of the station within four minutes at any time, even in the middle of the night. The ATV was bought with funds raised in this community, as were the Jaws of Life: a set of three hydraulic tools to release people trapped in a crushed vehicle. If you've popped a fiver into the helmet moneybox at Fisherman's Table you contributed to this.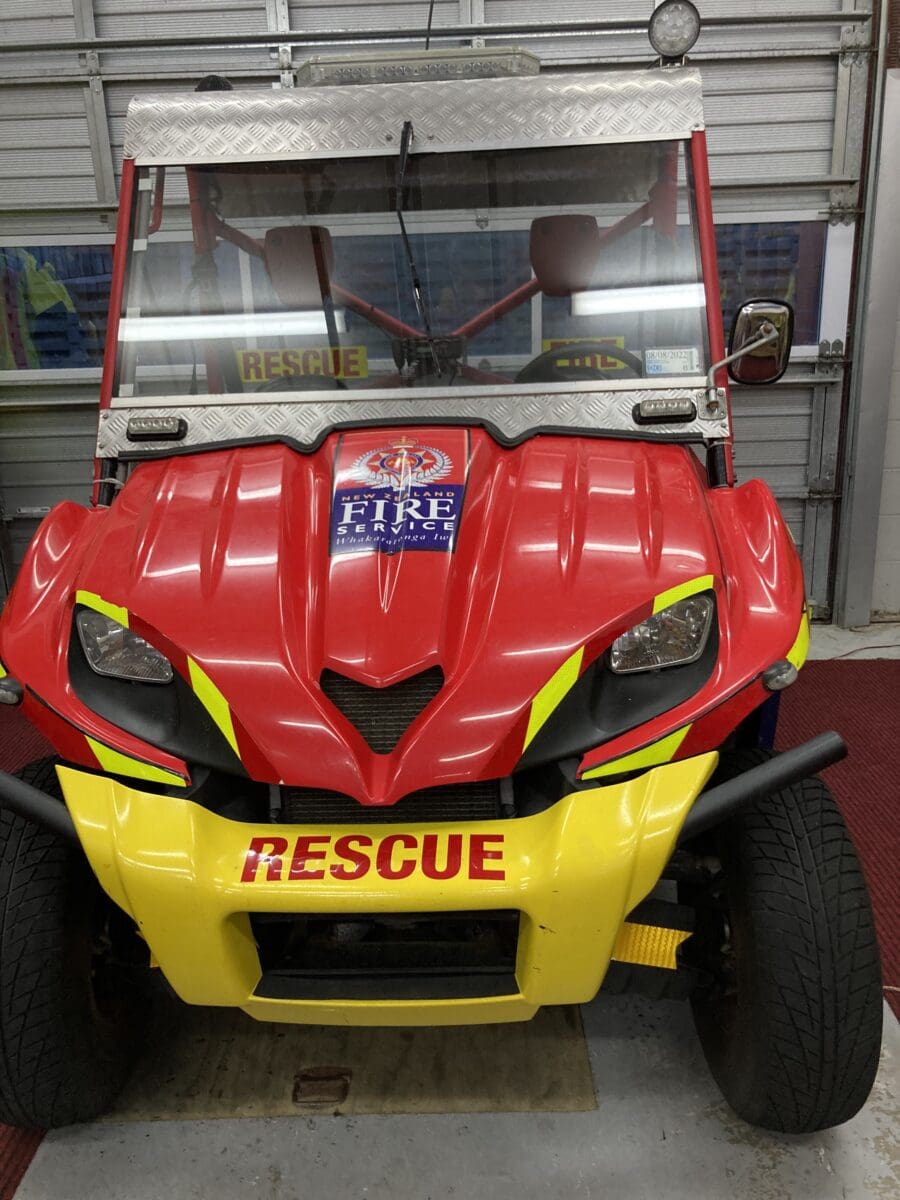 Brigades at Paekākāriki, Paraparaumu and Plimmerton work in with each other, volunteers working compatibly with paid firefighters. Being in the middle, Paekākāriki attends most incidents. Just the day before we talked there was a motor vehicle accident near Fisherman's Table and the Paekākāriki brigade got there first. Luckily a doctor was following the vehicle and was already giving medical attention when they arrived.
During the Covid-19 pandemic crews have been confined to four – two in front and two in the back of the engine – and the team split to two for Monday night training. It's a little frustrating but safer.
Hannah says it's a family affair – you know you will be looked after on and outside the job. It's a good team, says fellow firefighter Judith Stanley, "a whānau". They do it to provide a service but also get a sense of adventure. It's exciting back in the truck when you know everyone is safe after the 'thrill of danger' (and it's not true that fire fighters set fires themselves).
The team attends around 40-50 emergencies a year which averages around one a week. Most callouts are for motor vehicle accidents but others can be for anything from scrub fires to chemical spills, medical emergencies and ambo backups, to a cat stuck on a tree or pumping water from flooded properties. In a fire the priority is ensuring everybody is out while fire fighters protect their own safety and prevent further risk to surrounding property. Snap rescues are rarely needed.
A chemical spill from train or truck is managed by identifying the substance, keeping people away and washing down. The team has been hugely involved pumping water out and with communications in village floods.
Ash campaigned with a Kāpiti doctor for the barrier to be installed on Centennial Drive from Paekākāriki to Pukerua Bay. Before that they were attending serious road accidents at least once a week. Road accidents still provide the most callouts, including on the Paekākāriki Hill Road. Sometimes they need to check on a car tipped over the cliff. If it's empty they'll spray paint a cross on top of it. Drivers doing a U-turn, misusing the Hill Road turn off and out-of-towners not understanding how to use the merge lane create a particular risk.
Sometimes the firefighters will be asked to investigate a parked car and find somebody has died in it. The fire team are often the first co-responders at a medical emergency. Police, fire and ambulance services work together at any incident to cover each other and provide safety.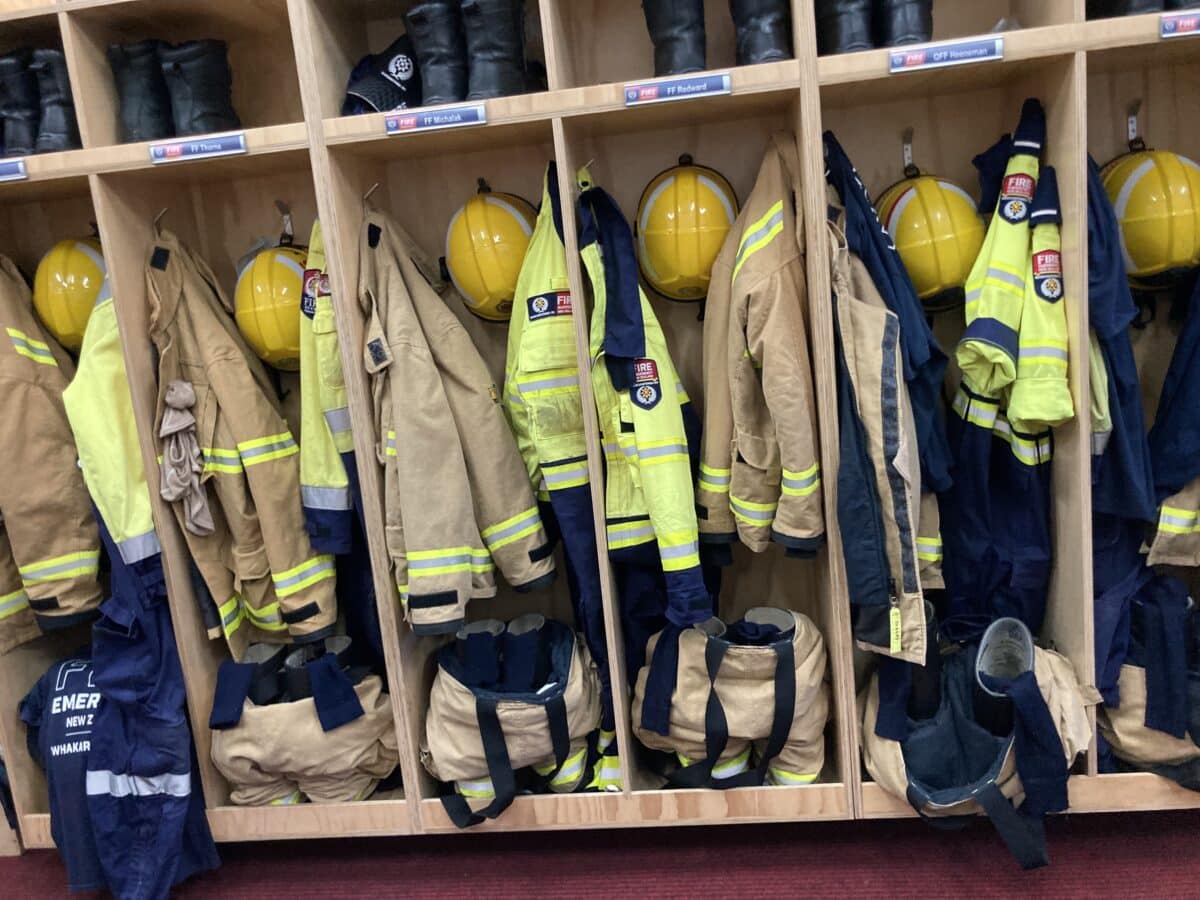 All house fires are different but older wooden houses are particularly flammable, as fire heats up the air and in the roof space, which can then explode. So can gas cylinders, which need to be rapidly cooled. It's important that everyone gets out and stays out and leaves the rescue to the fire fighters.
When more help is needed appliances attend from Porirua, Plimmerton or Paraparaumu, and conversely our brigade might need to send an appliance to nearby areas. Our station has only volunteers, as does Plimmerton, but others have a mix of volunteer and career firefighters. At an incident there is a hierarchy of command but volunteers and career firefighters work as one team. Everyone understands the roles and everyone trains constantly. First Aid learning is updated annually.
There are more than 800 volunteer fire fighters in Aotearoa and women, while still a minority, are participating in increasing numbers. Years of service are recognised at three, five years up to the Gold Bar at 25 years. Some stay long enough to earn a second Gold Bar.
Most Paekākāriki fire fighters are recruited by word of mouth. Several members of the local soccer team followed each other into the brigade. What keeps them there is camaraderie, knowing they are doing something worthwhile, gaining transferrable skills and the stimulation of becoming aware and alert. Judith was always adventurous and she joined after hearing a man talk about volunteering. Hannah finds that friends are surprised to hear what she is doing. 'My dad did that!' some say. 'My dad does too!', replies Hannah.
Judith Stanley first joined the Plimmerton Fire Brigade 20 years ago and soon moved to the Paekākāriki brigade. She had burned her eyebrows as a child and that began an interest in what fire can do. Judith is an active fire fighter although she says she doesn't drive the truck because she has "no sense of direction". She has also been very involved with training and fire prevention education.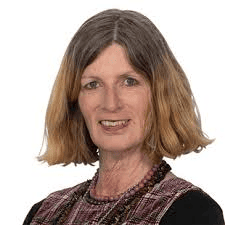 As a former teacher, Judith has focused on safety education and she was able to visit Australia after their 'Black Friday' fires to investigate their Youth Training Programme. She then led a Youth Training Programme in the wider Wellington region, involving 170 young people at Tawa, Kāpiti, Paraparaumu and Ōtaki Colleges and the Kura in Ōtaki . They gained unit standards for their learning and some are now in the team at our station. Judith, Hannah and others work with the pupils at Paekākāriki School which Judith says is "excellent fun" and the safety messages get taken home.
Her interest in training led to Judith accepting nomination for the United Fire Brigades Association, a sort of volunteer union. Judith was elected, then the only woman, but found it frustrating that there was little support for youth training.
The team recently had a reconnaissance of the Transmission Gully highway, as they will be responsible for attending incidents from Mackays Crossing to Tawa. There will also be a permanent maintenance team attending incidents. This road could present new traffic hazards, including fog traps from swampy areas although fog lights are planned as mitigation.
Fire safety hints
Make sure you have a working smoke alarm.
Have a household evacuation plan and get out as soon as you suspect fire – pets will get out themselves.
Don't hesitate to call 111 for any emergency – if you ask for 'Fire' a team of six helpful locals will soon be there
Wait at the letterbox for the fire engine
Know CPR and don't hesitate to use it if somebody has collapsed
Don't leave dry long grass or piles of wood close to a building
Drive carefully
Be alert to possible rockfall on the road
Contained garden incinerators are permitted in winter but there's a complete ban on fire in summer.
People are the best resource in preventing and ameliorating fires, even while, as Judith quotes, we are "Innately adaptable but innately stupid."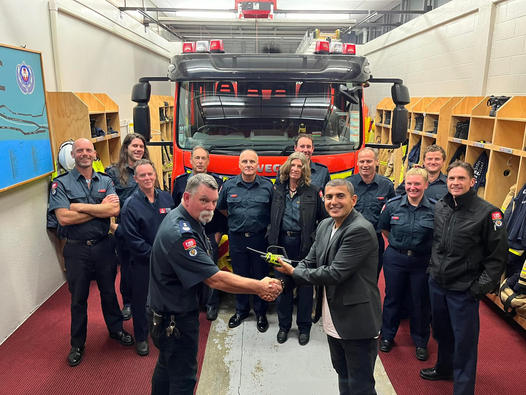 Paekākāriki.nz is a community-built, funded and run website. All funds go to weekly running costs, with huge amounts of professional work donated behind the scenes. If you can help financially, at a time when many supporting local businesses are hurting, we have launched a donation gateway.