Paekākāriki bursts with Pride this coming Labour weekend with a diverse programme of events. There is something for everyone so don't miss out on this fun-filled celebrated annual festival!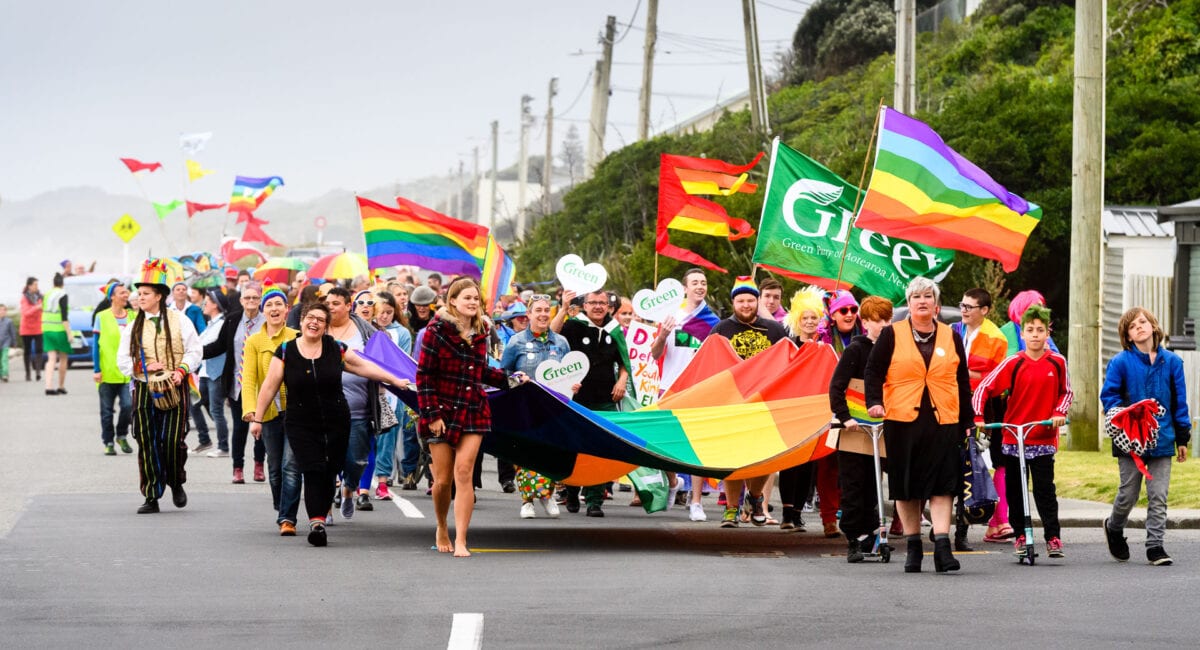 The Paekākāriki Pride Festival is Kāpiti's leading LGBTTQIA+ celebration and is back this year bigger, better and more fabulous than ever. With five days of events to celebrate turning five focused around Labour weekend, there is pretty much something for everyone.
Featured are dances for all ages, the ever-popular meet and greet and quiz, a dog show, a special theatre production, Man Lessons, on Thursday evening and of course the world's shortest Pride Parade on Saturday afternoon at 3pm.
"Last year, the need to support whānau and the community in staying safe from Covid meant the traditional week of festivities was replaced by a pop-up vaccination event." says Val Little, one of the organisers, "But this year we're turning five, and just as if we were a person, we'd be starting school, we're back with a truly intergenerational week of events for the entire community."
Schedule of events:
Thursday 20 October – Man Lessons theatre piece, St Peter's Hall from 7 pm
Friday 21 October – Meet & Mingle at Finns Hotel from 7 pm
Saturday 22 October – Rainbow Gala and Plant Sale, Paekākāriki School from 10 am – 1 pm
Saturday 22 October – Pride Parade, Campbell Park at 3 pm
Saturday 22 October – Kids' disco, St Peter's Hall 4 to 5 pm
Saturday 22 October – Dance Party, St Peter's Hall from 7 – 11 pm
Sunday 23 October – Joyful and Defiant Pride Concert, St Peter's Hall from 4 – 6 pm
Sunday 23 October – Quiz Night, Finns Hotel from 7:30 pm
Monday 24 October – Plunge for Pride swim, Paekākāriki Surf Club from noon
Monday 24 October – Picnic and Pride Puppies dog show, Campbell Park from 1pm
In addition to Man Lessons on Thursday evening, one of the highlights of this year's festivities is Sunday's concert at St Peter's Hall featuring 'world famous in Aotearoa New Zealand' 92 year-old harmonica virtuoso, Coral Trimmer. Coral lived in the closet from the 1940s in Aotearoa and around the world before coming out aged 86 and getting married this year for the first time ever.
Coral is renowned for her high-kicking, high energy performances, getting people up on their feet and bringing the house down. She's formed a special band with a combined age of around 300, featuring a young New Zealand Symphony Orchestra harpist and our very own new mayor Janet Holborrow on cello.
"Pride week is designed as a celebration of our trans, takatāpui, bisexual, asexual, multisexual, lesbian, gay + community with events where everybody can feel comfortable and be themselves. It's also a great week of events for the community's many straight allies," adds Pat McIntosh, a co-organiser. "So get ready to have a great time. Who knows, it's not official, we're just trying to have fun here (and we do)."
Coral's Pride love story 92 years in the telling and counting
Ninety two year old Coral Trimmer's rainbow love story is a joyful and defiant one. Coral, who is Patron of Paekākāriki Pride Festival, lived as a closeted lesbian until coming out at the age of 86. She was born in Petone into the most theatrical of families, became a multiple instrument musician from childhood and lived around the globe before finding her true love and getting married in Paekākāriki at Easter this year.
"I always had to hide who I am," says Coral, "but now it's amazing, people are so accepting, especially in Paekākāriki."
Now world-famous-in-Paekākāriki, Coral isn't slowing down. She's as much a virtuoso performer as she ever was and is now proudly telling her story through music, theatre and a documentary being made about her extraordinary life.
Coral plays harmonica and sings with a new group, the Joyful and Defiant Collective which includes harpist Michelle Velvin of the New Zealand Symphony Orchestra , vocalist Gwen Greenham, veteran pianist Gilbert Haisman and cellist Holborow.
The Joyful and Defiant: Pride concert promises to give audiences much to smile and be inspired about. The show is an exploration of Coral's remarkable music and her personal journey through life with a harmonica. It showcases the diverse talents of some local and nationally acclaimed musicians. Coral herself is celebrated for her vibrant, high energy performances.
Band manager and Paekākāriki Pride Festival co-organiser Pat McIntosh says "Their cheeky take on traditional crooner music to kiwi wartime classics will have you singing along and tapping your feet one minute and crying with laughter the next. And Gwen Greenham's beautiful and unique voice will move you to tears."
The concert is being filmed as part of a documentary about Coral's incredible life led as a closeted lesbian while a world-class musician in the stark world of entertainment .
The show is part of the Wellington Jazz Festival and will premier as part of the Paekākāriki Pride Festival on Sunday 23 October in St Peter's Hall, Paekākāriki at 4pm.
For more information contact:
Val Little
P: 021 846 399 E: [email protected] Web: paekakarikipridefestival.org FB: https://www.facebook.com/PaekakarikiPride/
Instagram: https://www.instagram.com/paekakarikipride/
Paekākāriki.nz is a community-built, funded and run website. All funds go to weekly running costs, with huge amounts of professional work donated behind the scenes. If you can help financially, at a time when many supporting local businesses are hurting, we have launched a donation gateway.