Judith Galtry highlights the strong connection Robin White had to Paekākāriki and the creative people she knew here. Her exhibition, Robin White: Something Is Happening Here, is on at Te Papa Tongarewa until 18 September 2022.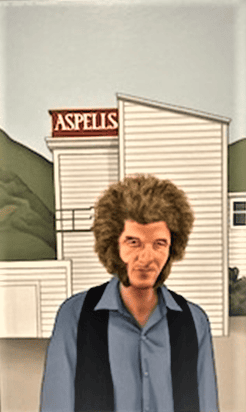 Robin White: Something Is Happening Here is a beautifully illustrated book surveying the 50-year career of one of New Zealand's most well-known artists, Robin White (Ngāti Awa). Included are more than 150 of her works, from early watercolours, screen prints and drawings through to her recent collaborative work with Pacific artists, photographs, as well as perspectives by 24 writers and respondents from New Zealand, the Pacific and Australia.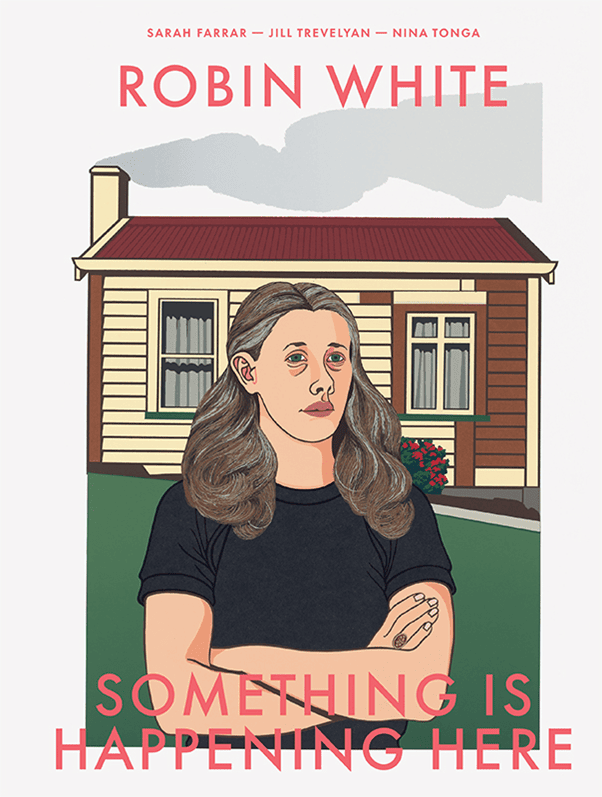 In tandem, Te Papa is currently hosting an exhibition of some of White's work. These include key portraits and local landscapes from the 1970s and some of her collaborative works with artists from across the Pacific and Aotearoa in recent years. Robin White: Something Is Happening Here. Robin White: Te Whanaketanga. 4 Jun – 18 Sep 2022
To all Paekākāriki-ites, if you haven't been already, make sure you go to the exhibition at Te Papa before it closes on 18 September. If not for the huge variety of stunning and diverse work, then for the simple fact that our iconic village features among her early art.
Walking into the exhibition, I was immediately drawn to the three works specific to Paekākāriki undertaken in the early 1970s. Two are of the Paekākāriki pub, then run by legendary publican Dennis (Denny) Aspell, while a further one is of ex-Paekākāriki 'lad', Jerry Ursell, standing outside the hotel.
At this time, White had a strong connection to Paekākāriki and its surrounds. In 1969, after graduating from the University of Auckland's Elam School of Fine Arts, White had made the move south to Paremata to teach art at Mana College. Here, she lived in a tiny worker's cottage at Bottle Creek, up a steep macrocarpa lined track linking Seaview Road to Pāuatahanui inlet. A year earlier she had met Sam Hunt who was to profoundly influence her life and her art.
Art historian Linda Tyler writes of this artwork:
Artist Robin White and poet Sam Hunt met in 1968 when they were both 22 years old. He was visiting Auckland to perform at the University Arts Festival and she had finished her Diploma of Fine Arts at Elam and was training to be a teacher. When Robin was offered a job at Mana College in Porirua in 1969, Sam found her a cottage to live in next to his at Bottle Creek on Paremata Harbour north of Wellington. Their relationship was close, and the following October she painted this work, Sam Hunt, Bottle Creek (1970), the second of four major oil portraits she made of him in seven years.
In one of a series of Reading Room reviews dedicated to Te Papa's publication of the book, Steve Braunias notes that:
The two [Sam and Robin] were lovers, briefly, then friends, deeply. Hunt was at the centre of things. He was connected, wildly social. He knew poets Meg and Alistair Campbell at Pukerua Bay, and Denis Glover at Paekākāriki; Hunt lived in a boatshed on the Pāuatahanui Inlet, and called that stretch of shore Bottle Creek in honour of the constant partying. Friends came and went, including painter Don Binney and writer Jack Lasenby.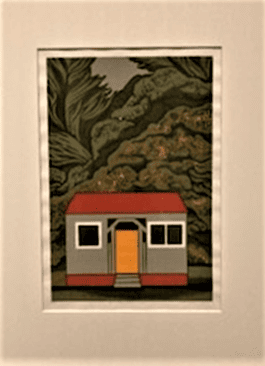 This was a period of intense artistic cross-fertilisation. Friends made around this time included Fleur Adcock, Alistair Te Ariki Campbell, Jack Lasenby and Michael King. In the book, one interviewee recalls , 'The partying moved between Porirua, Paremata and Paekākāriki, largely coordinated by Sam who at the same time found time to write prolifically.' (p.36)
The Paekākāriki pub was the epicentre of literary and artistic, boozy, and often fiery discussion and collaboration. Paekākāriki poet Denis Glover was often the catalyst for a rowdy evening spent at Aspell's drinking establishment.
The two works showing the exterior of the Paekākāriki hotel (from the Auckland Art Gallery and the Turnbull Library collections) are in fact screenprints. Art critic Andrew Paul Wood notes that White developed the Paekākāriki Pub screen-prints in the early 1970s at a time when the "industrial, commercial screen-printing process was a huge influence on pop art, particularly Andy Warhol and Sister Corita Kent." He describes how screen-printing "favours simple forms, pictorial flatness and a restricted palette. In the three Paekākāriki images, she presented flat, simplified frontal images, as in Jerry at the Paekak Pub (1971)."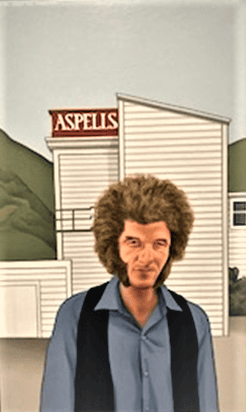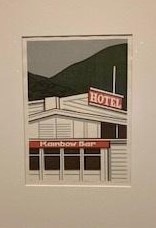 In an extension of the Paekākāriki Hotel series, White painted Jerry at the Paekak Pub in 1971, which was purchased by the Dowse the same year.
According to Wood, "In this work she goes back to the screen-prints and translates that flat, stylised pop aesthetic into oils on canvas. Jerry – I'm not entirely clear who he is – is in the foreground, executed in a more traditional manner with more shading and modelling, but still quite flat in discrete patches of colour."
With regard to Jerry Ursell, he was a good friend of Sam Hunt and, through Sam, Robin. See the photo, 'A party at Sam Hunt's cottage, Bottle Creek', c.1970. Jerry Ursell and his wife Prue Warren are part of this group photograph, which includes Don Binney, Jack Lasenby, Sam Hunt, among others.
Many Paekākāriki old-timers know or remember Jerry, including from his time living on the southern corner of The Sand Track and The Parade with his wife Prue Warren (the descendant of another Paekākāriki family) and children until the early 1980s. Nowadays a resident of Wellington, Jerry still has close connections to the village.
In 1971, White left Paremata, moving south to Dunedin to work full-time as an artist. The intensely formative Paremata, Porirua and Paekākāriki stage of her life may have been over but it was not forgotten. The paintings from this period are vivid and arresting, evocative of a particular era and place. It is well worth a visit, or two, to Te Papa to view them.
Paekākāriki.nz is a community-built, funded and run website. All funds go to weekly running costs, with huge amounts of professional work donated behind the scenes. If you can help financially, at a time when many supporting local businesses are hurting, we have launched a donation gateway.