Tim Barlow is lead concept developer for the artwork that will accompany the first stage of the renewed seawall. He updates us on where the project is at, how mana whenua and others are involved and the kaupapa behind the mahi.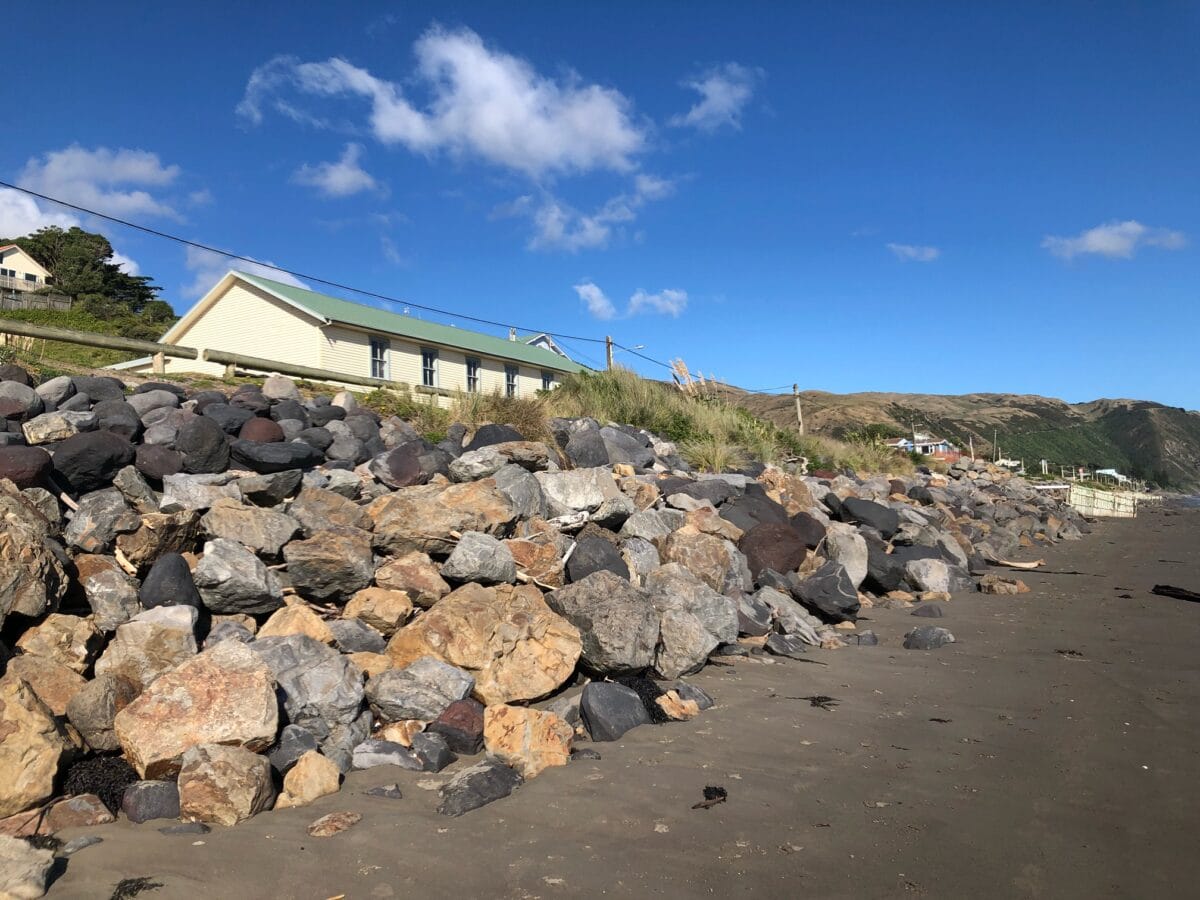 In late 2021 the Kāpiti Coast District Council announced plans to move ahead in 2022 on the first phase of the rebuild of the seawall. This would involve the build of the accessway at Campbell Park opposite Memorial Hall, known in the plans as 'Accessway 4'.
This is the largest of the proposed nine accessways along the seawall, and perhaps most significant with its connection to the park and the hall. The KCDC announced a modest budget of $200,000 available for all the artwork along the new seawall. In early 2022 the Paekākāriki Community Board approached me to ask if I would be interested to project manage the artwork for the Paekākāriki seawall renewal.
I do not represent any group and had not been involved directly in the earlier seawall consultations, designs or community groups. I saw this as an exciting opportunity and challenge; I will outline below how I approached the brief and how we have moved forward so far.
Much work had already been done by the Seawall Design Group (an independent local residents' group), the Community Art Group (established by the Paekākāriki Community Board) and by a commissioned landscape architecture company, Isthmus. This previous work involved community engagement processes that formulated some core design values and initial concepts and ideas on what the artwork might look like.
It was suggested the artwork should be integrated into the design process, seawall architecture and amenities, i.e not just 'tacked on' or 'plopped down' later. Secondly, that this art work would be produced by a range of different local artists and artist groups that would give the local community engagement with and ownership of the artwork.
To summarise some of the other key concepts and design values from this earlier work:
An overarching concept to tie all the artwork together to give unity and vision.
Representation of manawhenua, Ngāti Haumia, including hapu input into the design process, with a potential Ngāti Haumia story inspired sculpture in the Campbell Park area.
Inclusion of local 'stories' that would inspire and engage the community and visitors to the seawall.
The inclusion and representation of Paekākāriki as a literary/musical/artistic haven and the railways/transport heritage.
Green' values, demonstrating sustainability and biodiversity enhancement.
A local designer and gardener to undertake the landscaping and plantings.
A local artist to project-manage the artwork.
Incorporation of local art into the amenity values/functional elements; i.e walkways, seating, bike stands. rubbish bins and other bespoke beach fittings.
Use of natural materials; weathered timber, railway sleepers, shells, stone etc.
Organic forms and rustic styling rather than a clean, 'corporate plaza' look.
The Seawall Design Group and Community Art Group had also undertaken initial discussions with several local representatives and artists. The community board were keen for Accessway 4 to have kaupapa input from Ngāti Haumia and that is where I picked up the baton.
I asked KCDC that any project management work I undertook was not paid out of the budget for the artwork but from alternative sources of funding. Also, I asked that anyone that was now engaged in providing art/design input would be adequately paid. I began by visiting Bride Coe, representative of the Seawall Design Group, who shared her invaluable experience of the project and her archive of correspondence and documents.
I approached Karl Farrell to see if he would represent Ngāti Haumia as their kaumatua and lead advisor. With Karl's guidance we formed the following ringa toi ropu (artists working group) for Accessway 4:
Mana Whenua Representative; Karl Farrell: Lead Advisor for Paekākāriki mana whenua, Ngāti Haumia
Hemi Macgregor – Artist, art and design co-ordinator, Ngāti Rakaipaaka, Kahungunu whanau, Tuhoe
Margaret Jackson – Artist, art and design development, Ngāti Pākeha, Representative of Te Rau o te Rangi Weavers Group
Natasha Perkins – Furniture design, art and design development, Ngāti Porou and Te Whānau-ā-Apanui
Tim Barlow – Art Project manager, art and design development
Dan Beban – Artist, art and design development
What our ringa toi ropu have discussed is that the 'big idea' that unifies all the artwork along the seawall could be: s refuge, a safe place; (i.e. to take refuge, take refuge in troubled times, secluded and safe).

We think this is a strong concept that can be inclusive of the seawall itself, all peoples and the natural environment. It also hopefully can provide inspiration for the artists mahi. The idea is each accessway and places along the mixed-use walkway have a dedicated concept that is related to and result from this refuge (safe place).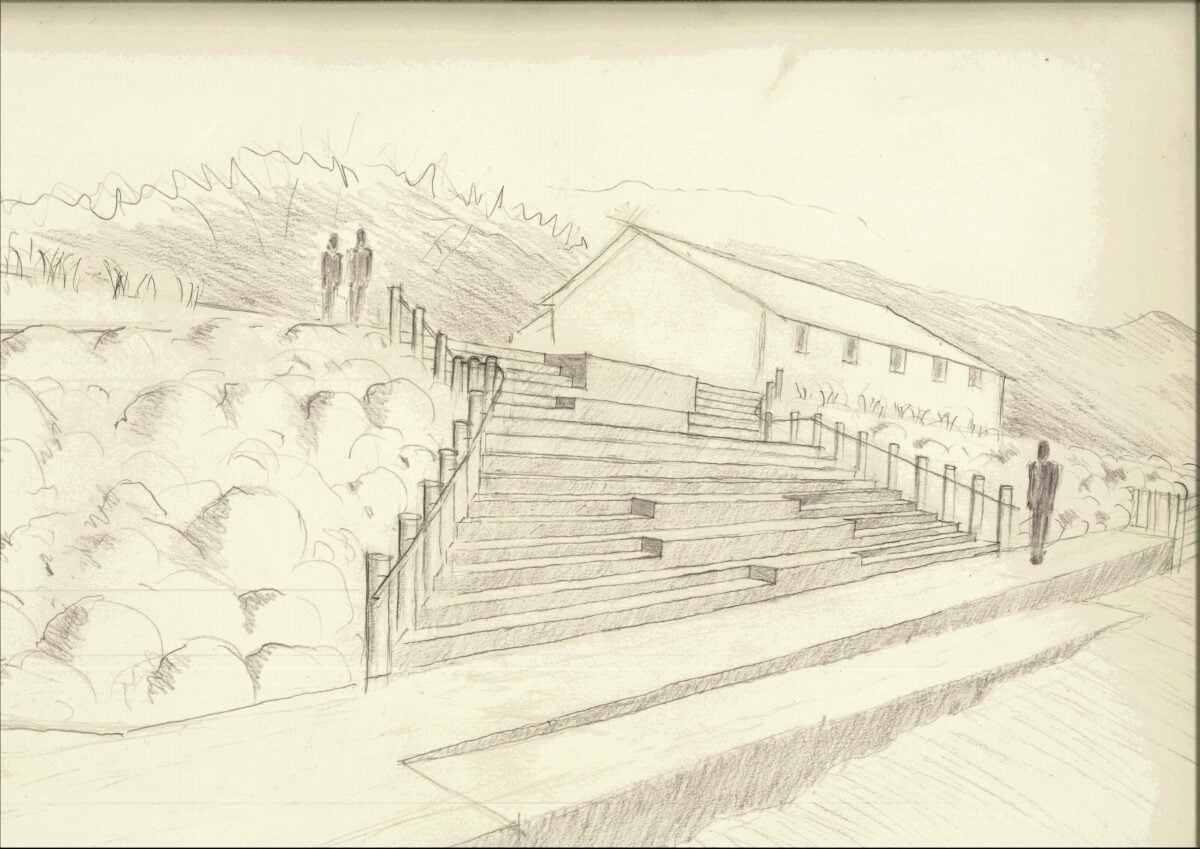 Accessway 4 will therefore engage with Ngāti Haumia whakapapa, while other accessways can be undertaken by different artists or artist groups and engage other values such as:
Kaitiakitanga (environmental guardianship)
Manaakitanga (acts of giving and caring for)
Whakakotahitanga (consensus, respect of difference)
Arohatanga (respect, love, compassion)
Kotahitanga (unity, collective action)
Wairuatanga (a spiritual dimension)
Our ringa toi ropu have been meeting regularly for the last several months, while I have been liaising with KCDC representatives, Tonkin and Taylor Engineers and the Paekākāriki Community Board. I have found all parties, including the KCDC representatives and advisor Seawall engineers and Community Board have been very receptive and enthusiastic for the ideas we have put forward.
We have made suggestions for the kaupapa and design of how the art at Accessway 4 is integrated into the previous seawall plans. At this time of writing the KCDC have put their Accessway 4 plans out to tender, and we are all waiting with anticipation on what will happen next!
It is important to note that the Accessway 4 is being treated by the KCDC as a singular contracted project that is not tied into the walkways and landscaping. For this reason I thought it best not to include a local landscape architect and gardener in the artwork design phases for Accessway 4.
I'm very excited about the terrific design that has been produced by the ringa toi ropu so far, so I'm looking forward to the next design steps!
For more background to this project, read these articles by Bride Coe : 'Council 'sideswipes' planned seawall design' and 'What has become of the Paekākāriki seawall?'
Paekākāriki.nz is a community-built, funded and run website. All funds go to weekly running costs, with huge amounts of professional work donated behind the scenes. If you can help financially, at a time when many supporting local businesses are hurting, we have launched a donation gateway.