paekākāriki.nz is pleased to introduce the first in a series of creative responses from local writers to three of the village's most popular walks and bike rides. This one by Dani Deluka accompanies the Wainui Stream walk. The series sees our writers paid through funding provided by the Kāpiti Coast District Council Creative Communities Scheme.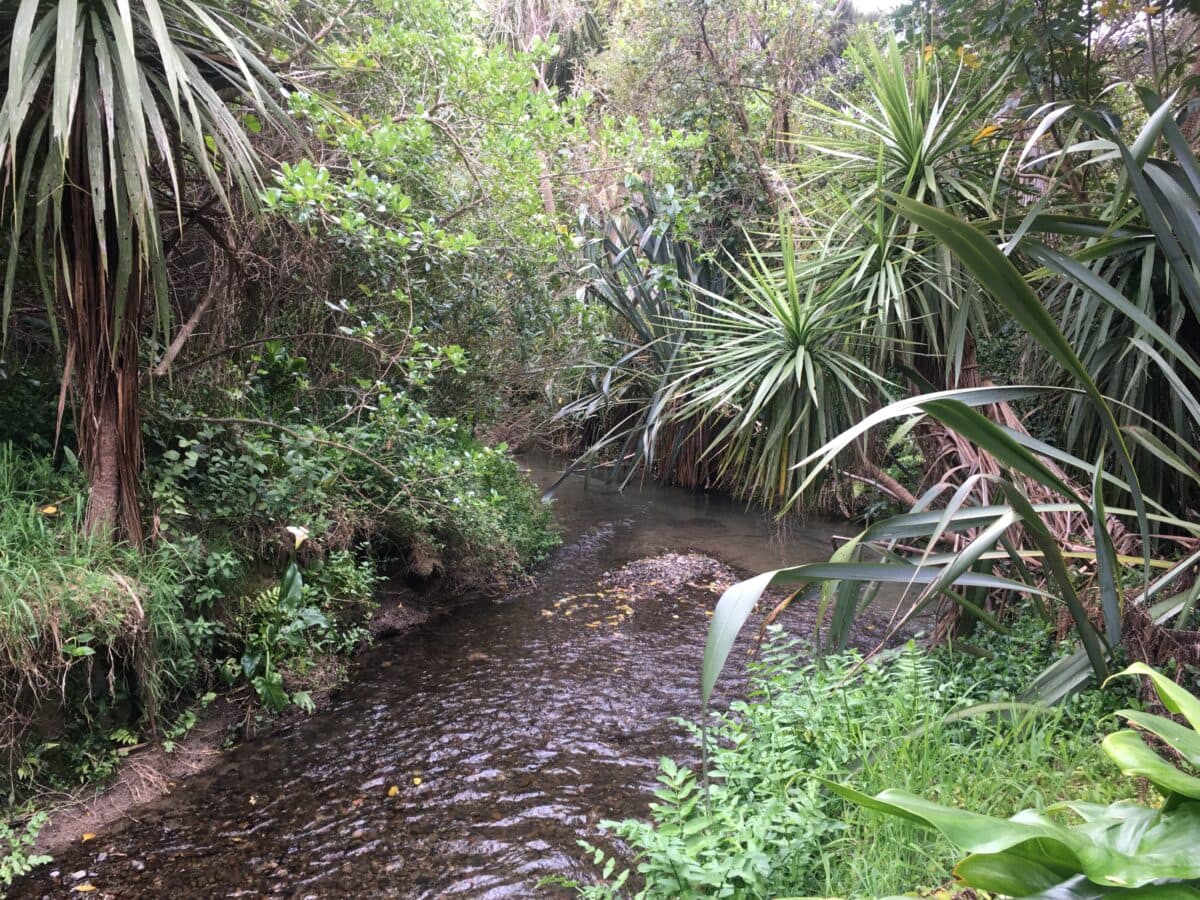 My favourite place at Wainui stream was just below the path to the urupā. A giant, gnarly old tree with strong arms hung over the water with a tapestry of vines and leaves and branches. The hollow inside it made a snug log flume and a perfect rocket ship for a girl on her way to the moon.
Stepping into the little woods for that first time, I knew this was my place, a space in which I felt calm and sheltered from the chaos. With cloud all around, I walked through a tunnel of native trees in every shade of lush green, an abundant jungle unlike anything I had ever experienced. The air was tender with the dewy softness of early morning rain and tiny silver droplets glistened on every spider web. I blew mist into the fog, as if winter.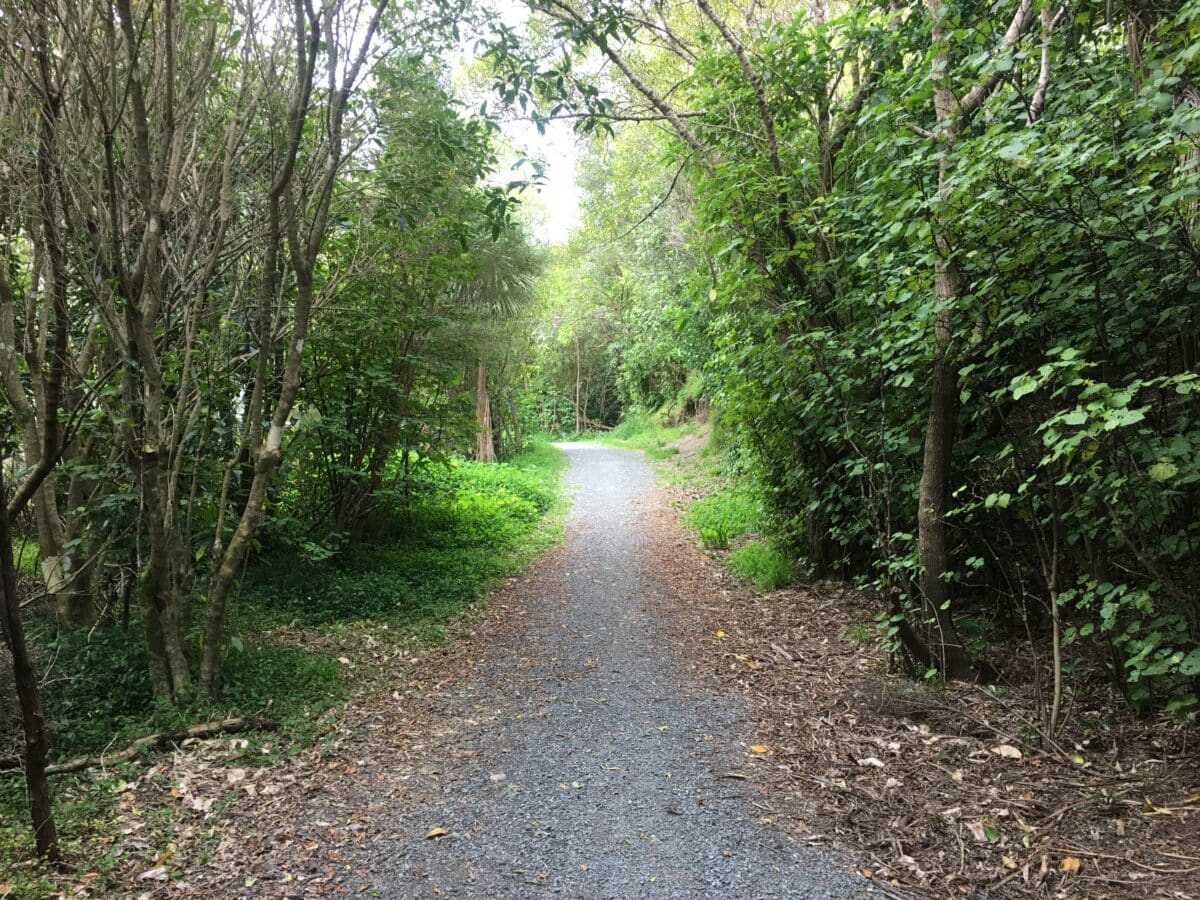 A mix of karaka, kohekohe, and large harakeke burst onto the bush track with a scent so pure I thought I might kiss them all, and the smell of jasmine, fennel, and manuka floated past my senses. With a sigh of relief I looked up at a sky of kowhai-yellow lanterns and fuzzy red flowers and my mind cracked half open like a walnut. Nature rushed in. A new frond grew and I began to unfurl.
Kiki found me and said a word I didn't recognise. Tūrangawaewae.
And then quietly, 'Your father grew up here.'
The spirits of Wainui stream were different from the ghosts of Cuba Street, the ones I was used to. They were composed, unruffled, untroubled. They showed themselves to me with a whisper or a brush of wind on my arm, a gentle hand on my shoulder. A lady named Gaylene handed me a fedora hat for her husband, and wanted him to know it wasn't his fault that fateful day. A small boy, who called himself Junior, told me his father was a soldier and the medals were safe. Three little girls showed me the ivory tipped keys of an organ and wanted me to tell their mother to keep playing. The younger one blew dandelions and tried to catch the tiny parachutes before they hit the ground. Later I would understand the sign was for the sister who had survived.
In contrast the Cuba Street ghosts were riddled in desperation and followed me up the street shoving their transparent limbs empty of blood or bone into my psyche. They reddened my cheeks with anger, frenzied my heartbeat and heaved the air out of my lungs for the use of their own words. Haunted by the past they wanted to remain with us on earth amongst the living, in limbo. Dead and alive at the same time.
I'd arrive home flushed with fever and my mother would put an ice cold flannel to her forehead, confused as to what to do with her traumatised wild child.
Every night I ran up Cuba Street to deliver the day's float from our fruit and vegetable stall to Uncle B. Uncle, also bewildered by his flustered niece, would say 'Tu Meke, eh Bun?
The city rumbled my core like a corkscrew through my spine. I felt everything so vividly in the deep valley of my churning belly, in a perpetual state of uncertainty, sometimes so violently it felt like I lived inside the skull and crossbones of Mozart's piano.
That summer was the worst. Quicksand heat held me hostage, swamping me with an overwhelming sense of abandonment that no one could diagnose or identify. I trembled and fumbled my words with a chronic state of mental illness until my family surrendered and admitted their child had lost her marbles.
Kids chanted looney tooney over and over, their voices just got louder and louder until I got crazy and they sent me to St Albans.
The notes on my file read, Anxious, highly sensitive, hears voices, extreme auditory and visual senses. Perhaps a psychic child? I watched my shadow slide across the blank wall and evaporate, my only company, vanishing into the sterile atmosphere. They handed out little lemon flavoured pills with smiley faces, and it stopped the nonsense of ghosts and spirits. But my mind was still a storm, with nerves like feathers that fluttered and fell apart, torn under the strain of one day.
Kiki crept into my hospital cubicle late one evening dressed as a cleaner. She had a fake pink hibiscus flower in her thick black hair and she wore a plain blue smock with yellow gloves over her hands. Carting a tin bucket quietly behind her, she mopped her way toward me and put her fingers to her mouth sssh. Smuggling me out of bed she put her scarf around my shoulders, it smelt of herbs and honey, warmth and safety. With a small nod to the security guard who tipped his hat and winked, she said 'C'mon now Bunny-girl, we've a decent trek ahead.'
Kiki sang island songs the whole way back that were soft and sleepy. It was a long drive that I remember fondly of egg and-mayonnaise sandwiches, a flask of kawakawa tea and brown sugar donuts. As we pulled into Paekākāriki early in the morning, a gentle bronze light shone over the coastal road like stars falling on water.
Her creaking old house was quiet, and kind. It smelt like firewood, fresh sheets, incense sticks, and coconuts. I could taste the salt of the ocean on my lips like hot chips and the view of the sparkling blue sea made my tired but wide eyes fierce with joy. Life didn't frighten me here. Kiki told me I could sleep until tomorrow.
I woke early but Kiki was already outside rocking softly on an old swing seat with black coffee. 'Go and explore darling,' she said, 'then come home when you smell breakfast.'
Queen Elizabeth Park was adjacent to the house. Wainui means big water but the sweet-tempered sound of a stream bubbling under wet mossy rocks and stones, washed up and over me like a cloak of content. In the gentle movement of the flowing water I found stillness. The colours changed from chocolate brown, to green-blue to crystal clear depending on the natural light or dark of the path. Little yellow fish surfaced and flipped and fat black eels twisted down the shallows.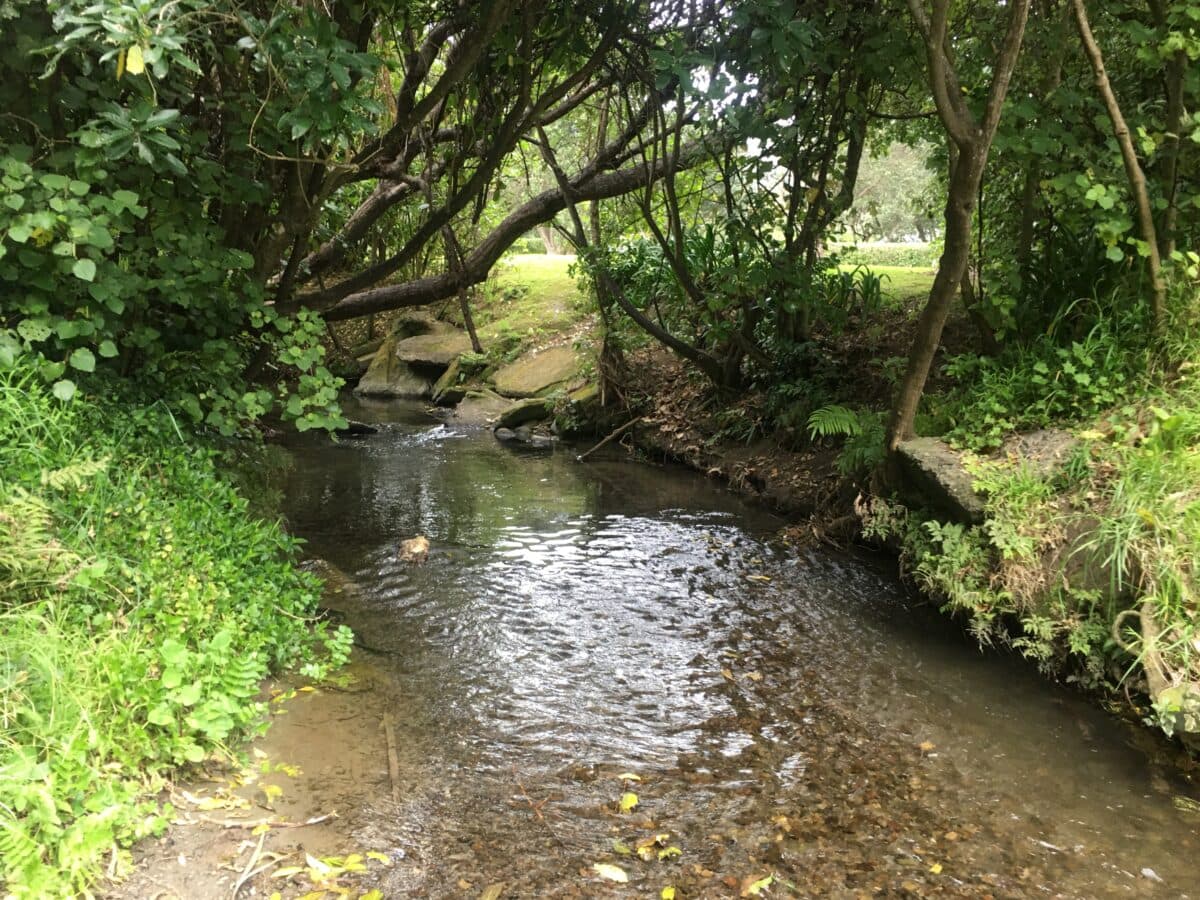 Slowly my lizard coat of fear fell off and I slipped into a different skin. Simultaneously the strength of the long-gone but historic river flowed through my veins and a sense of finally belonging arose from the most deepest part of me, like a new moon. The wisdom of the woods buzzed through my ribcage like bees humming and settled my heart to a slow steady beat. The birds wrung out my tight-as-wire nerves until I was dry and light like Kiki's linen blowing on her wooden clothesline.
Surprised Kereru flew past at a hefty speed, Tui shook their little white pom-poms, Piwakawaka followed my footsteps, vibrant Pīpīwharauroa sat low on twigs, and a chorus of seagulls cried out above. Small butterflies with tiny wings fluttered around my ears, and a mother rabbit somewhere near thumped her foot gently to alert the fluffle below, stay still. It felt like poetry, like the world was whispering welcome home.
I crouched down, touched the ground, and said the words safe now.
Kiki knew this to be true and somehow I presumed, persuaded my parents to let their daughter stay for the rest of summer.
Cell by cell the stream healed the trauma beneath my skin and Kiki taught me the names of the trees and the birds. She also taught me the language of the spirits. 'Let your body and bones sigh deeply like you are dreaming, picture the white light of protection. They are here to rest, not to frighten or confess to you.'
'Do you see them too, Kiki?'
'No' she said, and crossed herself 'but my sister did.'
A neighbour asked,
'Why are you filling her head with such hogwash, Kiki!?'
'She sees them, Maria. Remember the murder case of Gaye from the caravan park, or the Dobson boy, John D's youngest who fell into the waterfall? The three girls visiting from Featherston who got caught in the flood of '84?' Goosebumps peeled up Maria's arms.
The summer ended and we moved south to a small coal mining town where my father hunted deer and took us panning for old gold. I never went back to Paekākāriki but Wainui stream had saved my sanity.
I spoke to spirits often but never felt afraid and never saw another ghost.
I only had to shut my eyes to feel my whenua, my Tūrangawaewae.
Years later I asked my parents about Kiki, and the 'special woods of Paekākāriki.'
'Oh why do you insist on dredging up that old tale, Bunny? Nanny Kiki was a recluse, there's no way we would have let you stay with her, you were on a lot of medication back then. That enchanted story was simply your imagination. You were in St Albans that whole summer, the year of the heatwave, dreadful time. But you are better now…'
My mother's voice trailed off. But my elderly father looked over his daily crossword and spectacles and smiled, like he knew all along.
paekākāriki.nz is grateful to receive funding from:
Paekākāriki.nz is a community-built, funded and run website. All funds go to weekly running costs, with huge amounts of professional work donated behind the scenes. If you can help financially, at a time when many supporting local businesses are hurting, we have launched a donation gateway.