Read Paranahia Broughton's kōrero around the development and unveiling of the beautiful new mural on the Weaver's Whare/ Wai Ata studio. Dedicated to Ngāti Haumia ki Paekākāriki's Kuia Miriona, Papatuanuku and the Paekākāriki Community, a huge mihi goes out to the artists, Anthony Paaka and Ryan Daly-Paranihi for their awesome mahi.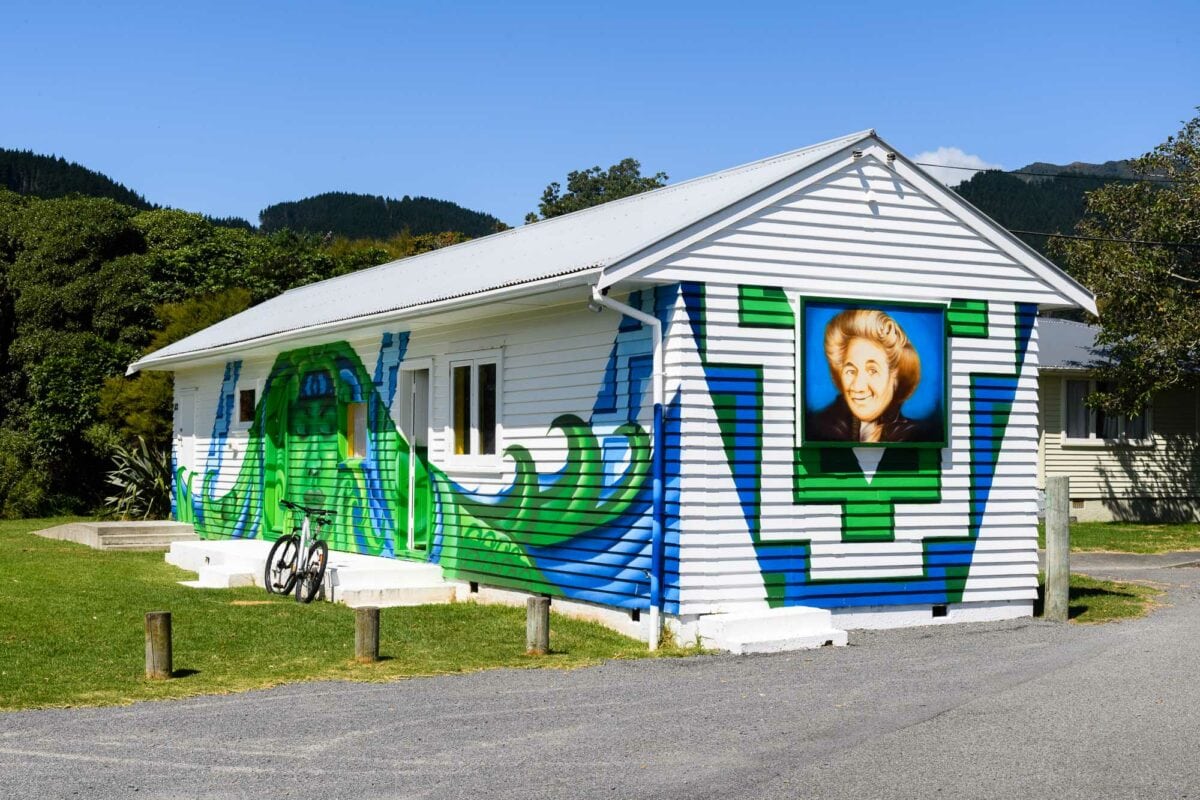 At the end of 2020, Ngāti Haumia ki Paekākāriki, the Paekākāriki Community Board and the Kāpiti Coast District Council went into collaboration with a special whare we mostly know as Te Raranga Whare, or the Weaver's Whare, at the end of Tilley Road.
After many months of postponement due to Covid and the loss of many of our whānau (Aunty Carol, Huta Thomas and Aunty Bunny) our whānau/hapū and community finally had the chance to unveil a mural dedicated to our Kuia Miriona o Paekākāriki, Papatuanuku and the Paekākāriki community. The mural encompasses the stories passed down to us – the stories and kōrero of Hutia Te Rito o te Harakeke.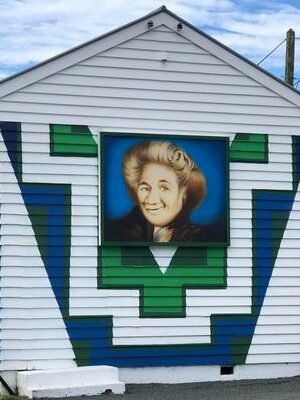 Our hapū had the opportunity to finally reveal after years, months and days a small but powerful piece of recognition to our Kuia Miriona and all the wahine toa who held this space down and continue to hold spaces of expertise in weaving and Rongoa Māori. Biggest mihi to the artists, Anthony Paaka and Ryan Daly-Paranihi, for encompassing all that our Kaumatua wanted and envisioned, for working alongside the ongoing changes that happened throughout this time and for 'killing' the art vision/mural.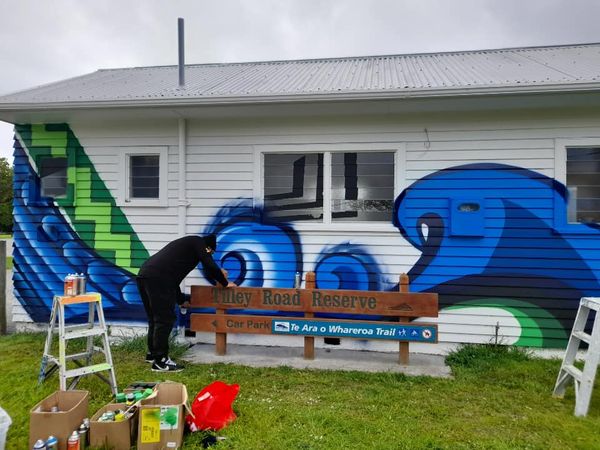 A mihi to the Paekākāriki Community Board and all the behind-the-scenes mahi that doesn't get seen or talked about. The mahi you do to serve the community is out of this world. Respect to Holly Ewens and Tina Pope for all you do. Lastly, thank you to the council for working in partnership with mana whenua on this extremely important piece.
We're not done yet though! The Weaver's Whare will now be used for rangatahi who want to learn more about music, this kaupapa being delivered by one of our own, Himiona Grace. If you're in the area and want to learn more, head down and take a look, as there is more Whakapapa (history) onsite.
Unfortunately due to having Covid I wasn't able to attend the unveiling but I'm always proud of our whānau for being the ahi kaa pou. You know who you are.
Paekākāriki.nz is a community-built, funded and run website. All funds go to weekly running costs, with huge amounts of professional work donated behind the scenes. If you can help financially, at a time when many supporting local businesses are hurting, we have launched a donation gateway.