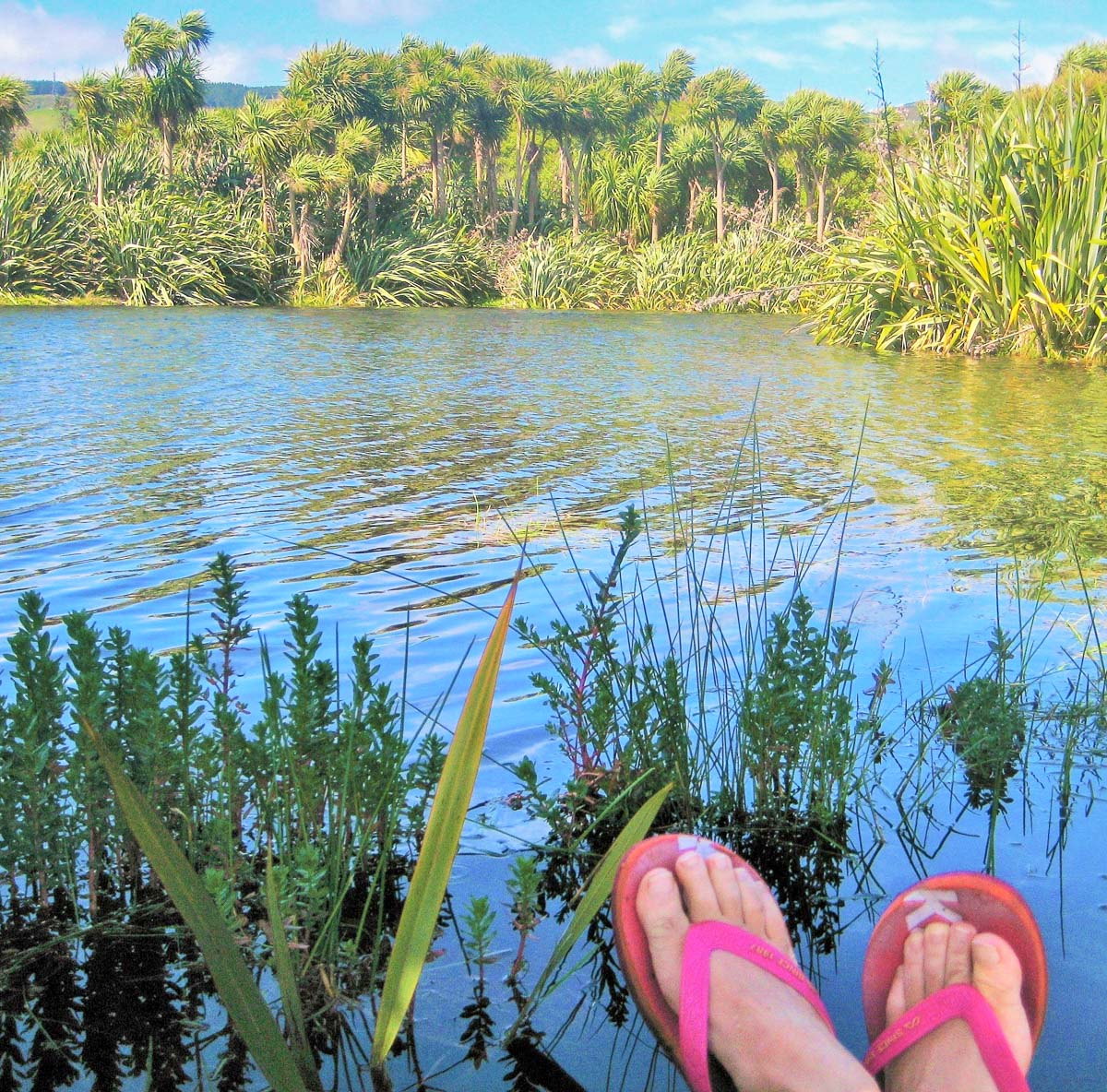 Image: Louise Thornley
A gentle 1.5-hour (or less) stroll takes you along the Yankee Trail from Paekākāriki. Wander along the edge of a stunning wetland, trek over a sand-dune ridge with big views towards Mt Wainui and Transmission Gully, and dip into an ancient bush remnant featuring large kahikatea.
You can start from the end of Tilley Road, Paekākāriki, parking at the weavers' whare (black-and-white building at the end of the street) – or it's a 20 minute walk from the train station further along Tilley Road.
Who it suits
A reasonably easy undulating track, suitable for most levels of fitness – though there are a few short hills that might bring on a sweat. It's a bit long for most toddlers, but primary school kids should be fine.
There is wheelchair access from Whareroa Road in Queen Elizabeth Park into the wetland and bird hide, but the rest of this trail is not suited to wheelchairs or prams. Dogs are not permitted in the wetland, forest and farm areas.
Highlights
On the walk you'll see: a wetland, a bird hide from which to spot birds, and a native bush remnant with large kahikatea trees. There are long-distance views to Mount Wainui and glimpses of Transmission Gully – plus newly-restored wetlands and planting on the walk from the wetland ridge back to the Yankee Trail.
How long it takes
1.5 hours all up (on the generous side). It's about a 30-minute walk to the wetland from the end of Tilley Road, Paekākāriki. Then a 30-minute stroll to and through the bush remnant and back to the Yankee Trail. Finally, the return to Paekākāriki will take less than 30 mins, but you might want time for a rest and/or picnic.
Transport
Drive or take the train (or walk or bike from within Paekākāriki.) The track is a loop – or you can walk just to the wetland and return the same way along the Yankee Trail.
Facilities
No facilities are available; this is a taste of suburban 'wilderness'. The nearest toilet is at Ramaroa, the visitor building and ranger's office in Queen Elizabeth Park (only a 10-minute walk from the wetland). If your visit isn't urgent, you could take the Wetland Loop track to get there, which will take longer but is scenic. Carry your own water and snacks.
Food and drink
There are options for purchasing food and drink in Paekākakāriki, Queen Elizabeth Park (limited) and Raumati South. On Beach Road, Paekākāriki, there are two cafés, a pub, a fruit shop and a dairy. These are all about 1.5km south from the Wellington Road entrance to Queen Elizabeth Park.
In Queen Elizabeth Park, at Mackays Crossing, a kiosk at the Tram Museum sells pre-packaged ice creams, ice blocks, chippies etc. at weekends and public holidays only when the trams are running (at weekends and public holidays, except Christmas Day, between 11am and  4:30pm). This is around 1.5km from the end of the southern track and can be reached by foot or by tram from Whareroa Beach.
Tips
When coming up to the ridge after walking through the bush remnant, walk through the gate but then continue along the fenceline – don't take the Wetland Loop track that heads towards the highway (unless you want to head back to the Mackay's Crossing road area). Next walk through a second gate (with horse track signage) to find the lower trail – this heads past a regenerating wetland and plantings, then a short hill will take you back to the Yankee Trail.

Good places to stop include: at the wetland, at the bird hide on the far side of the wetland, on the ridge, and in the bush remnant.

You can expect mobile coverage throughout this walk.
To complement your walk, read Dinah Hawken's poem, Hope