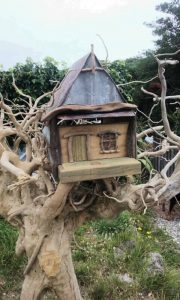 Are you after a walk with a difference? Need to get the kids out in the fresh air? Curious about letterbox art? Take a gentle wander around the village's Letterbox Art Walk. You'll be treated to some spectacular creations from a few Paekākāriki residents – whose artistic talents stand out, right from the street. There are many boxes to see, but read on for a plotted cour
Letterboxes are the gateway for written material to enter our homes. Seemingly they are used for the mundane delivery of bills. However, they're also the perfect place for permanent sculptures that brighten our residential facade. This walk is sure to make you smile.
Who it suits
This walk is great for anyone. Take your grandma, your kids or your dog – or all of them. The stroll is perfect for children – they love spotting letterboxes from afar. Their imagination can run wild, inspired by the detail on these mini wonderlands.
How long it takes
Starting at the railway station, the walk takes about one hour, depending on your pace and how much you linger at each letterbox. You can end the walk at the village shops.
Directions
Leave the train station heading north, walk through the car park to Tilley Road and head north up the hill to number 63 Tilley Road. Aquarium Delirium is a letterbox delight that is worth crossing the road for! The detail of this special seaworld is quite remarkable. Children have worked hard to create this letterbox.
Turn left onto Ocean Road and then right along Wellington Road to Tarawa Street. 19 Tarawa Street is a site for the young at heart. Be dazzled by butterflies and buzzy bees.
Continue to Tilley Road and turn left. At number 99 the letterbox is a classic Kiwi camping scene, entitled Visitors Welcome At The Holiday Park. This is an art piece to behold, complete with mini washing line, offset by a magnificent verge planting.
Wander along Tilley Road until you reach Te Miti Street. Cross it and turn left, almost immediately you'll see Pedal Paua at 23 Te Miti Street. This letterbox is nearest to the beginning of the bike track and its bike wheel glints under the dappled light of trees.  
Head up Te Miti Street to Wellington Road, turn right and then left onto Henare Street. Your first left is Aperahama Street, where you must visit number 25. The Bough Huis is Rachel Benefield and Albert Ubels' letterbox creation. The genius behind the letterbox competition and extraordinary artistry emanate from right here. You can almost see it reach to the sky.
Head south and turn left to emerge back onto Wellington Road. Your last letterbox sits at 82 Wellington Road. Fauna Form is a chicken-wire sculpture surrounded with other interesting gates and facades. While you're there, admire the Purple Palace, a collectively-built tiny house on a trailer.
Continue to the end of Wellington Road, which brings you to the shops for a well-deserved coffee.   
Facilities
Public toilets are available at the corner of Wellington Road and Beach Road, at Campbell Park on the Parade, and in Queen Elizabeth Park.