From working alongside international greats like Sir Laurence Olivier and Dame Maggie Smith during the formation of British modern theatre, to heading Downstage Theatre and developing drama in education, Paekākāriki resident Sunny Amey has helped shape live theatre in Aotearoa New Zealand as we know it today. Now in her nineties and still treading the boards, Sylvia Bagnall looks back on Sunny's extraordinary career, with images from her archive.
---
Sunny was her given name, befitting a person notable for positivity. When the Ameys adopted her, Sunny decided to take their surname to enrol for secondary school.
Sunny Amey's theatre directing started, you could say, aged seven or eight. In summer little Sunny traveled alone on the steam train to Ōtaki to stay with the Stewart family. The four young Stewart boys must have loved her visits. During the year they lived in Seatoun, behind the much humbler home of Sunny's foster parents, and Sunny would go through the hole in the fence to play. When at their summer place — a 'gentleman's farm' and also their beach house in Ōtaki — the boys needed Sunny to amuse them, especially the younger two. Sunny directed their family concerts and also some of their pranks, like leaving an empty parcel on the road, attached to a long piece of string to be jerked away when a car stopped.
---
Sunny would have her first encounter with Paekākāriki when, against instructions, she popped out of the train and into the Refreshment Rooms, back in the nick of time with something to eat. Quite a feat as in those times it was first men, then women who were served before children. Sunny loved going to the Stewarts' farm and loved the beach where they speared flounders and gathered fat toheroa faster than they could burrow away.
Sunny was head prefect at Wellington East Girls' College and went on to Teachers' College then worked as a Speech Therapist. Drama was a natural interest. She was a member of the progressive Unity Theatre in the late 40s-50s. When in 1951 Sunny made the first of several trips to Britain, it was as a young person seeing the world. She arrived with £20 in her pocket and no return fare and earned a living supply teaching. During that time she did courses with Peter Slade, Child Drama expert and Brian Way on Children's Theatre.
In 1954 Sunny was offered a job as a Junior Lecturer in Speech and Drama at Wellington Teachers' College and started there in 1955.
Professional theatre hadn't begun yet in New Zealand, but amateur repertory was alive. Sunny got involved with the Teachers' College drama group, directing plays with students like Ralph McAllister (a friend and neighbour in Paekākāriki still), Michael Haigh and Grant Tilly: Sunny realised this was something she wanted to do. She gained a bursary to study theatre in England, which was intended to be for two years.
Sunny had a placement as an assistant stage manager with the English Stage Company at the Royal Court Theatre and soon was Assistant Director. She worked in all the departments, backstage, in the workshop, scripts – keen to learn everything. The Royal Court was a writers' theatre performing mostly original work with the writers often sitting in. Sir Laurence Olivier and Vivienne Leigh were at the Court, then in 1962 Sir Laurence was asked to found the Chichester Festival, where a brand new theatre was being built almost in the round, and some of the Royal Court staff went with him. Sunny was asked to become the Production Assistant (which she modestly calls 'general dogsbody') responsible for liaison between all the departments.
In 1963 the National Theatre was founded and many of the company came from the Chichester Festival Theatre. Sunny became one of three assistant directors, the only woman. As Assistant Director she usually rehearsed the understudies, young men who'd done repertory theatre, like Anthony Hopkins who began at the National as a dancing sailor and understudy.
Then Sunny was appointed assistant to Sir Laurence Olivier in the National Theatre. She got on well with him and was clearly appreciated, often being invited to join Olivier's inner circle for champagne in his office with select friends like Sir Michael Redgrave, Sir John Gielgud and 'a couple of other knights'.
They worked hard doing six performances a week. As well as directing the company Olivier performed, frequently doing sold out performances of Othello. Sunny had become repertory manager and told him he was taking on too much and should do fewer. He was annoyed and Sunny left his office in tears, but Olivier soon followed: "I've been thinking about what you said, dear, you really are quite right." He was volatile but generous. They got on very well.
Sunny was friends with a group of actors – Rosemary Harris, a beautiful actor, Joan Plowright, too, were theatre friends. Some years earlier she met Dame Maggie Smith, 'Mags' – not yet in her late twenties and not yet famous when they met –  and they became well acquainted.  It was still hard for women to be accepted as directors: moving into weekly repertory Sunny was given only the weakest, "leftover" plays. In rep there would be a different play each week and it was difficult, she says, for actors learning all those lines! She was sharing a house with an Englishwoman who suggested Sunny buy her own and lent her the deposit. She bought a little house near the railway line in Kentish Town and this enabled her to buy a house when she returned to New Zealand. So the two years stretched to ten.
By the '70s, New Zealand had changed.
It was "full of arts and crafts, pottery, Pacific Island people coming in, [people of] my political persuasion, and I thought, I don't want to stay in London and be poverty-stricken all my life."
---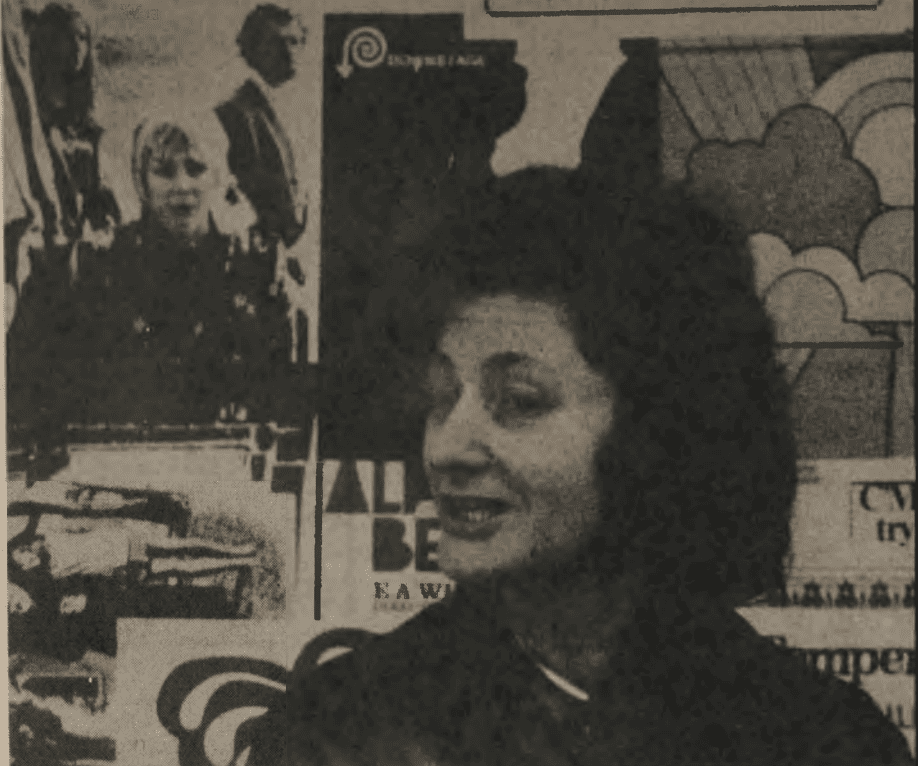 Sunny was asked to return to New Zealand to become the Director of Downstage, relocating it from quarters in the Star Boating Club to the new Hannah Playhouse, in what is recalled by many as the company's heyday.
Under Sunny's leadership, from 1970–74, Downstage presented quality and popular productions including a splendidly staged As You Like It. In 1974, six of the ten main bill productions were New Zealand plays, and 90 percent ticket sales were the norm. Sunny Amey's triumphant finale: Downstage was fulfilling the theatre's core function.
The Director of Education, Bill Renwick, set up courses for teachers and wanted Sunny's valuable experience. She accepted a position as Curriculum Officer for Drama at the Department of Education, holding drama courses with innovations such as improvisation and theatre in the round. During this time Sunny was instrumental in the formation of the NZ Association of Drama in Education (now Drama New Zealand) holding a very significant conference in Auckland, Making Connections. Importantly it included many Māori, around 30% of participants, in contrast to the sole aboriginal in the Australian contingent. No doubt Sunny's own connections with and support of Mãori such as Keri and Wi Kuki Kaa, Rose Pere and Tūngia Baker helped this succeed. She stayed in the Department from 1975-88 and then in 1989 was asked to become interim director of Toi Whakaari, New Zealand Drama School.
---
Sunny was one of the first New Zealand-born professional directors (and the first woman), remarkable for bringing more classic plays to Wellington and promoting original New Zealand plays and indigenous drama. She credits her teaching training and experience for her directing skills. She is honoured as a kaumātua by Taki Rua, grateful for her guidance and support as it blossomed into a professional Māori theatre company.
Patricia Grace and Robyn Kahukiwa's book Wāhine Tõa inspired a three part bi-cultural women's drama series – Wāhine Toa, Takitoru – and Sing Whale-he Apukura Tohorā, the latter performed at Te Papa in the 1998 Festival of Arts. One involved entirely Māori women, one was from a Pacifica group and the other by Celtic women with musical direction by Janet Roddick. The Chapman Tripp Award in 1995 went to Takitoru directed by Sunny with Jan Bolwell and Keri Kaa, all friends since Teachers' College.
Sunny and her partner Jan Bolwell were living in Wellington but liked Paekākāriki and soon they saw a house to buy in Clarkes Crescent. Before long it became their base and Jan was commuting to her work at Wellington Teachers' College. Sunny thinks Paekākāriki is a village 'caught in a time warp', still has its old look and a great variety of people of all kinds, and she loves that. Sunny gives back plenty to the village too: Sunny, Jan and their friend the playwright Renee produced a memorable series of readings of mostly New Zealand plays in 2013.
Now in her nineties, Sunny has not let a fractured femur and hip replacement slow her down. She recently stole the show as Granna in a Circa theatre play-reading of Renee's Wednesday to Come. In December she will appear in a production The Older the Better.
---
"A show like you've never seen before – and may not see again. The Older the Better showcasing the talents of Coral Trimmer harmonica virtuoso, Sunny Amey stand-up comedian, Dame Kate Harcourt, character actor. In common they have talent, skill, and age – they are all over 90. Supported by other Gold card performers, and on at Circa just before Xmas."
It's on from 3rd to 20th December. Don't miss it! Book your tickets at www.circa.co.nz and follow the links.
Here below is a gorgeous interview with Sunny Amey (from which this feature is written) sharing some favourite music and memories with Emma McLaughlin on Paekākāriki 88.2FM.
---
---
Paekākāriki.nz is a community-built, funded and run website. All funds go to weekly running costs, with huge amounts of professional work donated behind the scenes. If you can help financially, at a time when many supporting local businesses are hurting, we have launched a donation gateway.