Janet Holborow (Kāpiti Coast District Councillor and Deputy Mayor) in conversation with Bonny Ranfurly about her beloved sister (and community member) kuia Carol Reihana (1945-2021). Haere atu rā e te kuia, Carol.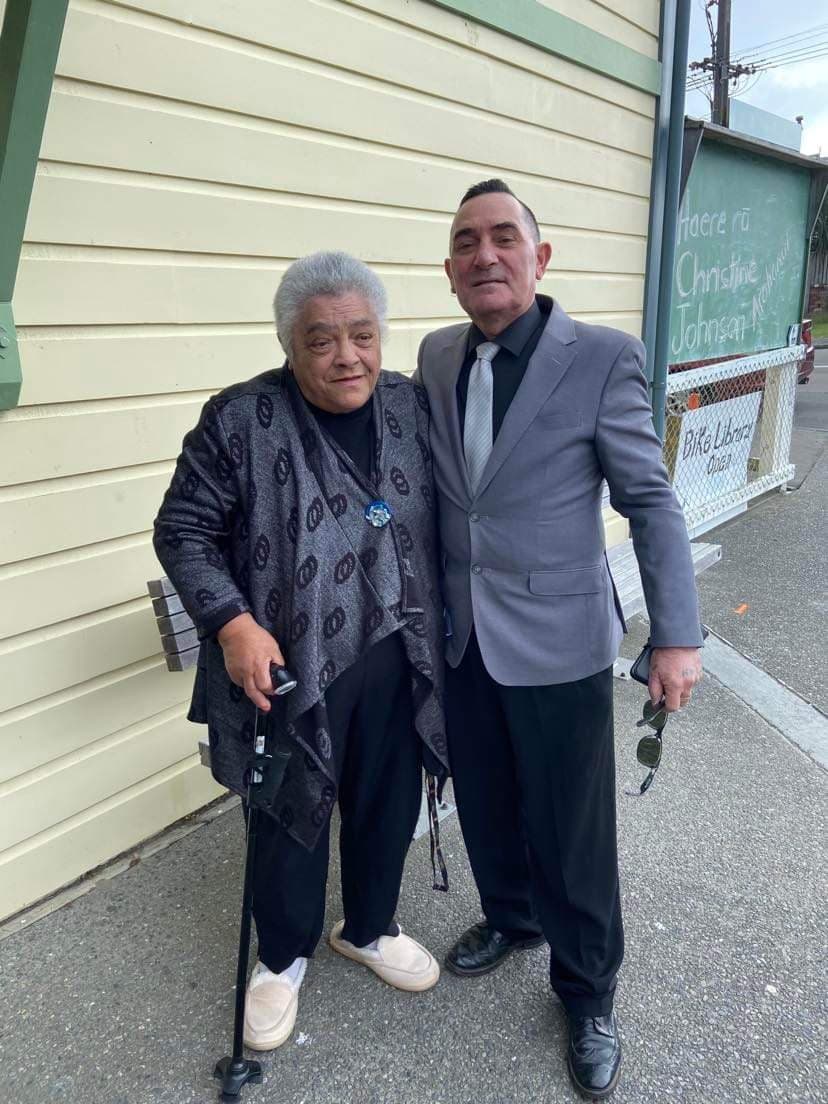 After a life of caring for others, and for the community, Carol Reihana passed away peacefully on November 22 at Kāpiti Resthome, aged 76. She will be remembered for her determined, committed contribution and a care and love of others.
Of Ngāti Haumia, Ngāti Toa Rangatira, Te Ātiawa, Ngāti Kahungunu and Ngāi Tahu descent, Carol was born in Wellington in 1945 to Jean Matekitewhawhai Budge and Francis Paranihia Andrews. She was granddaughter of Wehi Sylvanus Budge (1885-1930) and Miriona Utu Mutu-Mira (1886-1970), who ensured the return of ancestral lands to each of her children, and stopped the destruction of the Urupā. That determination and strength was passed down to all of the siblings including Carol, who applied it to every aspect of her life and service.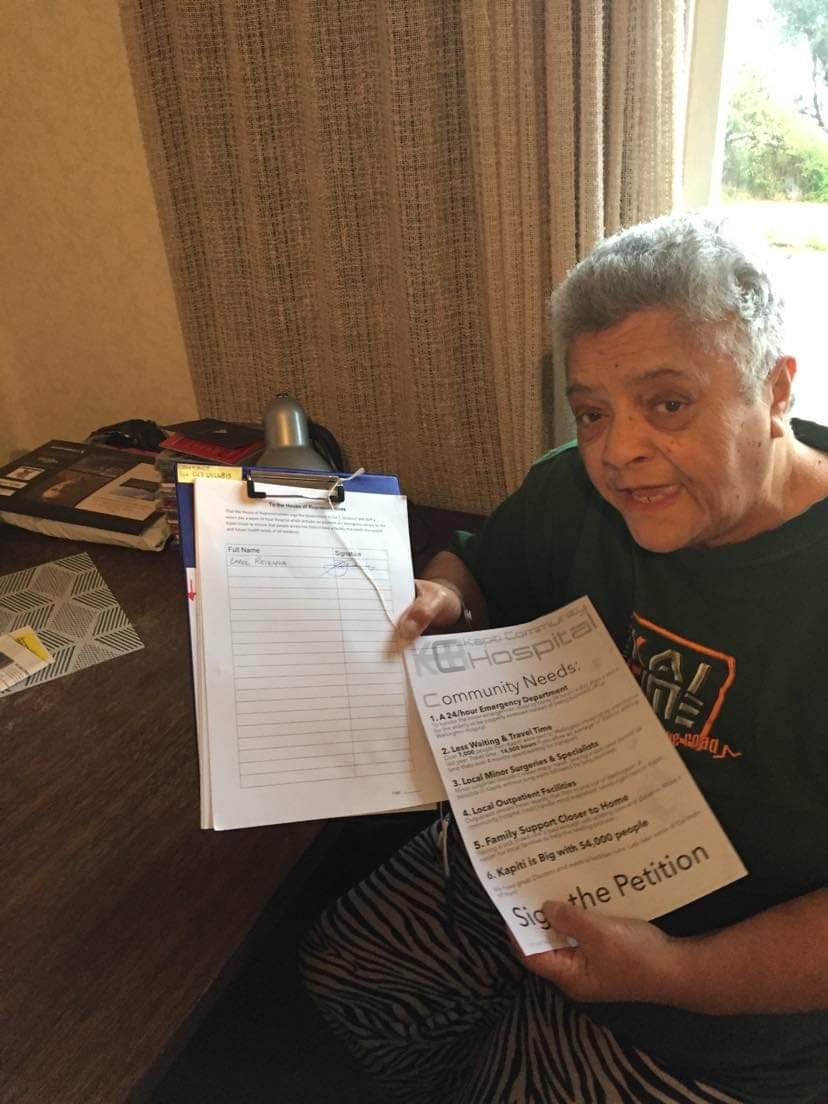 As a young child, she primarily grew up with the Rickus whanau in Caroline Bay in Timaru, and attended St Joseph's School, Napier as a boarder, returning to the family in Paekākāriki for school holidays.
After completing her studies at St Joseph's she returned to Timaru, working as a carer and marrying Colin Reihana in Temuka, where she raised three boys, Julian, Milanion and Emille (EJ). Her sister Marilyn (Bonny) Ranfurly reflects that with her husband and three children, she finally had the family she always wanted. Children from the wider family often visited during the holidays. Bonny recounts some reflections her nephews shared during the poroporoaki. "There was always food, always fun," she says. "Always things to do. Outside, playing, going down to the river, going up the mountain. Action, action, action."
Carol loved to travel, and organised trips all over the country and to Australia. These trips also showed her determination. Arriving at the Paua House in Invercargill, and finding it closed, she banged on the door, and persuaded the owners to take the family on a personal guided tour. Nothing was impossible for Carol, and there was no such thing as a door which couldn't be opened.
Carol returned to Paekākāriki for funerals, and Bonny recalls that, every time, it was hard for her to leave again. When Bonny's husband died, she was the first to arrive and the last to leave.
In 1990, she returned to her Paekākāriki roots to care for her Uncle Mike Smullen after her Aunt Heeni Smullen died. The two had been like backstop parents for Carol, and she remained with Uncle Mike until his death in 2004, staying on in the house until 2018.
During that time that she made an important and lasting contribution to the Kāpiti community. As kuia of Ngāti Haumia ki Paekākāriki, Carol's contribution was immeasurable. A long-time representative on Te Whakaminenga ki Kāpiti, grants committees and other groups, she was a valued and dedicated representative for her hapū and the wider Ngāti Toa iwi.
At Carol's tangi, former Mayor Jenny Rowan described Carol's contribution as a critical conduit for the Paekākāriki community. "She had a commitment to family and hapū, but also a belief in the necessity of 'showing up'"

Even when her health was a challenge, she was determined to contribute and attend, and that contribution was always thorough and forthright. A recipient of a Civic Award in 2010 she always attended blessings and events and was a constant and vibrant presence. In recent years, her health challenges prevented her from carrying on her many roles, but she had already created a lasting legacy
She was involved in many organisations in Paekākāriki, including the Anzac Day committee and the Station Museum Trust. She was a first responder during the 2003 Paekākāriki floods, and was heavily involved with the retention of Whareroa Farm as a community asset. As a member of the Station Museum Trust, she curated and installed a permanent exhibition of local Māori history and tāonga.
Carol loved music, and particularly the Whānau Show, a radio show and travelling entertainment organisation. The Whānau Show was about more than entertainment, it was a way for whanau to stay in contact. Listeners call the show and through host Lindsay Henry pass on messages to each other. Carol was an integral part of the organisation of the shows, setting up new venues , often booking out all of the local accommodation and organising everything with a characteristic attention to detail. That detail was also applied to the many Anzac commemorations she organised, and to everything she did.
Carol was also an accomplished and talented sportswoman, when taking part in the Arowhenua Sports day, she was an unbeatable sprinter. "You were never able to beat Aunty Carol," says Bonny. She was also a champion tenpin bowler.
Carol was a lover of people. "She'd know you inside out after tea and a biscuit," says Bonny. "She was a person who really wanted to know you. The art of conversation is dying, but Carol had it in spades."

Council Kaumātua Don Te Maipi reflects, "I worked with Carol in Council for 18 years and she told me that she had my back and that was so true. 
Kāore te kumara e kōrero mo tōna reka. 
Let people acknowledge your achievements, though the kumara does not talk about its sweetness.  Ahakoa, nui ake ngā kōrero mahanoa atu, mahanoa atu,kare anō kua kōrerohia e mātou.
Nōreira moe mai e Carol i roto into moenga roa.  
Although there is still a lot we could say about Carol, but let Carol sleep in her long bed of rest."
Carol is survived by her three children Julian, Milanion and Emille (EJ) and her moko, sisters Zella James, Marilyn (Bonny) Ranfurly and Alice Andrews, brother Karl Farrell, and the wider Ngāti Haumia whānau. Her sisters who have passed are Yvonne Goodman, Monica King and Desiree Maguren.
Paekākāriki.nz is a community-built, funded and run website. All funds go to weekly running costs, with huge amounts of professional work donated behind the scenes. If you can help financially, at a time when many supporting local businesses are hurting, we have launched a donation gateway.