Located in the heart of Paekākāriki, Holtom's Art Studios is a light, modern, welcoming space. Steeped in history, the building dates back to 1920 and various businesses have been based there over the years. Alan Wehipeihana, long-time resident of Holtom's, tells Nik Bullard about the art studio's history.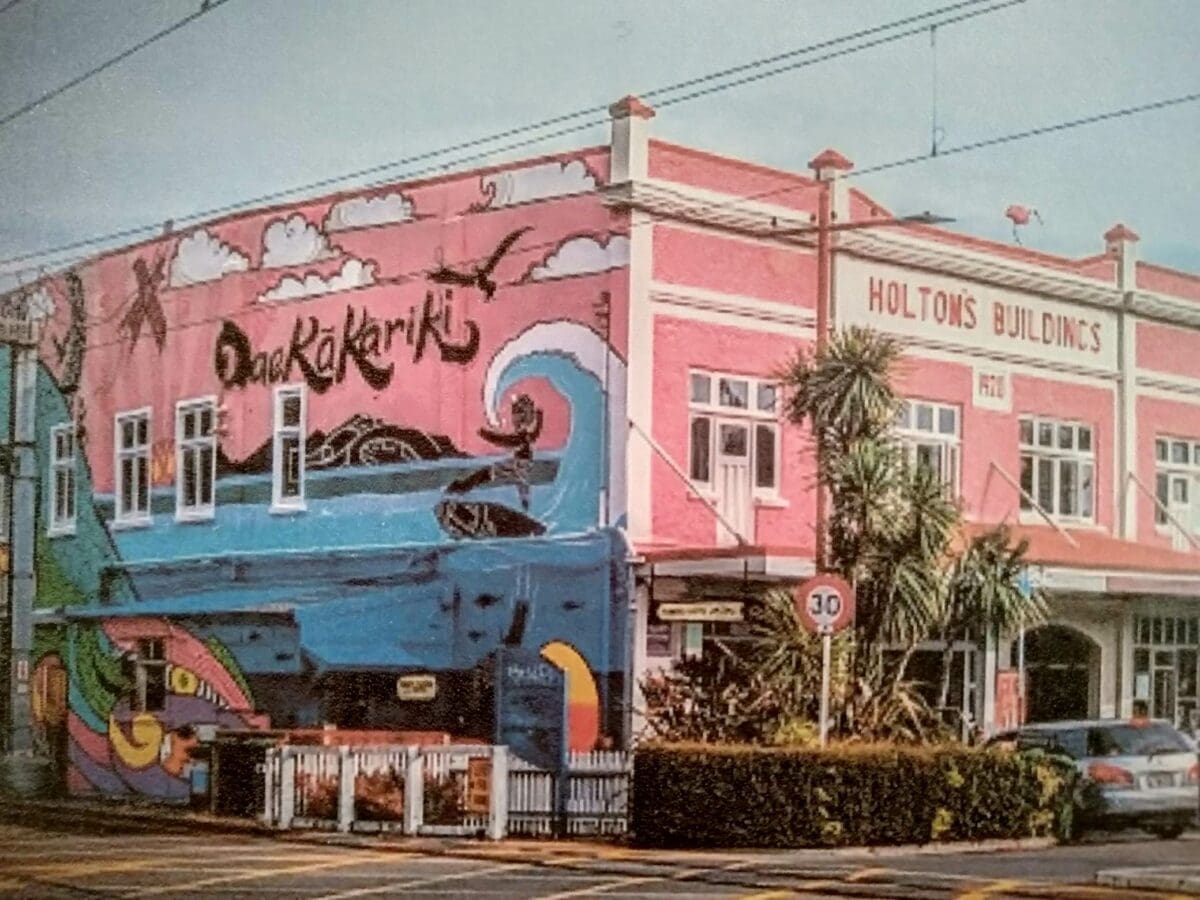 In the 1990s Gary Freemantle opened his successful One Eye Gallery. When he left, Alan Wehipeihana, a self-taught mixed-media artist, moved from his flood-prone space to the large studio at the top of Holtom's. He took up residence around 2008, set up a living space for him and his kids, along with a working art studio, and has been creating art there ever since.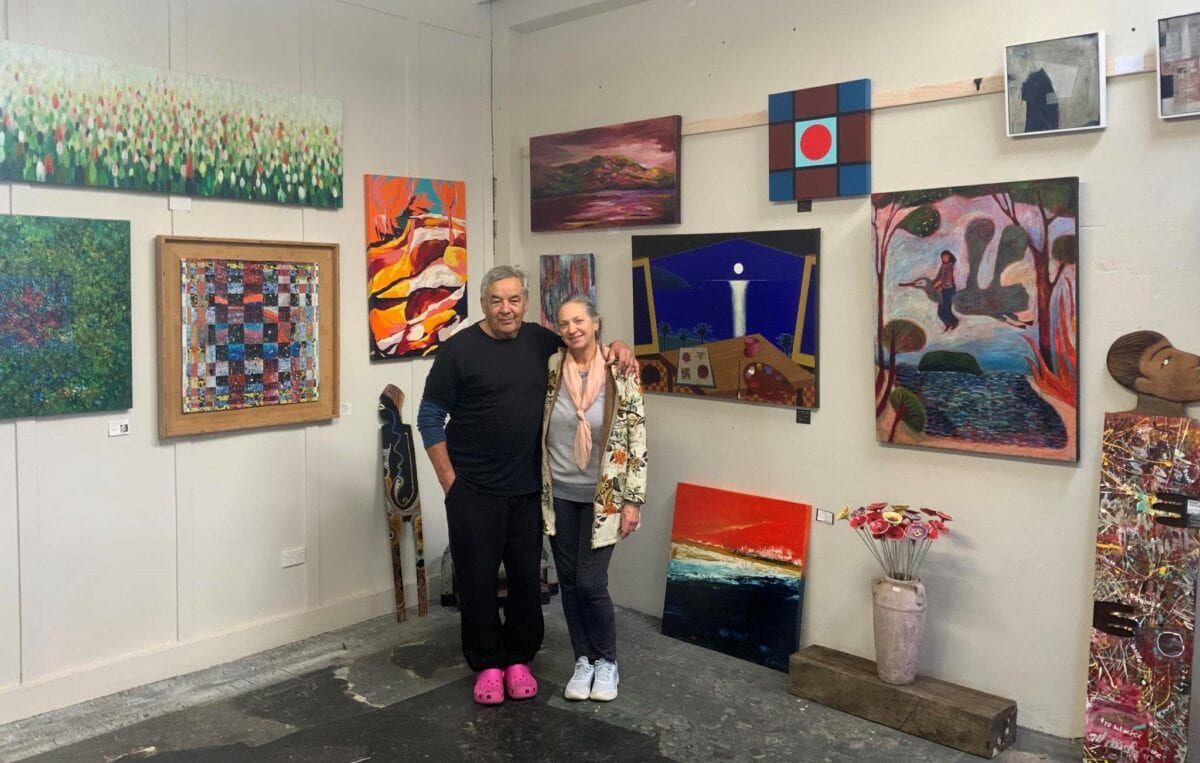 John Fijn, the then-landlord, was keen to see the space used as an art studio and the building not be demolished. It is thanks to John, himself a former potter and photographer, that Alan has enjoyed long-term residency there. Potential buyers of the property had to reassure John that it would not be demolished!
When Todd Cameron from Salt and Wood Collective bought the building extensive renovations were carried out – earthquake strengthening saw the building also acquire a new roof (there are no leaks now!), ceiling, lighting, double-glazed windows and hot water, along with temporary gallery walls for the individual artists' spaces. It has a modern, fresh new look but has retained some of its character, such as the painted floor Alan did many years ago.
Although Alan no longer lives there, the space has been evolving ever since. He shrunk his own studio area and welcomed other resident artists. Dianna Fary was the first to join him, followed by Darren Creed, a pounamu carver, who is no longer resident. A string of other artists and a framer followed – now there are 13 artists and 14 individual spaces: Alan Wehipeihana (mixed media), Dianna Fary (painter), Jenn Leov (potter and painter), Emma Hercus (painter), Sushei Hamlin-Sullivan (painter), Christopher Small (painter), Rochelle Gore (painter/mixed-media), Vicki Locke-Fearon (natural dyes painter, fabric and wood artist), Francis Salole (mixed media), Alayna Flighty (painter), Deidree Hutchins (painter), Arathena Kennedy (painter), Elise Fourie (ceramics) and Sonia Blazina-den Otter (framer). Emma Hercus recently won a national contemporary art award and prize money.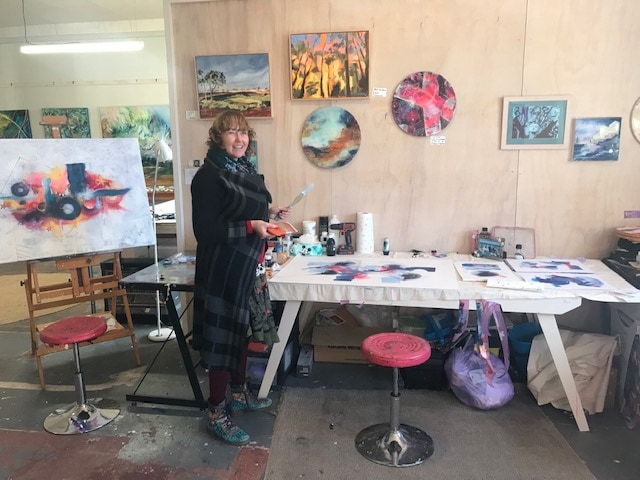 "It's a buzz, an energy, people doing their thing. They're a good bunch, we all get along. I was happy to shrink my space down – I've changed my attitude to my art, I'm slowing down a bit", says Alan.
The studio is set to trial new things as there is new energy within the collective. A recent Paekākāriki potters exhibition saw the gallery full on opening night and lots of ceramics walk out the door. The next exhibition may be a collective one, with others in the pipeline.
"The public love this space! Our point of difference is it's a working art space, there's paint and mess and you get to meet the artists. It's very casual and a bit different. Everyone from locals to overseas visitors say there ought to be more art spaces like it", says Alan.
And we couldn't agree more! Check out the art studios at the top of the stairs and meet some of the artists.
The studio is open:
10am – 3pm from Monday – Friday
10am – 4pm on Saturday and Sunday
For enquiries, contact Dianna on 027 284 8909 or via social media on Facebook and Instagram.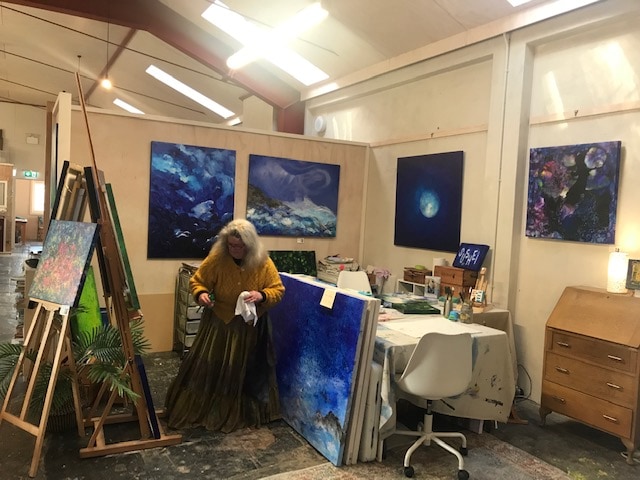 ---
Paekākāriki.nz is a community-built, funded and run website. All funds go to weekly running costs, with huge amounts of professional work donated behind the scenes. If you can help financially, at a time when many supporting local businesses are hurting, we have launched a donation gateway.