Janet Holborow and Lynda Wards pay tribute to Margaret Griffiths, a dedicated, hard-working member of our community and tireless crusader for people who needed some help in life.
Margaret Griffiths' life brings to mind a well-known whakatauki: Kāore te kūmara e kōrerō, mōtōna ake reka, the kūmara does not speak of its own sweetness. Margaret truly embodied that principle. Her attitude to service was not about being recognised, but about just doing what needed to be done.
Almost every year as Civic Awards nominations came around, the Community Board would try once again to nominate her, but she was utterly adamant that she would not accept an award. Her service was humble and generous, and she wanted no praise.
It was frustrating, because she deserved that award. Her service to the church, the Sunday School, the local scouts and the hall was so unwavering and immense.
She supported the gifting of the hall to the community, and followed that up by playing an instrumental part in facilitating its use by the community. She would not have foreseen what a successful and incredible facility it's become. Not just for our local community, but people who come from far and wide to watch bands, dance, get married, celebrate birthdays, do yoga, play, make craft, hold exhibitions and buy books at the hugely successful annual book sale.
When the Hall was gifted to the community, it was in a pretty dire state. The first task was to fix the rotten wall on the southern side, and piece by piece, it's been renovated to its present state, and it just keeps on going. Margaret played such an important part in the early years.
Margaret was a light in the Civil Defence welfare team operating in St Peter's Hall during the 2003 flood, organising truckloads of groceries from Pak'n'Save and accommodation for stranded travellers and locals, as well as care packages for flooded households.
Over many years Margaret kept a book in which she wrote all the hall bookings. In those days, if you wanted to book the hall, you called Margaret. She would then let users in, and make sure the hall was clean afterwards. She ran a tight ship. Helen Keivom, who ran many gigs during that time, gave one over-riding instruction to bands: "Don't annoy Margaret!"
The Hall became more and more popular, and we kept wondering when it would become too much for one person, a phone and a book, but she kept at it for years, well into her 80s.
When a market was suggested for the Hall, she leapt at the opportunity, and was there every month, and quietly took over the running of the market, booking stall-holders, running the space and always making sure there was always a huge pot of tea. The market is now an important hub for the community, attracting stall-holders from across the region, and a place where locals and visitors can enjoy Paekākāriki hospitality and our wonderful Hall. It's a time when the doors of the hall are open for everyone.
In the end, time and the internet took over, and the Paekākāriki Community Trust now run a smooth operation, but without Margaret, her book and her phone, the Hall wouldn't be what it is today.
The Margaret we knew in Paekākāriki was just one stage in a life of service.
Margaret was born Margaret Mary Ford in January 1934, in the Borough of Stoke-on-Trent in England. She was educated at St Margaret's Church of England School, Wolstanton, Thistley Hough Grammar School for Girls, Stoke-on-Trent, and Collegiate School for Girls, Blackpool. In 1954 she graduated with a Diploma in Teaching from the University of Birmingham. Here she majored in Practical Teaching and Education, History, and Religious Knowledge. Somehow in these early years she managed to also gain qualifications in Shorthand Typing and Ladies Tailoring!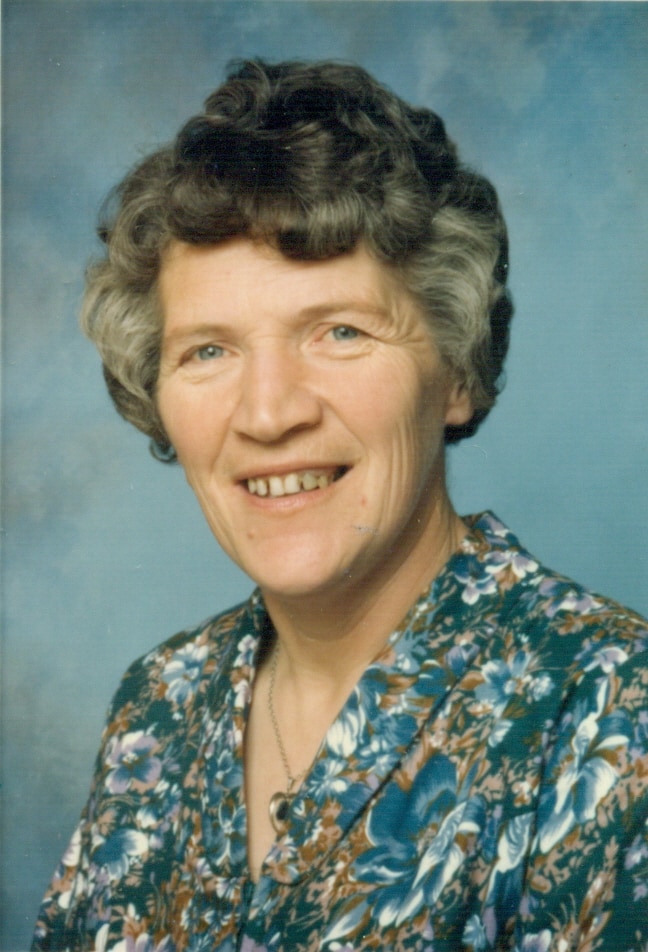 Early on in Margaret's teaching career, her life interest in children with special needs developed. In 1954 she spent six months in practical work and study for children with cerebral palsy. Early teaching jobs saw her taking Special Classes.
Outside the working week she was involved in the lifetime voluntary work she would gift to others. In weekends and school holidays she was helping at a residential school for boys with disabilities in the Lake District. In 1959 she began a cub and scout group for boys with a variety of disabilities in Blackpool, later becoming district cub leader for Northwest Lancashire.
By 1964 she was teacher of a mixed-age class of children with learning problems who were not making progress. She had 20 children ranging from 7-11 years. Inspectors visiting her classes in the 1960s commented on her special relationship with her children and her 'kindly but effective' control of her 'lively customers'.
Margaret's beloved Leslie Griffiths came on the scene and, at age 21, she married Les at St Marks Basford (Newcastle-u-Lyme) in 1955. The young couple embarked for Wellington on the Northern Star in 1964. Living in the Porirua area, Margaret taught a special class at Taita Central in Lower Hutt, was a senior teacher at Ngāti Toa School in Titahi Bay, then at Titahi Bay Intermediate until she landed at Kapi Mana Special School in Kenepuru Drive, where she would have a most respected career as Principal for 21 years, followed by service as Board Chair.
She gained more qualifications in New Zealand such as Teacher of Intellectually Handicapped Children in 1975, a Diploma in Teaching the Exceptional Child in 1982, Teaching Children with Educational Handicaps, Augmentative and Alternative Communication; in fact many studies in communication. She was involved in many conferences in special education and the Autistic Association.
Busy as ever in retirement, Margaret was immersed in community, the church and enjoyed living in her loved Ames St house with her Les until he died in 2003. That year saw her move to Te Miti Street. Margaret's involvement in the community was considerable. As well as her role with St Peter's Hall on the Paekākāriki Community Trust, she was also involved in many other community organisations including Disability, the Soroptimists, Equity and Lifestyle Support, Paekākāriki Friends of the Library and Porirua Machine Knitters, knitting clothes for premature babies. She continued to support adults with intellectual or psychiatric disabilities and taught remedial reading.
She loved animals and enjoyed her dogs, who would go about with her. Many Paekākāriki people remember well the late Boyo.
Margaret was also embedded in church life at St Peter's Anglican Church, being awarded a Bishop of Wellington's Medal of Service in 2010 and holding the position of Chairperson of the St Peter's local committee for over 10 years. She helped to make St Peter's a welcoming place to all-comers. Over a long period of time, Margaret held significant roles in the wider Parish affairs. Her ministry to Eldon Retirement Home and to individuals needing care has been very generous and was exercised over many years.
And it was to Eldon that she went when she left her home in Te Miti Street. Her stay there was relatively short, and she passed away peacefully with the word 'Amen' on her lips on Monday, 25 April 2022, aged 88 years.
Margaret, we know you wanted no thanks, but now we insist. Thank you for your dedication to our community, your humility, your generosity, and your tireless commitment.
From the bottom of our hearts, we thank you.
Paekākāriki.nz is a community-built, funded and run website. All funds go to weekly running costs, with huge amounts of professional work donated behind the scenes. If you can help financially, at a time when many supporting local businesses are hurting, we have launched a donation gateway.