Found under the house of Paekākāriki's former chemist Mr Bill Carson during lockdown is a 1950 copy of a fortnightly community newspaper, Paekākāriki Progress. This is what a community website or newspaper (shades of Paekakariki Xpressed 2000-2010) looked like 70 years ago. With its hand-drawn masthead, typed, printed and stapled, it fulfils many of the same functions: events, a directory of services, local body politics and news from community groups.
Paekākāriki Progress lasted for three years, 1949 to 1952. 70 years is long enough ago that only a few alive may remember reading it. Here we provide a page by page scan, with a commentary and a few questions. Email us your answers.
---
'What's doing' is an expression deserving revival. More religion was on the menu -– up to four services a day in your chosen flavour (we're now down to just two options). And option #6 'Evangelistic' marked a growing trend.
'South' and 'North' indicate that at this stage you identified as one of two tribes in the village – North at this stage only extending to the Aperahama Street subdivision, accessed via The Parade. The East quarter beyond Ocean Road was still farmland after the US Marines camp.
'Art Union Books': From the Te Ara Encyclopedia – "By the 1870s lotteries were expanding in size and range, and were run by the likes of sports and recreational clubs, businesses and municipal authorities. However, the word 'lottery' had an unwanted whiff of gambling, so the term 'art union' was adopted as a euphemism."
We note football is on the rise – but the oval ball. Rugby was to stay with us until the end of the century, now usurped in the village by the round ball version.
Mr Carson the chemist is already sneaking ads into an advice column. Note to teenagers: the final piece of advice still carries today.
Correspondence: a precursor of a simple Paekākāriki Tauhokohoko query –- the answer today is that strictly taken bylaws forbid removal of driftwood that exceeds what can be carried on foot.
Note the plumber's phone numbers: 15 R and 3 M. What do the letters indicate?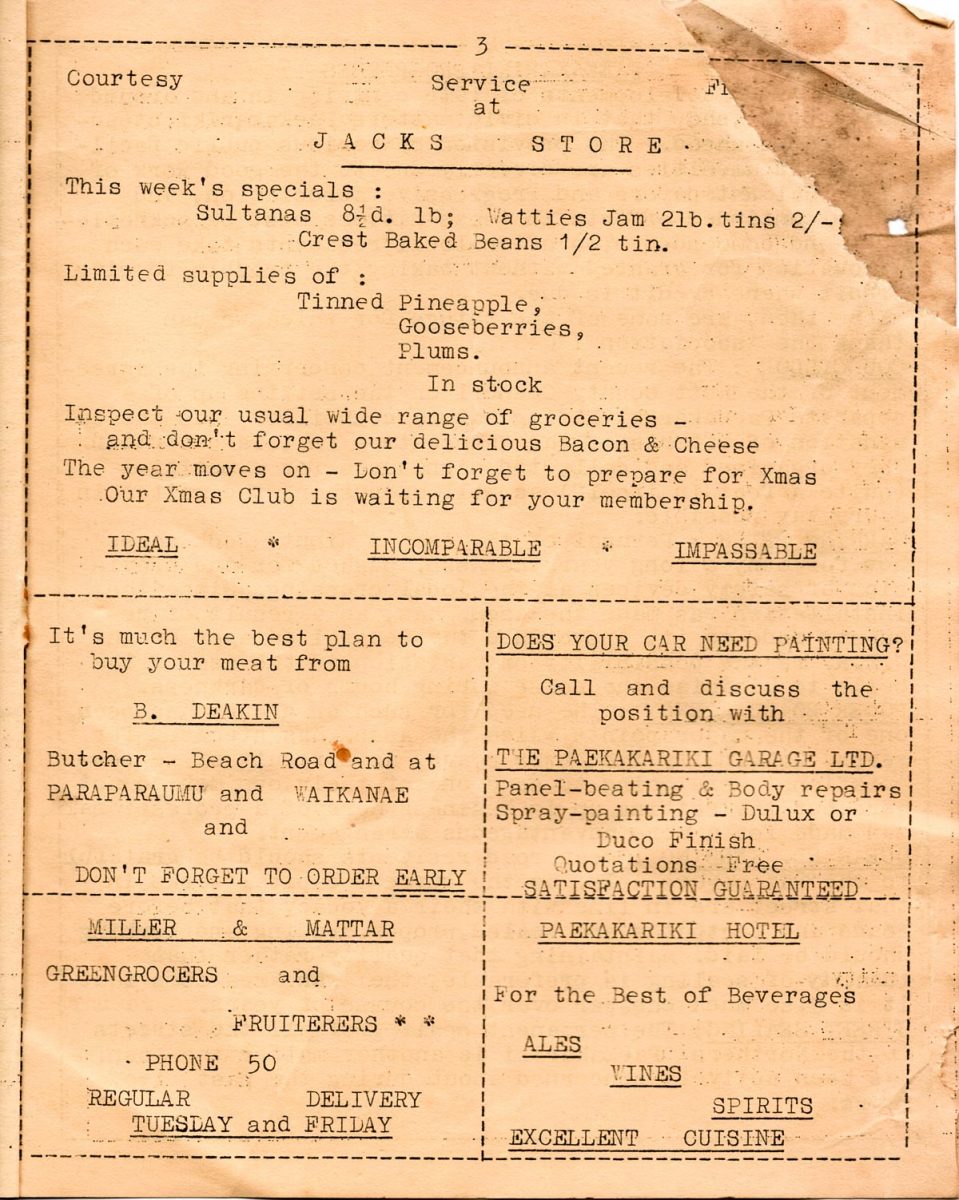 We believe The Paekākāriki Garage Ltd to be the forerunner of the recently closed Paekākāriki Auto Services. Gooseberries meanwhile were in limited supply: ideal, incomparable and impassable.
The Ratepayers and Progressive Association is to my mind a far better title than a Community Board. At this time Paekākāriki was part of the Hutt County Council.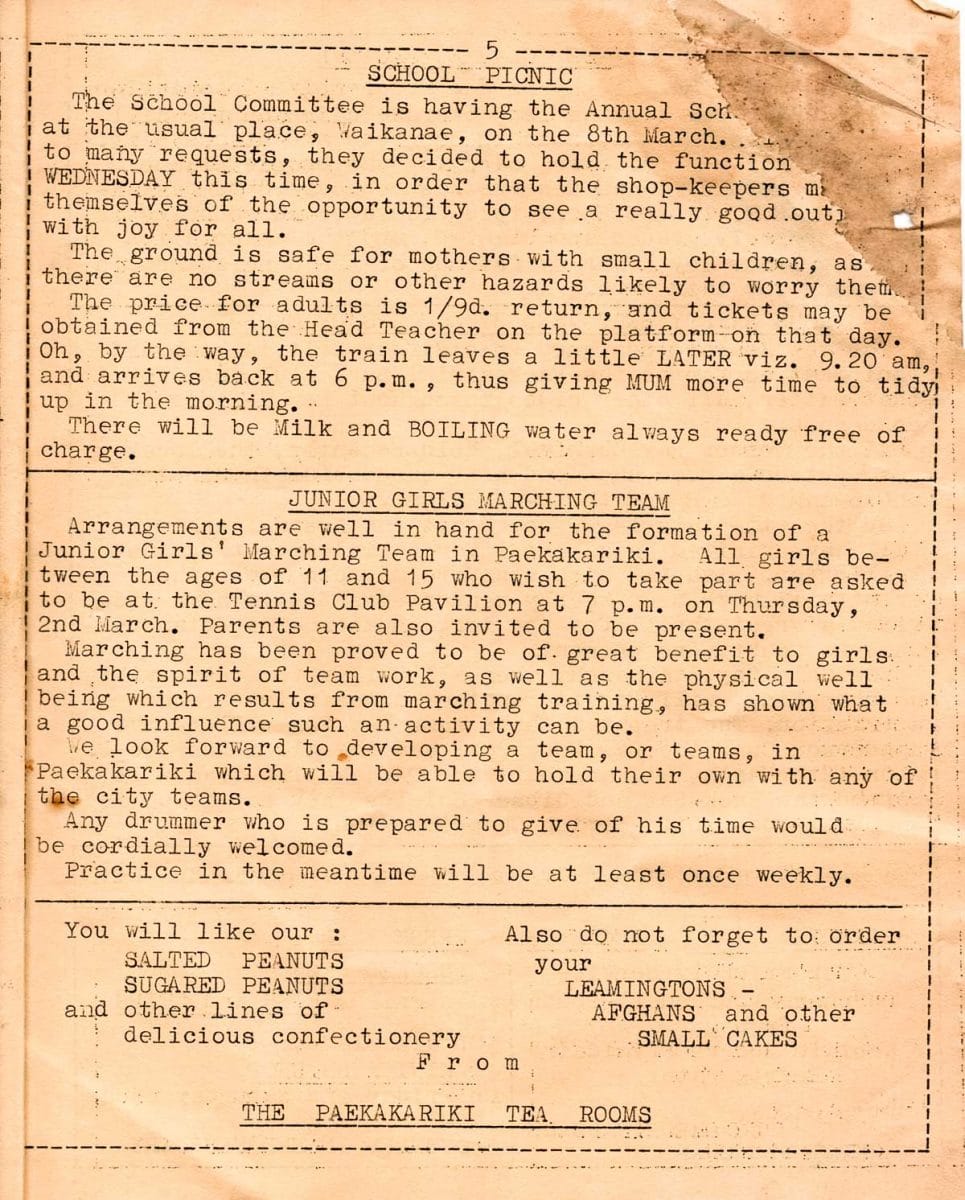 The school picnic in Waikanae seems rather a big deal, and note the provisions for 'mum' to get the tidying done and the clearance of all hazards.
A marching team! Sugared peanuts! The Paekākāriki Tea Rooms were in the railway station.
The A.T Clarke Memorial Reserve is an area donated by said Mr Clarke up Paekākāriki Hill, near what now has the Kohekohe Loop Track (where there is a big loop in the hill road). Here is a geocache photograph from 2012 of the monument. Is it still standing?
Could we live in a village where oysters are once again available?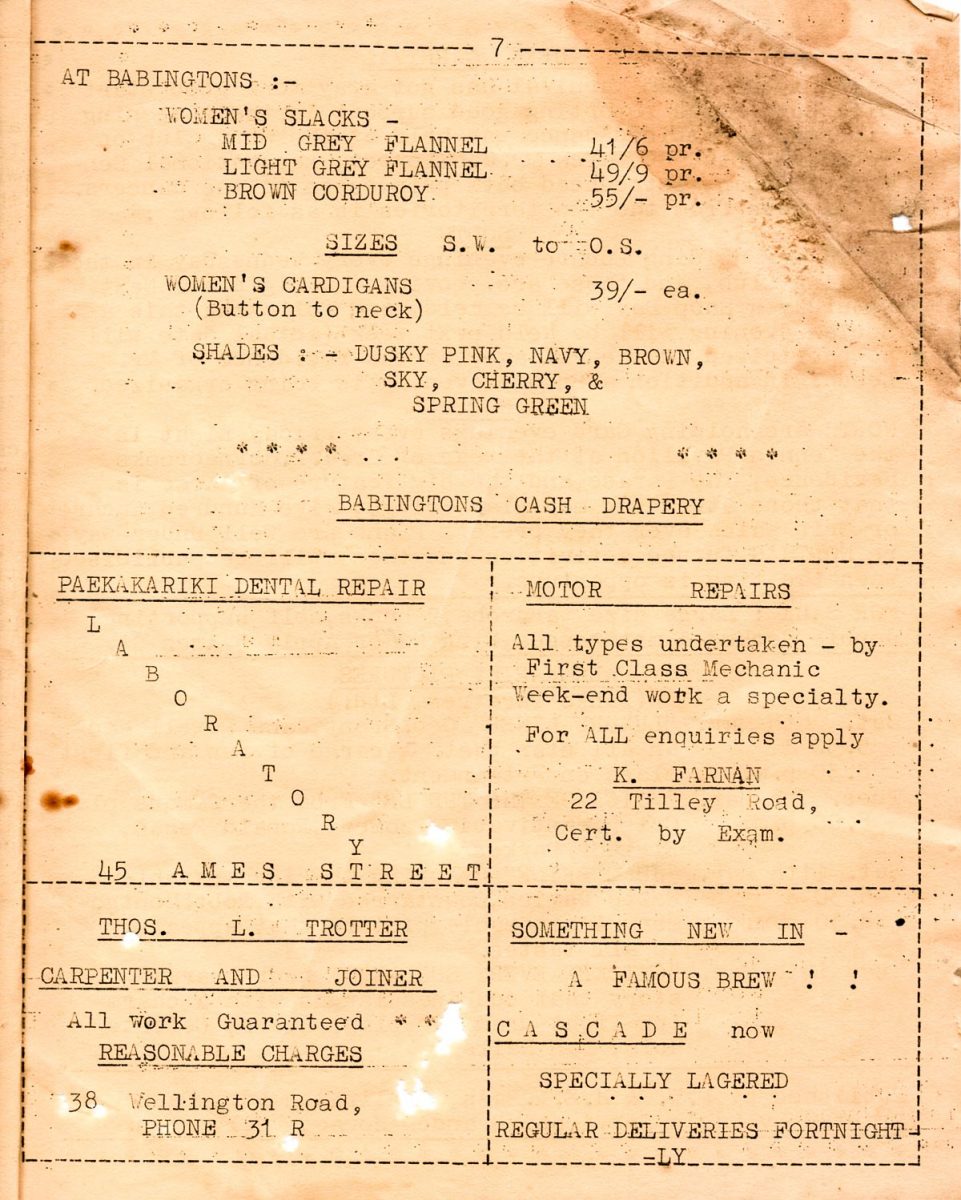 'Specially lagered' is not an expression you hear from today's craft-brewers. And it seems a very different time when you could go to a Dental Repair laboratory at 45 Ames Street. I'll have a Dusky Pink Cardy, thanks.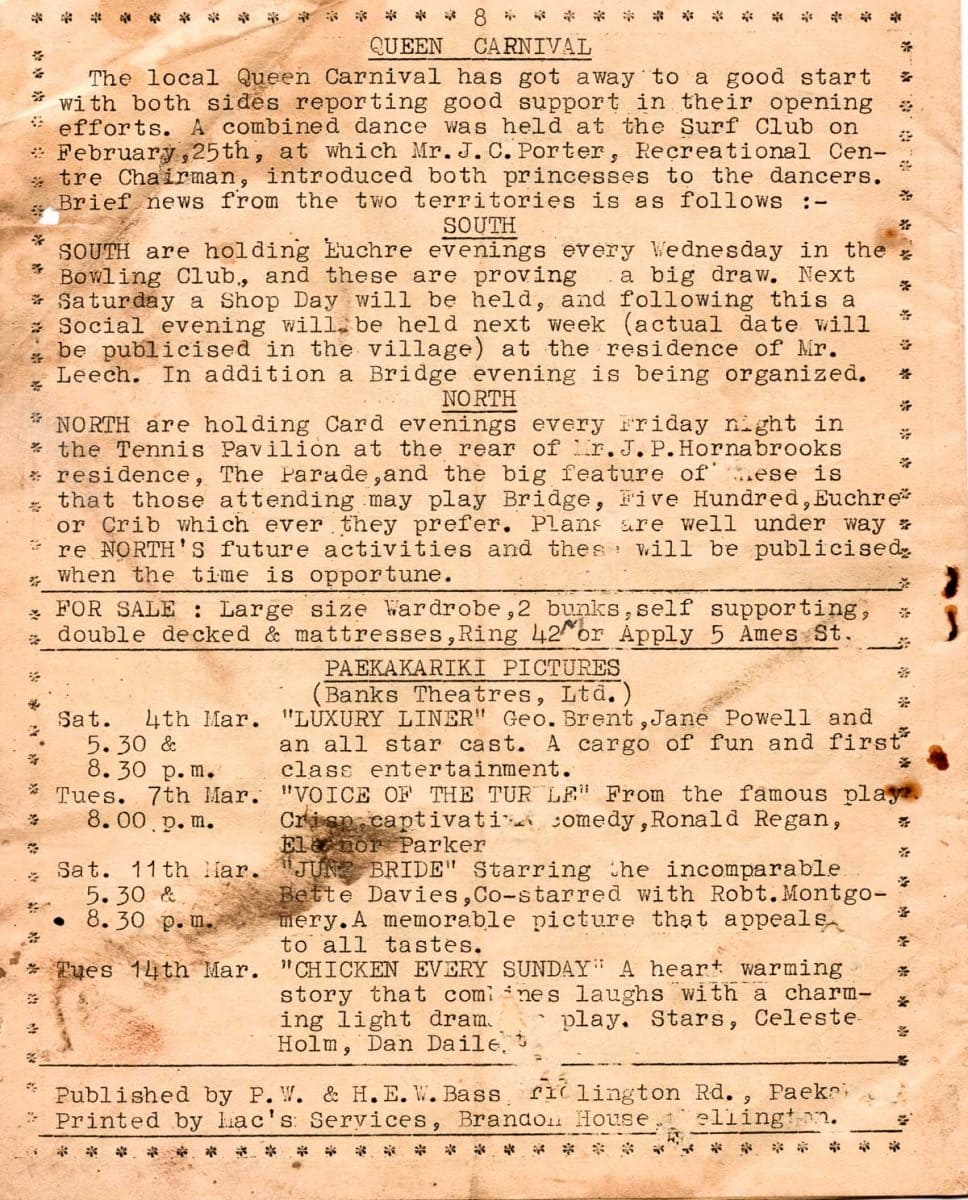 Here we see the North and South tribal social activities delineated. Bring back the cards nights I say! The tennis pavilion on The Parade was indeed a tennis court, at the north end of the village.
Paekākāriki Pictures was based at St Peter's and you can see at this stage extended to six screenings a week. And yes kids, Ronald Reagan – a President of the United States – was once a Hollywood star. Back in the 1980s we thought the US had it bad, now look at them.
Copies of the Paekakariki Progress are held today at the National Library.
Commentary: Mark Amery. Scans: Mark Coote.
---
---
Paekākāriki.nz is a community-built, funded and run website. All funds go to weekly running costs, with huge amounts of professional work donated behind the scenes. If you can help financially, at a time when many supporting local businesses are hurting, we have launched a donation gateway.