The annual Book Fair is a major fundraiser for St Peter's Village Hall. Run by the Paekākāriki Community Trust, an enthusiastic team of volunteers, and from books generously donated by the community, there's sure to be something for everyone.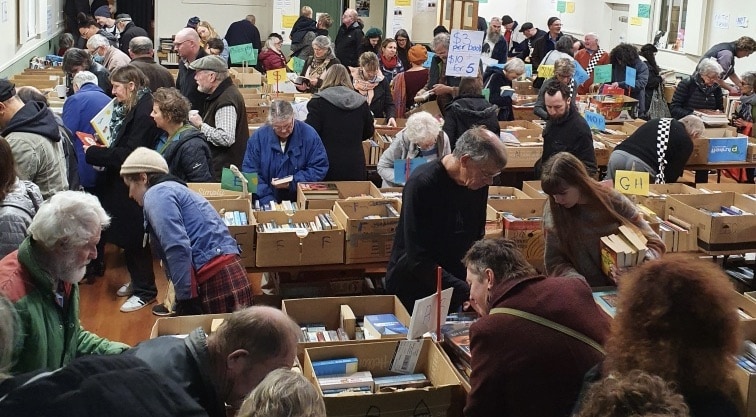 6pm on Friday 7 July | First pick + refreshments | $5 entry
10am – 5pm on Saturday 8 July | Free entry
10am – 2pm on Sunday 9 July | Free entry
Books, books, books – we love them, children love them. Where would we be without them? Make sure you don't miss this annual book-filled event.
Every year we are lucky enough to have our own legendary book fair right here in St Peter's Village Hall. It was kicked off more than 10 years ago, originally with the forethought and efforts of Graham Coe and the Paekākāriki Community Trust. Jan Nesbit, her friends and fellow Trust members built on Graham's work with their own ideas, enthusiasm and hard work. And for the last few years it has been under the wing of Ian Clark, along with the Trust and a multitude of dedicated and joyful volunteers! The fair has always been an essential fundraiser for maintaining our treasured village hall and it's a wonderful community event.
The fair continues to grow and 2023 will be no exception – it promises to tempt us with wonderful books to satisfy our every topic of interest. It may, of course, pique your curiosity about new writers and new topics. So come along and hunt out your own special treasures – and bring your children, whānau and friends.
Pencil in Friday night 7 July at 6pm for an opening night to remember! For $5 entry you'll get first pick of the books, along with mulled wine, nibbles and music on the hall's new piano! Come along, meet up with your neighbours (or meet new ones) and have fun.
On Saturday and Sunday entry is free. Books are priced at $3, $5 or $10 so are a bargain. Other more valuable books are separately priced and may meet your special interests. You'll find reference books, a great New Zealand collection including history, biography and fiction. Children's books are popular so get in quick! Fictional writers are sorted alphabetically so you'll easily find your favourites. And there'll be a wide range of non-fiction sorted into well-marked topic areas to help your search.
Come with plenty of time and a large bag. Eftpos is available, along with paper carrier bags so buying is easy.
We also need your books for the fair to be successful. If you have books to donate and let others enjoy, please contact the organisers. Call 021 858 505 or email [email protected] to arrange pick up or to drop off. And if you'd like to join the volunteer crew sorting and selling, please contact us.
Paekākāriki.nz is a community-built, funded and run website. All funds go to weekly running costs, with huge amounts of professional work donated behind the scenes. If you can help financially, at a time when many supporting local businesses are hurting, we have launched a donation gateway.