Murray Williams looks at the votes to sum up how Paekākāriki voted in the 2023 election.

Spare a thought for the folk who actually ran our recent elections – those of the Electoral Commission.
The forward planning, the operations at polling stations, the compiling the results are all undoubtedly
fraught with opportunities for hiccups. Yet, when I awoke on the Sunday morning, barely 12 hours after
the close of voting, I could (and did) go online to the Commission's website to view tabulations of each
electorate's outcome.
The tabulation for each comprised a polling station by polling station detailing of votes for each candidate, and votes for each party. Furthermore, those details were given separately for advanced voting, and for votes cast on polling day itself. Of course, special votes, those cast from outside
of the voter's electorate, weren't included but 100% of within-electorate votes were, all compiled and
published within 12 hours. A remarkable outcome.

These details are what all political parties will later scrutinise and they are also the details that will
inform electorate boundary changes ahead of the 2026 election.
In our village, we had two opportunities to vote early and again on polling day. How and when
Paekākārikians voted at our village polling stations is captured in the Electoral Commission's tabulations.
And this detail hints at the political 'colour' of our village.
How did we vote for our electorate MP? Eight candidates, 697 valid votes cast. A pretty clear
outcome with Barbara Edmonds (Labour) receiving 55% of all votes, and the Greens and National candidates receiving 18-19% each. No other candidate received more than 3%.

However, party votes (701 were valid) didn't reflect the electorate pattern. The Greens and Labour each
received a third of votes cast, clear evidence of some vote splitting. Perhaps something of the same occurred between ACT and National with ACT receiving twice as many votes as its electorate candidate and National about one-quarter fewer. Te Pāti Māori and The Opportunities Party both received the same level of support as New Zealand First.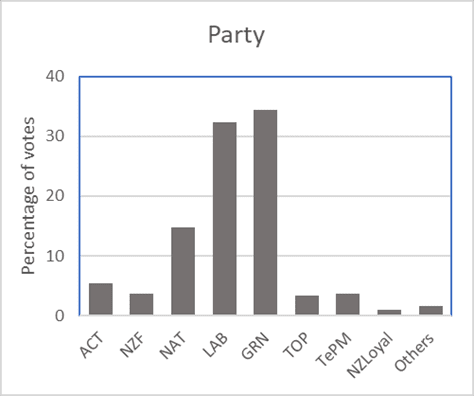 So, what is the political colour of our village? No surprises there … we are the same colour as the two
electoral billboards erected opposite the school that were neither destroyed nor disfigured!
Paekākāriki.nz is a community-built, funded and run website. All funds go to weekly running costs, with huge amounts of professional work donated behind the scenes. If you can help financially, at a time when many supporting local businesses are hurting, we have launched a donation gateway.