Judith Galtry, herself a keen cyclist, talks to legends of the cycling world in Paekākāriki, with images by Mark Coote.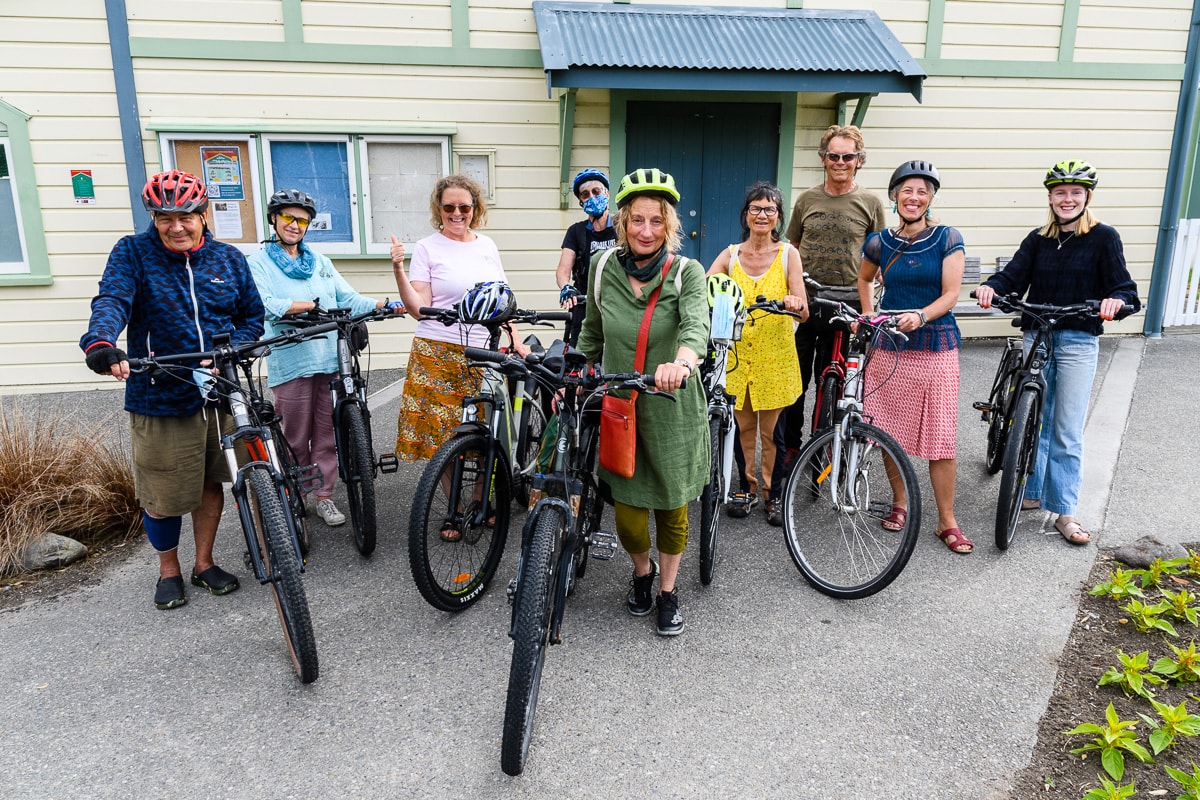 Nowadays, Paekākāriki and its cafes are a mecca for flocks of fluoro clad flamingos on bikes from both the north and south. According to a recent Government Cabinet paper (August 2021), the number of New Zealanders cycling needs to increase by about 170% by 2030, and by about 340% by 2035 if we are to reduce transport emissions.
Aotearoa is big on cycling as a recreational activity. But in parts of Europe, including Scandinavia and Holland, biking is not just a leisure activity but an accepted part of everyday life. Young women in miniskirts and high boots bike briskly to work, grandmothers ride bikes piled high with groceries and, often a small dog in the front basket, while earnest looking businessmen in pinstripe suits zoom past on two wheels, a phone often held dangerously to an ear. Even conservative UK PM Boris Johnson rides a bike. Biking is a 'normal' part of daily life in Europe. Even in AustinTexas they are busy rolling out cycle tracks.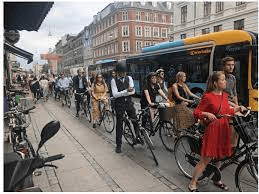 New Zealand is one of the highest per capita carbon emitters in the world. We know we have to reduce our use of fossil fuels quickly. One way is to bike more as an everyday activity. This means moving towards seeing biking as transport between home and shops or wherever. You don't need a lycra outfit or even a fancy bike.
In Paekākāriki we live in one of the best places around to cycle for transport. How can we make Paekākāriki more of a cycle friendly town where locals ride a bike when they just need to make a trip within the village? Afterall, we have a wonderful bike library where refurbished bikes can be rented or bought cheaply.
You can now easily ride all the way to Coastlands and the library or pool on a cycle trail. The development of the commuter track, along with the uptake of ebikes, has made it accessible for most people whatever their age and abilities.
Aside from a dodgy crossing on Poplar Ave – an issue over 700 people recently petitioned the council about– it is a pretty straightforward ride.
There is also the train which can take bikes for free if you don't want to or don't have time to ride both ways.
You're probably saying 'it's alright for her she rides an ebike'. But, prior to getting my ebike and the advent of the commuter track Te Ara o Whareroa, I regularly cycled to Coastlands to shop on an 'ordinary' mountain bike along rumpty park tracks. I still sometimes ride my old bike up there. In the past, even meeting the odd flasher, generally on foot, in the park (nowadays seemingly extinct, possibly due to the greater cycle traffic) was not too off putting as they could easily be outstripped (!) by a bike.
The reasons I love biking are echoed by others: the sense of freedom, independence and fitness. But I've always seen myself as a kind of mule on two wheels loaded down with shopping rather than a light, fast biker.
We have several biking legends in our village.
Louise Thornley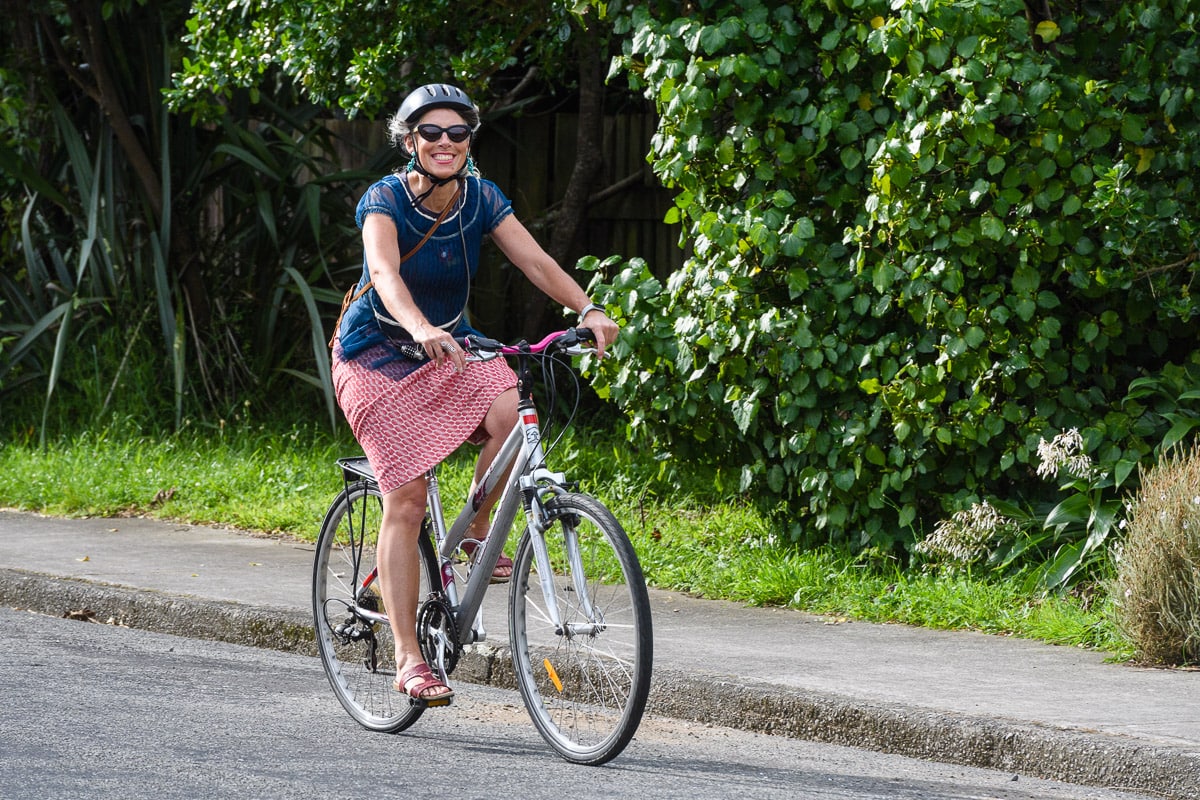 Louise Thornley, one of the women behind Wellington's 'Frocks on Bikes' – now a national movement – has been a long time cyclist. According to Louise:
"Over 10 years ago some friends and I kickstarted the 'Frocks on Bikes' movement in Wellington. Events like the "Love to Roll" Valentine's Day date ride, and the Wheel Stylish fashion show help to celebrate everyday biking, and the group also calls for safer streets to make it easy to bike – for all of us, whether you're 8 or 80. Biking makes me feel free and like a kid again. It's hard not to feel happy – or at least not terrible – when flying through the air on two wheels.
Paekākāriki is a divine place to bike – the winding Wainui stream track and the park's wetland are favourite spots nearby. It only takes up to ten minutes to bike to the village shops from anywhere here, and now at times the bike stands are overflowing – thanks to our local bike library and the lovely smooth path through the park. Beyond the village there are amazing networks of trails to discover – from cruising over Te Ara o Whareroa trail for a Raumati South coffee, to the Expressway path or finding your inner mountain biker at Whareroa Farm".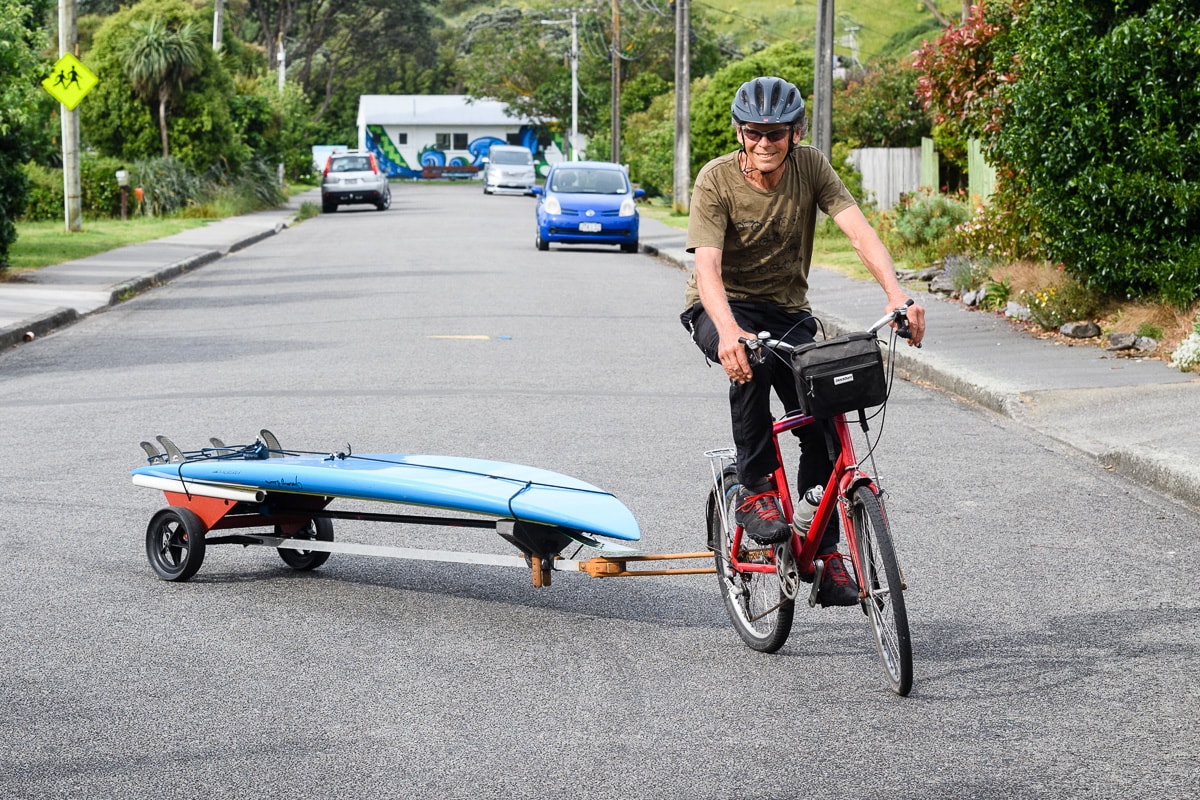 Louise's partner, Joe Wilson, can frequently be spotted cycling along The Parade wearing a wetsuit and pulling his surfboard on a trolley hitched to the back.
Jan Nisbet
Biking enthusiast, Paekākāriki 's own Jan Nisbet, has been largely responsible for raising the profile of women and children's biking in Kāpiti. One of Jan's achievements is the establishment of the Paekākāriki Bike Library, beneath St Peter's hall. She originally envisaged this as a small enterprise where she would pump up the odd tyre and do the occasional repair, but now she runs six or so regular volunteers who have mended over 800 bikes since the library opened. (The Bike library's hours are Thursdays 12-4.30pm and some Saturdays, see the bike library's Facebook page).
Jan is a great believer that early biking develops a sense of resilience, independence and freedom. She initiated the Bike Club to encourage children into cycling at the same time as the Bike library so parents could access cheap bikes that kids could ride to college.
Along with local cyclist, Joe Clarkson, Jan was instrumental in lobbying for the commuter track Te Ara o Whareroa running through Queen Elizabeth Park from Paekākāriki to Raumati to enable Paekākāriki kids to ride to college. But it was in the 1980s Jan's cycling interest really started in her role as Recreational Officer on the then Kāpiti Borough Council. In her regular column in the Kapiti Observer she promoted biking for women, while also initiating the highly successful annual Kāpiti's women's triathlon, still held in March each year. Her goal was to get women 'to enjoy cycling whatever their size, mechanical ability or belief in their own capacity'.
She regularly ran workshops for women on cycle mechanics. Her key tip to non-mechanically-minded cyclists is to carry a puncture repair kit and an inner tube so they can hail down a passing – and hopefully mechanically attuned – cyclist if they spring a puncture. Having undergone an early 'mechanical bypass', luckily I haven't had to resort to this tactic yet, although I once had to push my bike some distance to a bike shop for repair.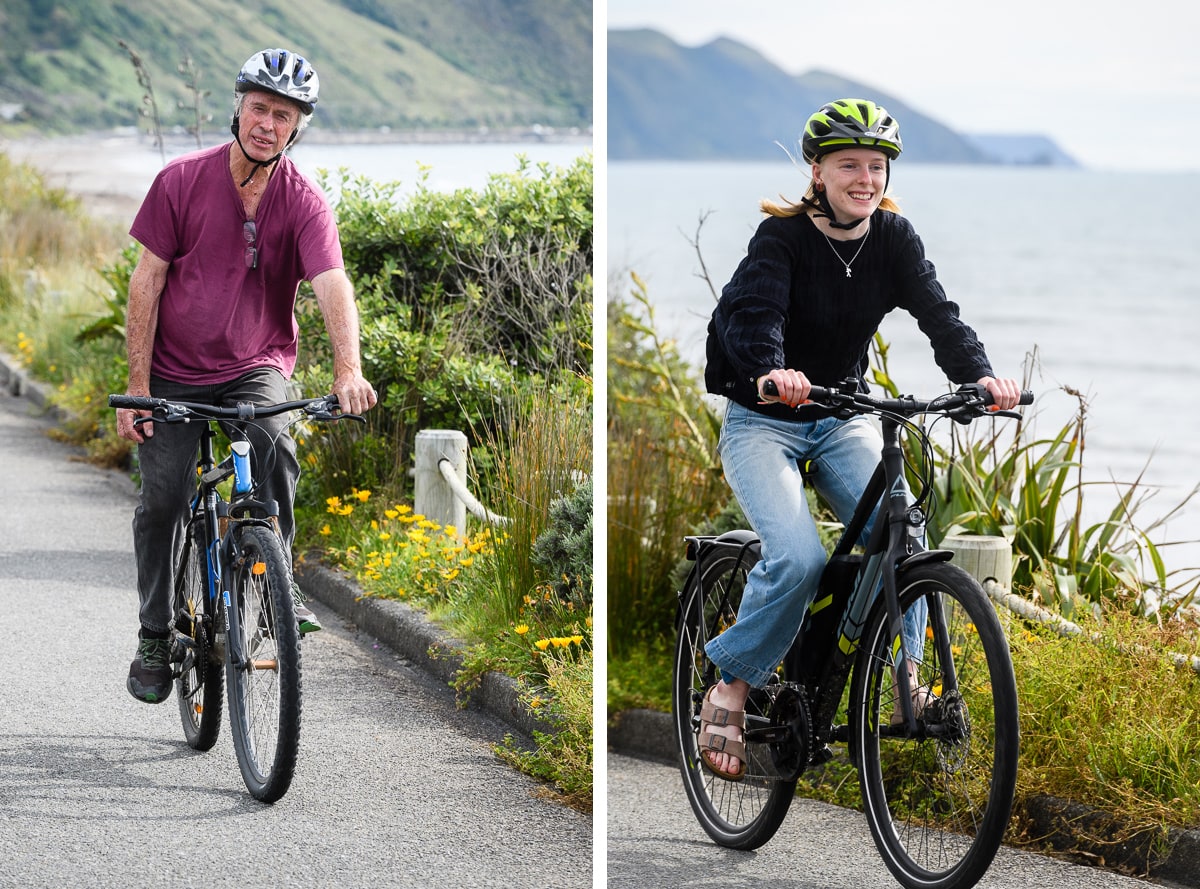 Wayne Mason
Another unlikely, and un-lycra-ed, biking hero is modest music legend Wayne Mason. Wayne, whose song 'Nature' written in 1969 was voted Aotearoa's top song of all time in 2001, "still plays gigs though a little constrained in these Covid times."
A regular volunteer with Paekākāriki Steam Incorporated for "35 enjoyable years", Wayne has commuted to and from this work both from Paekākāriki and further afield for many years. He was also a local postie many years ago when pedalling posties were the norm. Wayne writes:
"I have been a cyclist all my life off and on. Done trips to Cape Farewell, the West Coast, Karamea, The Otago Rail trail, through St Arnaud's to Hanmer and round the Catlins and Tuatapere. I guess there are a few reasons I ride, to immerse myself in the scenery, to really notice the surroundings, to give the body a workout, to clear the old cluttered mind and to experience a bit of aloneness and self reliance.
Biking round Paekākāriki I tend to go north as I find the traffic very off-putting going south to Pukerua Bay. I'm a regular user of the cycleway north, also I love riding to Raumati South along the beach depending on tides. Go up the Maungatukutukus fairly regularly, it's good to do a bit of hill work for lungs and legs! Sometimes put the bike on the bike rack and go further afield. Have an ordinary 600 dollar Avanti mountain bike which does everything I want".
Sophie Handford
Climate activist and KCDC Councillor Sophie Handford represents the younger generation who use bikes for local commuting. She often rides her e-bike through the park to the KCDC chambers at Coastlands. In her own words:
"Starting the day in-amongst te taiao, with the wind whistling through my hair, getting some exercise, making a decision for the betterment of the planet for the next generation… I couldn't imagine many better combinations! My e-bike is probably one of the best purchases I've made this year. It makes for a fun, easy commute to my mahi through Queen Elizabeth Park. It's a commute I can feel really proud of".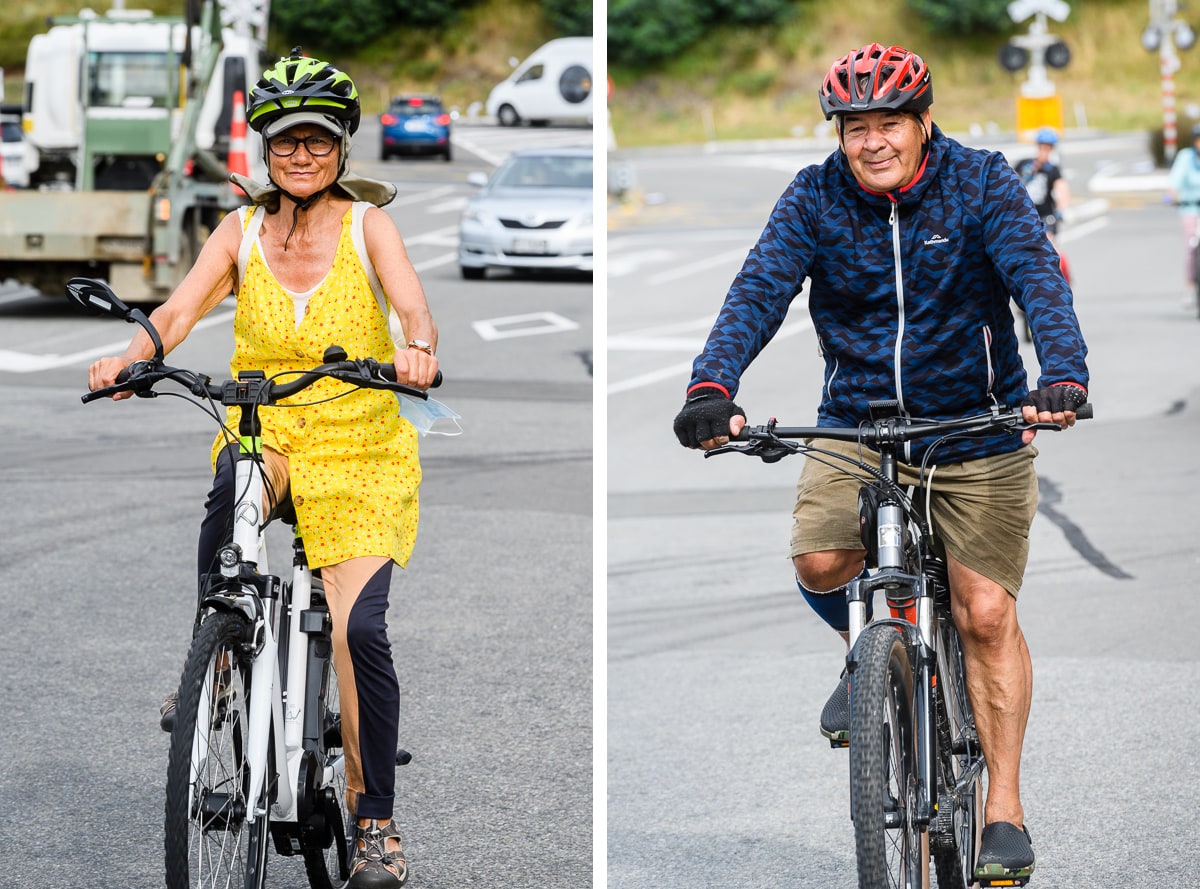 Geraldine Martell
Geraldine is another longtime bike rider and understated environmentalist. Until recently, she often commuted on two wheels to various jobs to the north and south of Paekākāriki .
"Being out and about on an e-bike at 70 years of age brings me great pleasure and fulfilment on all levels of my wellness and wellbeing. Exposure to the dimensions of the elements assists me to stay active, energised and brings a kind of balance to my day. Biking is part of my survival process at a cellular level and helps me to move through moments of inertia and lethargy. I also ride my bike to avoid short trips in the car and these trips add a special kind of magic to my day whether it be for the purpose of shopping, yoga, swimming or to just enjoy the sunshine.
Up until recently I also used my bike for going to and from work around the Village and Pukerua Bay. How amazing was that!! I enjoyed feeling agile and alive when I visited clients. I feel very blessed and grateful to be able to enjoy riding my bike along the cycleways at 70 years of age. Every trip on my bike is a conscious one and full of nourishment. Thank you, thank you to all those who have been proactive in endeavouring to make the cycleways safe and accessible".
Alan Wehipeihana
Long-time artist, Alan Wehipeihana is known by most for his distinctive paintings and woodcuttings and his long term running of the Paekākāriki Art Studios. He is also a commuter cyclist, as well as an ex-postie.
As a postie on the Kāpiti Coast in the 1980s and 1990s prior to taking over the Paekākāriki run, Alan would regularly cycle along the beach or through the park to the sorting centre at Paraparaumu. He also managed to fit in "the kids Paekākāriki paper runs on my bike for a couple of years because they were far too busy playing with their friends and spending the proceeds on iceblocks."
Two years ago, Alan swapped his mountain bike for an electric one and now commutes by e-bike to his studio in Paekākāriki's Beach Road from his home further up the line. In Alan's own words,
"It's easy to commute from home to car to work with hardly setting foot outside, riding the bike gets me out in nature longer. I find I am more alert to things around me, the smell of lupins or the pine trees at the Raumati South end of the track. I breathe a little easier as long as a strong headwind isn't snatching breath away and am more aware of the weather… that rain means less people on the tracks and heavy rain might submerge the little bridge by the model airplanes or flood the Wharemuku. Summer is often a t-shirt or singlet ride with the feel of sun on my shoulders and dawdling rides down the beach stopping to watch drag nets or set lines being pulled in.
Then there's the birds, the silly pheasants who squawk. instead of hiding when you ride past, the quails and their babies who prefer to run ahead of you rather than fly, the blackbirds and thrushes bashing up snails on the path or scavenging the stepped on or run over, the Tuis, Wellcome Swallows and the occasional spoonbills in the lakelets that sometimes form in dips between dunes in the winter. We are spoilt with so many quality rides on the coast and now that the Pekapeka-Te Hapua bit is open it is now possible to ride on cycle ways from Paekākāriki to the Te Horo bus stop cafe for a cuppa".
Alan's many fans and customers will be pleased to hear that the wonderfully revamped (bright pink exterior and extensively restructured interior) Holtom's Building Gallery is due to reopen over summer and will have several studios housing up to 10 working artists.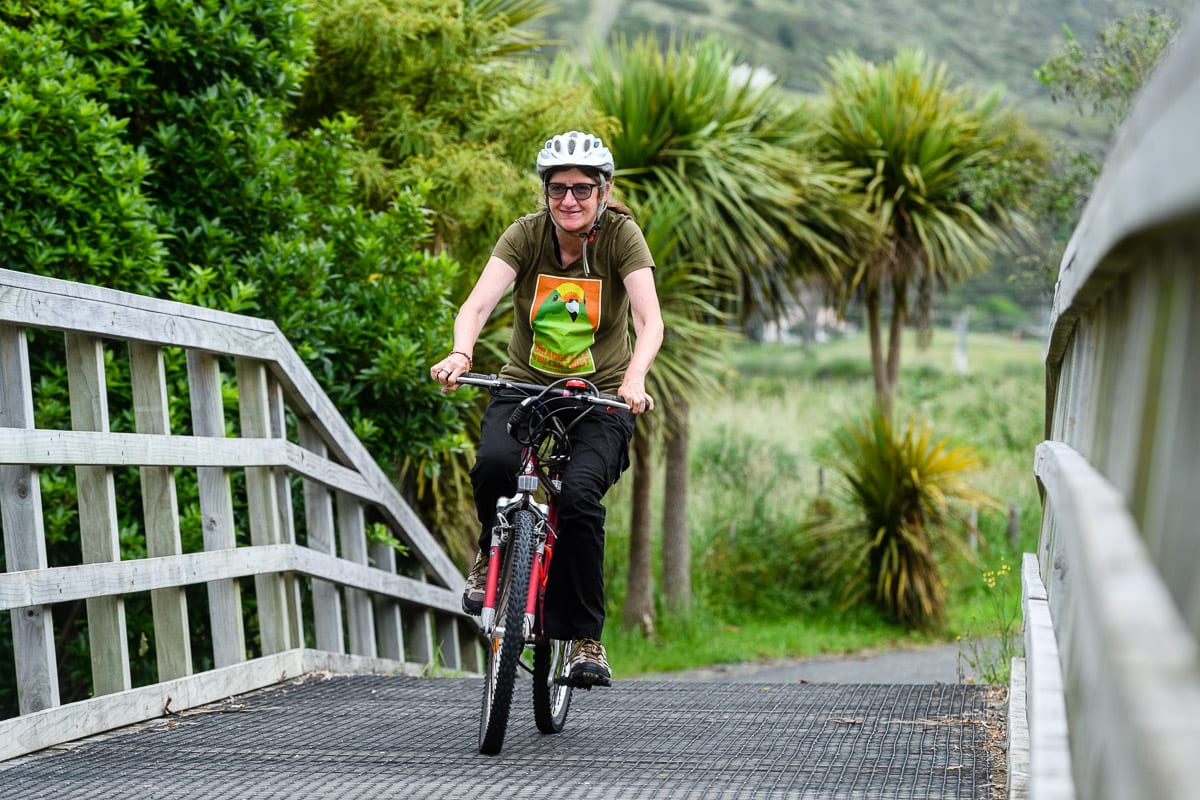 Anna-Maria O'Brien
For another Paekākāriki resident, Anna-Maria O'Brien, biking is transport. Anna-Maria can often be spotted riding around the village perched upright on her bike, long hair flying. Aside from her extensive reading and insightful critiques of literature and movies, Anna-Maria has also worked at Paekākāriki School and as a volunteer for various local initiatives.
"Kia Orana! I'm Anna-Maria, life-long cyclist, who has never driven a car. I come from a family of non-car drivers, and am proud to carry this on. I care deeply about our beautiful planet, and am interested in how others treat it too. For me, cycling not only is beneficial for my mental and physical health, but it also helps others. Looking out for cyclists helps with empathy, kindness and alertness levels. I cycle to my work, or use public transport, and I support businesses that encourage these forms of transport. I also use my lifestyle as a pedestrian -cyclist to promote thoughtful town planning-something sadly lacking on the Kāpiti Coast".
Anna-Maria is realistic about the dangers of navigating the concrete, car ridden jungle of Coastlands, calling for improved safety for pedestrians and cyclists alike. She notes the lack of official concern for walkers and cyclists and the poor attitudes of many car drivers.
"Tip from me: tether your locked bike somewhere central at Coastlands and then do what you have to do foot as this seems safer than navigating bikes through the maze of carparks and cars etc".
Jane Cherry
Jane Cherry grew up in Paekākāriki only to return in recent years. Jane biked as a child in the village, noting there were far fewer cars back then. Jane recalls her cycling childhood:
"Off for a swim. Down Ocean Road. Bare feet, hair flapping in the wind, a sibling on the carrier rack or balanced on the handlebars. There were bikes everywhere in Paekākāriki – back in the '70s. Bikes with speckled gold banana seats, and ape hanger handlebars with ribbons. I can still remember the intense longing of wanting a red Raleigh 20. Dad said we had enough bikes. He wasn't buying any more. We had lots of bikes and bike paraphernalia lying about the place, including a tandem. I wanted my own bike. After a year of sustained and determined pleading, Dad came home from work and handed me an old bike frame. I was eleven. I zhuzhed it up, spray painted the frame, added wheels, lovingly oiled an old rusty chain. I can't believe it now. I did those things myself. Now I can't even fix my own punctures".
Since moving back to Paekākāriki in recent years, Jane has rediscovered the power of the pedal:
"I have an electric bike now. I ride up to the supermarket. I aspire to live a fuel-less car-free life – on a bike. I love my bike, like a friend. I'm getting more confident as a rider, and I hope one day to be confident enough to fix my own punctures".
This is just a small selection of some of the quirky riders in our village who are committed to cycling for personal and environmental reasons. There are many more hiding in the woodwork as bike riders are often an unpretentious lot too busy enjoying the ride to bother promoting their lifestyle.
---
Paekākāriki.nz is a community-built, funded and run website. All funds go to weekly running costs, with huge amounts of professional work donated behind the scenes. If you can help financially, at a time when many supporting local businesses are hurting, we have launched a donation gateway.