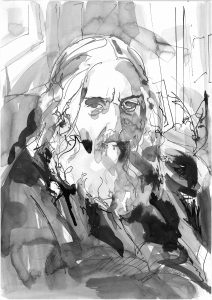 Michael is a poet, publisher and bookseller at Kākāriki Books on the train platform, who has lived in Paekākāriki for more than twenty years. He came up from Dunedin and was living in 'a pretty horrible' old house in Wellington when his friend Moana saw a place in Paekākāriki that seemed a similar distance from the city as he had known in Seacliff. Michael O'Leary has now written a history of rail in Paekākāriki too.
"The difference was the beach you could swim at and a train every half hour – at that stage every hour. It always appealed to me as a place when I'd gone past on the train between Auckland and Dunedin. I've been in various places around Paekākāriki: I'm lucky I've got good landlords and they like me being there. I started out having a bookshop in the old post office, Pukapuka Books. Everywhere I go I seem to have a bookshop…. I knew that this space here was not going to be used much so I had the idea of maybe turning it into a bookshop. I wrote a short history of Paekākāriki because although there were so many bloody writers in Paekākāriki no-one had written the history of the place. The railway station building was saved from demolition by the local community and I wanted to acknowledge that."

---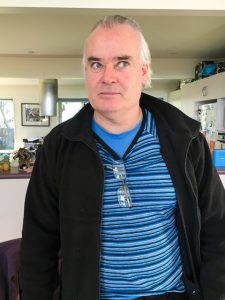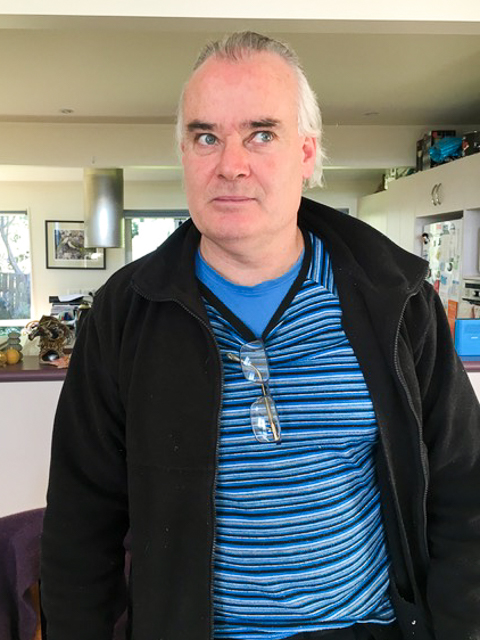 Joe is a scientist, is a third generation Paekākāriki human who grew up here and three years ago returned to live here with his partner and two daughters.
"I thought it was a good place when you have kids. My kids were getting to the age when they needed the space. The temperature's about two degrees warmer than Wellington most of the time. I like the weather, I like the people, the beach, the water. And family is here: my brother moved back a few years before me, my mother and other family are around, that's good."
---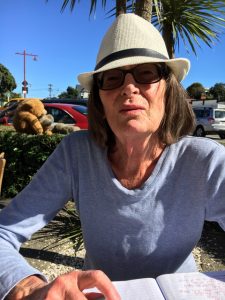 Mercedes is a poet, much published, more overseas than in New Zealand. Mercedes has had to move from the village but remains part of it, volunteering at the museum and keeping up with friends.
"I lived here for just over five years. I really love the village and the ambiance. There's a small village feeling but it's really close to everything in the city. And the people, the beach, yeah! I am involved with the museum. I did some work with the local radio station to start with and that was fun…. I came to the village because my mother was in a nursing home in Wellington and I was living in Paraparaumu Beach; twice a week I'd go and visit her and on the way home I'd stop at the pub as a relaxing thing to do before I got home and leave all of that behind. And so I gradually got to know a few locals. Then I had a chance to live here – a girlfriend of mine bought a house here and she was looking for tenants so I put my hand up".
---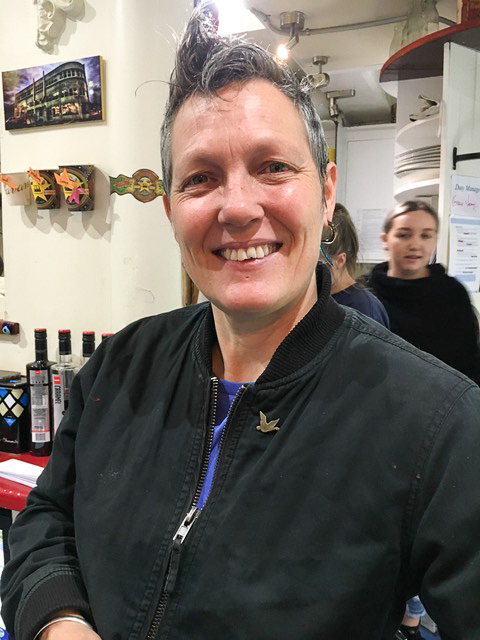 Nicole is the proprietor of the Perching Parrot Café and has had more than thirty years experience in the hospitality industry. She came to Paekākāriki because her aunt and uncle live here. They told her about a house for sale.
"I've been in hospitality 30-odd years, I was about 19 when I started. Me and Ash used to drive past every morning on our way into work, commuting into the city, and we'd point at this café and say to each other 'we're going to own that one day'. And we did!..… It's just an awesome little community. I'd never lived in a small town – it's just nice having everyone really close together, the website, the Facebook page. Just the way everyone communicates and helps each other, lends a hand and donates if necessary. You can sit and watch kids go by and watch them grow up – I love that. We've got three of them working here – two of them are Ash's nieces- and that's awesome.
I know a fair whack of people here. If I walk or drive anywhere I wave. One thing I really love about the café is seeing friendships connect here. You'd look at people and think 'they should really know each other' so you'd get involved and make them meet each other so you see friendships spark. I've seen quite a few friendships form here which is lovely. Interesting, there's quite a lot of locals connected. There's still locals I haven't seen, never come here. Commuters, I imagine."
---
Read Meet the locals #1/ and Meet the locals #3